FEATURED COMPANIES
ABB
Basler
DENSO Corporation
IBM
SAP
Cognex Corporation
General Electric
Intel Corporation
Microsoft
Qualcomm Technologies Inc
INDUSTRY 4.0 MARKET OVERVIEW
Industry 4.0 Market to grow from USD 68,125.13 Million in 2018 to USD 205,236.13 Million by 2025, at a Compound Annual Growth Rate (CAGR) of 17.06%.
Some of the major market players include ABB, Basler AG, DENSO CORPORATION, IBM, and SAP.
The global industry 4.0 market is highly competitive and characterized by the presence of a large number of international and regional players in the market. The market has witnessed increasing competition between vendors based on the pricing model, technology differentiation, brand name, quality of service, price differentiation, and technical expertise.
The global industry 4.0 market research report provides the company usability profiles and analyze the overview, strategy, SWOT and scorecard of the following company:
ABB
Basler AG
DENSO CORPORATION
IBM
SAP
Cognex Corporation
GENERAL ELECTRIC
Intel Corporation
Microsoft
Qualcomm Technologies, Inc
Others.
Market Segmentation & Coverage:
The research report categorizes the Global Industry 4.0 Market to forecast the revenues and analyze the trends in each of the following segments: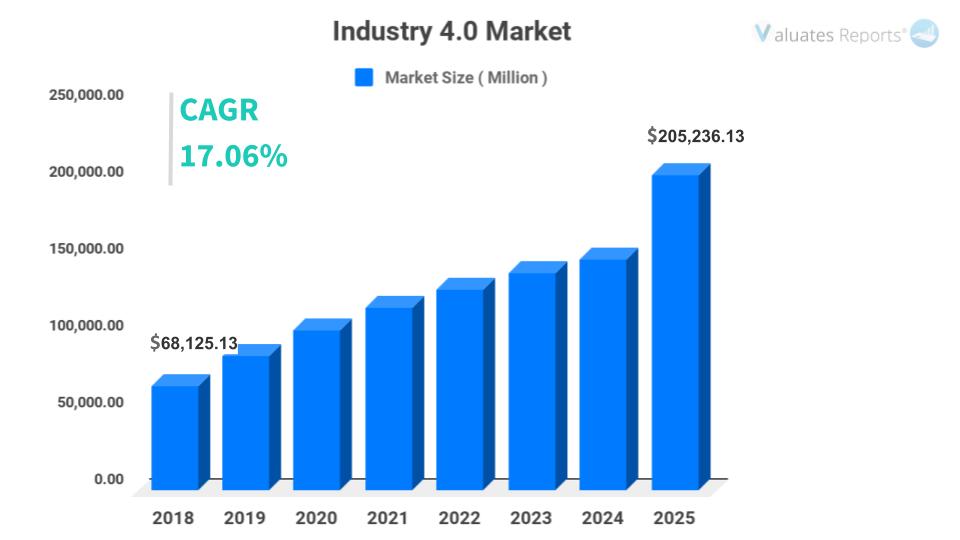 GLOBAL INDUSTRY 4.0 MARKET, BY COMPONENT
GLOBAL INDUSTRY 4.0 MARKET, BY TECHNOLOGY
3D Printing
Industrial Robotics
Internet of Things (IoT)
Machine Learning
GLOBAL INDUSTRY 4.0 MARKET, BY END USER
Automotive
Industrial Equipment
GLOBAL INDUSTRY 4.0 MARKET, BY GEOGRAPHY
Americas
Argentina
Brazil
Canada
Mexico
United States
Asia-Pacific
Australia
China
India
Japan
Europe, Middle East & Africa
France
Germany
Italy
Spain
United Kingdom
Report Highlights:
The report provides deep insights on demand forecasts, market trends and micro and macro indicators. In addition, this report provides insights on the factors that are driving and restraining the demand of the Global Industry 4.0 Market. Moreover, the study highlights current market trends and provides forecast. We also have highlighted future trends in the Global Industry 4.0 Market that will impact the demand during the forecast period. Moreover, the competitive analysis of the Global Industry 4.0 Market brings an insight on the company usability profiles of the leading players. Additionally, the analysis highlights business overview, strategy, and SWOT analysis of the key companies in the market.
FEATURED COMPANIES
ABB
Basler
DENSO Corporation
IBM
SAP
Cognex Corporation
General Electric
Intel Corporation
Microsoft
Qualcomm Technologies Inc
Preface

Objectives of the Study
Market Segmentation & Coverage
Years Considered for the Study
Currency & Pricing
Language
Stakeholders

Research & Forecasting

Research Methodology

Research Process
Research Framework
Research Reliability & Validity
Research Assumptions

Forecasting Methodology
Research Outcome

Executive Summary

Industry 4.0 Market: Outlook
Industry 4.0 Market: Current State & Forecast

Premium Insight

Market Connectivity
Market Data Feed

Market Sizing & Forecasting, by Component
Market Sizing & Forecasting, by Technology
Market Sizing & Forecasting, by End User
Market Sizing & Forecasting, by Geography

Market Dynamics

Drivers
Restraints
Opportunities
Challenges

Industry Insight

Porter's Five Forces Analysis

Threat of New Entrants
Threat of Substitutes
Bargaining Power of Customers
Bargaining Power of Suppliers
Industry Rivalry

Client Customizations

Global Industry 4.0 Market, by Component

Hardware
Software

Global Industry 4.0 Market, by Technology

3D Printing
Industrial Robotics
Internet of Things (IoT)
Machine Learning

Global Industry 4.0 Market, by End User

Automotive
Industrial Equipment

Global Industry 4.0 Market, by Geography

Americas

Argentina
Brazil
Canada
Mexico
United States

Asia-Pacific

Australia
China
India
Japan

Europe, Middle East & Africa

France
Germany
Italy
Spain
United Kingdom

Competitive Landscape

360iResearch FPNV Positioning Matrix

360iResearch Quadrants

Forefront
Pathfinders
Niche
Vital

Business Strategy

Business Growth
Industry Coverage
Financial Viability
Channel Support

Product Satisfaction

Value for Money
Ease of Use
Product Features
Customer Support

Market Vendor Ranking Analysis
Competitive News Feed Analysis

Company Usability Profiles

ABB

Overview
Strategy
SWOT

Basler AG

Overview
Strategy
SWOT

DENSO CORPORATION

Overview
Strategy
SWOT

IBM

Overview
Strategy
SWOT

SAP

Overview
Strategy
SWOT

Cognex Corporation
GENERAL ELECTRIC
Intel Corporation
Microsoft
Qualcomm Technologies, Inc

Appendix

Discussion Guide
360iResearch Competitive Strategic Window

Leverage Zone
Vantage Zone
Speculative Zone
Bottleneck Zone

Top Reports

Global Crane Rental Market - Premium Insight, Competitive News Feed Analysis, Company Usability Profiles, Market Sizing & Forecasts to 2025
Global Computer Vision Market - Premium Insight, Competitive News Feed Analysis, Company Usability Profiles, Market Sizing & Forecasts to 2025
Global Payment Gateway Market - null
Global B2B Travel Market - Premium Insight, Competitive News Feed Analysis, Company Usability Profiles, Market Sizing & Forecasts to 2025
Global Varicose Vein Treatment Devices Market - null

Author Details
FEATURED COMPANIES
ABB
Basler
DENSO Corporation
IBM
SAP
Cognex Corporation
General Electric
Intel Corporation
Microsoft
Qualcomm Technologies Inc
GLOBAL INDUSTRY 4.0 MARKET SIZE, 2016-2025 (USD MILLION)
GLOBAL INDUSTRY 4.0 MARKET SIZE, BY COMPONENT, 2016-2025 (USD MILLION)
GLOBAL INDUSTRY 4.0 MARKET SIZE, BY TECHNOLOGY, 2016-2025 (USD MILLION)
GLOBAL INDUSTRY 4.0 MARKET SIZE, BY END USER, 2016-2025 (USD MILLION)
GLOBAL INDUSTRY 4.0 MARKET SIZE, BY GEOGRAPHY, 2016-2025 (USD MILLION)
GLOBAL INDUSTRY 4.0 MARKET SIZE, BY HARDWARE, BY GEOGRAPHY, 2016-2025 (USD MILLION)
GLOBAL INDUSTRY 4.0 MARKET SIZE, BY SOFTWARE, BY GEOGRAPHY, 2016-2025 (USD MILLION)
GLOBAL INDUSTRY 4.0 MARKET SIZE, BY 3D PRINTING, BY GEOGRAPHY, 2016-2025 (USD MILLION)
GLOBAL INDUSTRY 4.0 MARKET SIZE, BY INDUSTRIAL ROBOTICS, BY GEOGRAPHY, 2016-2025 (USD MILLION)
GLOBAL INDUSTRY 4.0 MARKET SIZE, BY INTERNET OF THINGS (IOT), BY GEOGRAPHY, 2016-2025 (USD MILLION)
GLOBAL INDUSTRY 4.0 MARKET SIZE, BY MACHINE LEARNING, BY GEOGRAPHY, 2016-2025 (USD MILLION)
GLOBAL INDUSTRY 4.0 MARKET SIZE, BY AUTOMOTIVE, BY GEOGRAPHY, 2016-2025 (USD MILLION)
GLOBAL INDUSTRY 4.0 MARKET SIZE, BY INDUSTRIAL EQUIPMENT, BY GEOGRAPHY, 2016-2025 (USD MILLION)
AMERICAS INDUSTRY 4.0 MARKET SIZE, BY COMPONENT, 2016-2025 (USD MILLION)
AMERICAS INDUSTRY 4.0 MARKET SIZE, BY TECHNOLOGY, 2016-2025 (USD MILLION)
AMERICAS INDUSTRY 4.0 MARKET SIZE, BY END USER, 2016-2025 (USD MILLION)
ARGENTINA INDUSTRY 4.0 MARKET SIZE, BY COMPONENT, 2016-2025 (USD MILLION)
ARGENTINA INDUSTRY 4.0 MARKET SIZE, BY TECHNOLOGY, 2016-2025 (USD MILLION)
ARGENTINA INDUSTRY 4.0 MARKET SIZE, BY END USER, 2016-2025 (USD MILLION)
BRAZIL INDUSTRY 4.0 MARKET SIZE, BY COMPONENT, 2016-2025 (USD MILLION)
BRAZIL INDUSTRY 4.0 MARKET SIZE, BY TECHNOLOGY, 2016-2025 (USD MILLION)
BRAZIL INDUSTRY 4.0 MARKET SIZE, BY END USER, 2016-2025 (USD MILLION)
CANADA INDUSTRY 4.0 MARKET SIZE, BY COMPONENT, 2016-2025 (USD MILLION)
CANADA INDUSTRY 4.0 MARKET SIZE, BY TECHNOLOGY, 2016-2025 (USD MILLION)
CANADA INDUSTRY 4.0 MARKET SIZE, BY END USER, 2016-2025 (USD MILLION)
MEXICO INDUSTRY 4.0 MARKET SIZE, BY COMPONENT, 2016-2025 (USD MILLION)
MEXICO INDUSTRY 4.0 MARKET SIZE, BY TECHNOLOGY, 2016-2025 (USD MILLION)
MEXICO INDUSTRY 4.0 MARKET SIZE, BY END USER, 2016-2025 (USD MILLION)
UNITED STATES INDUSTRY 4.0 MARKET SIZE, BY COMPONENT, 2016-2025 (USD MILLION)
UNITED STATES INDUSTRY 4.0 MARKET SIZE, BY TECHNOLOGY, 2016-2025 (USD MILLION)
UNITED STATES INDUSTRY 4.0 MARKET SIZE, BY END USER, 2016-2025 (USD MILLION)
ASIA-PACIFIC INDUSTRY 4.0 MARKET SIZE, BY COMPONENT, 2016-2025 (USD MILLION)
ASIA-PACIFIC INDUSTRY 4.0 MARKET SIZE, BY TECHNOLOGY, 2016-2025 (USD MILLION)
ASIA-PACIFIC INDUSTRY 4.0 MARKET SIZE, BY END USER, 2016-2025 (USD MILLION)
AUSTRALIA INDUSTRY 4.0 MARKET SIZE, BY COMPONENT, 2016-2025 (USD MILLION)
AUSTRALIA INDUSTRY 4.0 MARKET SIZE, BY TECHNOLOGY, 2016-2025 (USD MILLION)
AUSTRALIA INDUSTRY 4.0 MARKET SIZE, BY END USER, 2016-2025 (USD MILLION)
CHINA INDUSTRY 4.0 MARKET SIZE, BY COMPONENT, 2016-2025 (USD MILLION)
CHINA INDUSTRY 4.0 MARKET SIZE, BY TECHNOLOGY, 2016-2025 (USD MILLION)
CHINA INDUSTRY 4.0 MARKET SIZE, BY END USER, 2016-2025 (USD MILLION)
INDIA INDUSTRY 4.0 MARKET SIZE, BY COMPONENT, 2016-2025 (USD MILLION)
INDIA INDUSTRY 4.0 MARKET SIZE, BY TECHNOLOGY, 2016-2025 (USD MILLION)
INDIA INDUSTRY 4.0 MARKET SIZE, BY END USER, 2016-2025 (USD MILLION)
JAPAN INDUSTRY 4.0 MARKET SIZE, BY COMPONENT, 2016-2025 (USD MILLION)
JAPAN INDUSTRY 4.0 MARKET SIZE, BY TECHNOLOGY, 2016-2025 (USD MILLION)
JAPAN INDUSTRY 4.0 MARKET SIZE, BY END USER, 2016-2025 (USD MILLION)
EUROPE, MIDDLE EAST & AFRICA INDUSTRY 4.0 MARKET SIZE, BY COMPONENT, 2016-2025 (USD MILLION)
EUROPE, MIDDLE EAST & AFRICA INDUSTRY 4.0 MARKET SIZE, BY TECHNOLOGY, 2016-2025 (USD MILLION)
EUROPE, MIDDLE EAST & AFRICA INDUSTRY 4.0 MARKET SIZE, BY END USER, 2016-2025 (USD MILLION)
FRANCE INDUSTRY 4.0 MARKET SIZE, BY COMPONENT, 2016-2025 (USD MILLION)
FRANCE INDUSTRY 4.0 MARKET SIZE, BY TECHNOLOGY, 2016-2025 (USD MILLION)
FRANCE INDUSTRY 4.0 MARKET SIZE, BY END USER, 2016-2025 (USD MILLION)
GERMANY INDUSTRY 4.0 MARKET SIZE, BY COMPONENT, 2016-2025 (USD MILLION)
GERMANY INDUSTRY 4.0 MARKET SIZE, BY TECHNOLOGY, 2016-2025 (USD MILLION)
GERMANY INDUSTRY 4.0 MARKET SIZE, BY END USER, 2016-2025 (USD MILLION)
ITALY INDUSTRY 4.0 MARKET SIZE, BY COMPONENT, 2016-2025 (USD MILLION)
ITALY INDUSTRY 4.0 MARKET SIZE, BY TECHNOLOGY, 2016-2025 (USD MILLION)
ITALY INDUSTRY 4.0 MARKET SIZE, BY END USER, 2016-2025 (USD MILLION)
SPAIN INDUSTRY 4.0 MARKET SIZE, BY COMPONENT, 2016-2025 (USD MILLION)
SPAIN INDUSTRY 4.0 MARKET SIZE, BY TECHNOLOGY, 2016-2025 (USD MILLION)
SPAIN INDUSTRY 4.0 MARKET SIZE, BY END USER, 2016-2025 (USD MILLION)
UNITED KINGDOM INDUSTRY 4.0 MARKET SIZE, BY COMPONENT, 2016-2025 (USD MILLION)
UNITED KINGDOM INDUSTRY 4.0 MARKET SIZE, BY TECHNOLOGY, 2016-2025 (USD MILLION)
UNITED KINGDOM INDUSTRY 4.0 MARKET SIZE, BY END USER, 2016-2025 (USD MILLION)
GLOBAL INDUSTRY 4.0 MARKET: RANKING
GLOBAL INDUSTRY 4.0 MARKET: BUSINESS STRATEGY
GLOBAL INDUSTRY 4.0 MARKET: PRODUCT SATISFACTION
GLOBAL INDUSTRY 4.0 MARKET: AUTHOR DETAILS
LIST OF FIGURES
GLOBAL INDUSTRY 4.0 MARKET: RESEARCH PROCESS
GLOBAL INDUSTRY 4.0 MARKET: RESEARCH FRAMEWORK
GLOBAL INDUSTRY 4.0 MARKET: FORECASTING METHODOLOGY
GLOBAL INDUSTRY 4.0 MARKET SIZE, 2016-2025 (USD MILLION)
GLOBAL INDUSTRY 4.0 MARKET: MARKET CONNECTIVITY
GLOBAL INDUSTRY 4.0 MARKET SIZE, BY COMPONENT, 2018 VS 2025 (USD MILLION)
360IRESEARCH COMPETITIVE STRATEGIC WINDOW FOR GLOBAL INDUSTRY 4.0 MARKET SIZE, BY COMPONENT, 2025 (USD MILLION)
GLOBAL INDUSTRY 4.0 MARKET SIZE, BY TECHNOLOGY, 2018 VS 2025 (USD MILLION)
360IRESEARCH COMPETITIVE STRATEGIC WINDOW FOR GLOBAL INDUSTRY 4.0 MARKET SIZE, BY TECHNOLOGY, 2025 (USD MILLION)
GLOBAL INDUSTRY 4.0 MARKET SIZE, BY END USER, 2018 VS 2025 (USD MILLION)
360IRESEARCH COMPETITIVE STRATEGIC WINDOW FOR GLOBAL INDUSTRY 4.0 MARKET SIZE, BY END USER, 2025 (USD MILLION)
GLOBAL INDUSTRY 4.0 MARKET SIZE, BY GEOGRAPHY, 2018 (USD MILLION)
360IRESEARCH COMPETITIVE STRATEGIC WINDOW FOR GLOBAL INDUSTRY 4.0 MARKET SIZE, BY GEOGRAPHY, 2025 (USD MILLION)
PORTERS FIVE FORCES ANALYSIS FOR GLOBAL INDUSTRY 4.0 MARKET
GLOBAL INDUSTRY 4.0 MARKET: 360IRESEARCH FPNV POSITIONING MATRIX
GLOBAL INDUSTRY 4.0 MARKET: 360IRESEARCH COMPETITIVE STRATEGIC WINDOW