FEATURED COMPANIES
Generative AI Market
The global generative ai market size was valued at USD 8.2 Billion in 2021, and is projected to reach USD 126.5 Billion by 2031, growing at a CAGR of 32% from 2022 to 2031.
Generated text and images include blog articles, computer code, poetry, and visual art. Based on prior word sequences, it predicts the subsequent word using sophisticated machine learning algorithms. In other words, it enables computers to abstract the input's underlying pattern and use it to produce material that is comparable. Additionally, after searching through numerous legal research sources, generative AI generates a focused summary. Therefore, technology can eliminate countless hours of human research. Additionally, it gives whole functions, snippets, and even fully functional modules while generating code in the editor in real time, which is expected to aid in the industry's growth in the years to come.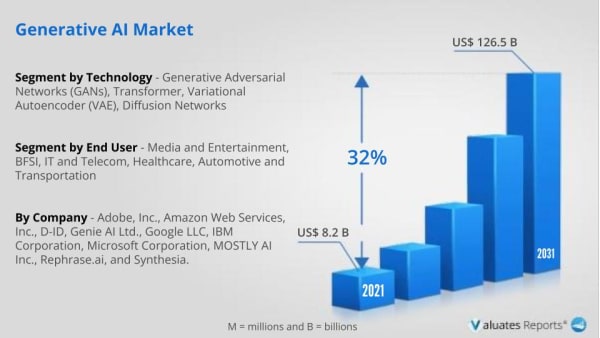 Generative AI Market Trends
It has been demonstrated that generative AI may generate novel and creative outcomes, frequently going beyond what was previously thought to be possible. This includes creating realistic images, musical compositions, natural-sounding conversations, and creative visual concepts. The ability to produce such creative outputs across a variety of industries, such as entertainment, design, marketing, and advertising, is encouraging adoption. This element is anticipated to fuel the market for generative AI.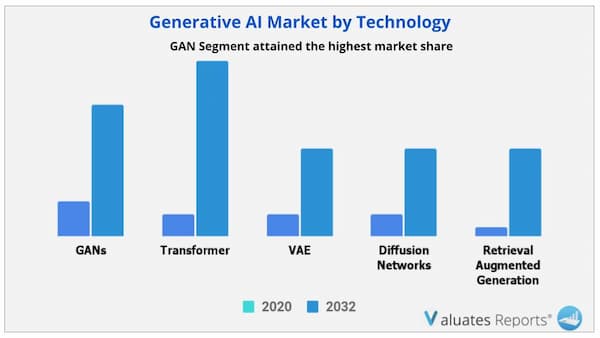 Deep learning techniques, such as generative adversarial networks (GANs) and recurrent neural networks (RNNs), have evolved greatly in recent years. These techniques enable computers to learn and create complex and authentic content, such as images, videos, writing, and music. Technology advancement increases its capability and usability, which promotes the use of generative AI. This element is anticipated to fuel the market for generative AI.
Generic artificial intelligence (generative AI) can aid in decision-making by producing simulations, scenarios, or alternative possibilities. It can generate fake data to train algorithms, simulate outcomes under various conditions, or generate various product design ideas. By providing these options and insights, generative AI helps decision-makers make well-informed choices. Due to advancements in processing power and the expansion of the number of available huge datasets, more advanced generative AI models can now be learned and applied. If generative AI models have access to more data and processing power, they may learn from a variety of sources and generate results with greater accuracy and complexity. The market for generative AI is anticipated to increase as a result of this factor.
Generative AI Market Share
Due to businesses that have quickly gone digital and put a strain on cloud networks and data centers, Asia Pacific is predicted to experience significant growth during the forecast period. The adoption of AI is assisting the organization in enabling civil society members to be responsible and knowledgeable users of AI devices.
Scope of Generative AI Market Report
Report Metric
Details
Report Name
Generative AI Market
Base Year
2021
Forecasted years
2022-2031
By Company
D-ID, Microsoft Corporation, Google LLC, Genie AI Ltd., Adobe., MOSTLY AI Inc., Amazon Web Services, Inc., Rephrase.ai, IBM Corporation, Synthesia
Segment by Technology

Generative Adversarial Networks (GANs)
Transformer
Variational Autoencoder (VAE)
Diffusion Networks

Segment by Component
Segment by Application

Media and Entertainment
BFSI
IT and Telecom
Healthcare
Automotive and Transportation

Consumption by Region

North America (United States, Canada)
Europe (Germany, France, UK, Italy, Russia)
Asia-Pacific (China, Japan, South Korea, Taiwan)
Southeast Asia (India)
Latin America (Mexico, Brazil)

Forecast units
USD million in value
Report coverage
Revenue and volume forecast, company share, competitive landscape, growth factors and trends
Frequently Asked Questions About This Report
1. Do you provide chapter wise report data?
Ans. Yes, we do provide the option to buy chapters in a report. We also can customize the report based on your specific requirements.
2. How big is the Generative AI market?
Ans: The global Lemonade Tea market was valued at US$ million in 2022 and is anticipated to reach US$ million by 2029, witnessing a CAGR of % during the forecast period 2023-2029.
3. Who are the leading companies available in the Generative AI Industry?
Ans: The report analyzes the profiles of key players operating in the generative AI market such as Adobe, Amazon Web Services, Inc., D-ID, Genie AI Ltd., Google LLC, IBM Corporation, Microsoft Corporation, MOSTLY AI Inc., Rephrase.ai and Synthesia.
4. How can I get sample report/company profiles of Generative AI Market?
Ans: The sample for global Generative AI market report can be obtained on demand from the Valuates Reports website. Also, the 24*7 chat support and direct call services are provided to procure the sample report.
FEATURED COMPANIES
LIST OF TABLES
TABLE 01. GLOBAL GENERATIVE AI MARKET, BY COMPONENT, 2021-2031 ($BILLION)
TABLE 02. GENERATIVE AI MARKET FOR SOFTWARE, BY REGION, 2021-2031 ($BILLION)
TABLE 03. GENERATIVE AI MARKET FOR SERVICES, BY REGION, 2021-2031 ($BILLION)
TABLE 04. GLOBAL GENERATIVE AI MARKET, BY TECHNOLOGY, 2021-2031 ($BILLION)
TABLE 05. GENERATIVE AI MARKET FOR GENERATIVE ADVERSARIAL NETWORKS (GANS), BY REGION, 2021-2031 ($BILLION)
TABLE 06. GENERATIVE AI MARKET FOR TRANSFORMER, BY REGION, 2021-2031 ($BILLION)
TABLE 07. GENERATIVE AI MARKET FOR VARIATIONAL AUTOENCODER (VAE), BY REGION, 2021-2031 ($BILLION)
TABLE 08. GENERATIVE AI MARKET FOR DIFFUSION NETWORKS, BY REGION, 2021-2031 ($BILLION)
TABLE 09. GLOBAL GENERATIVE AI MARKET, BY END USER, 2021-2031 ($BILLION)
TABLE 10. GENERATIVE AI MARKET FOR MEDIA AND ENTERTAINMENT, BY REGION, 2021-2031 ($BILLION)
TABLE 11. GENERATIVE AI MARKET FOR BFSI, BY REGION, 2021-2031 ($BILLION)
TABLE 12. GENERATIVE AI MARKET FOR IT AND TELECOM, BY REGION, 2021-2031 ($BILLION)
TABLE 13. GENERATIVE AI MARKET FOR HEALTHCARE, BY REGION, 2021-2031 ($BILLION)
TABLE 14. GENERATIVE AI MARKET FOR AUTOMOTIVE AND TRANSPORTATION, BY REGION, 2021-2031 ($BILLION)
TABLE 15. GENERATIVE AI MARKET FOR OTHERS, BY REGION, 2021-2031 ($BILLION)
TABLE 16. GENERATIVE AI MARKET, BY REGION, 2021-2031 ($BILLION)
TABLE 17. NORTH AMERICA GENERATIVE AI MARKET, BY COMPONENT, 2021-2031 ($BILLION)
TABLE 18. NORTH AMERICA GENERATIVE AI MARKET, BY TECHNOLOGY, 2021-2031 ($BILLION)
TABLE 19. NORTH AMERICA GENERATIVE AI MARKET, BY END USER, 2021-2031 ($BILLION)
TABLE 20. NORTH AMERICA GENERATIVE AI MARKET, BY COUNTRY, 2021-2031 ($BILLION)
TABLE 21. U.S. GENERATIVE AI MARKET, BY COMPONENT, 2021-2031 ($BILLION)
TABLE 22. U.S. GENERATIVE AI MARKET, BY TECHNOLOGY, 2021-2031 ($BILLION)
TABLE 23. U.S. GENERATIVE AI MARKET, BY END USER, 2021-2031 ($BILLION)
TABLE 24. CANADA GENERATIVE AI MARKET, BY COMPONENT, 2021-2031 ($BILLION)
TABLE 25. CANADA GENERATIVE AI MARKET, BY TECHNOLOGY, 2021-2031 ($BILLION)
TABLE 26. CANADA GENERATIVE AI MARKET, BY END USER, 2021-2031 ($BILLION)
TABLE 27. EUROPE GENERATIVE AI MARKET, BY COMPONENT, 2021-2031 ($BILLION)
TABLE 28. EUROPE GENERATIVE AI MARKET, BY TECHNOLOGY, 2021-2031 ($BILLION)
TABLE 29. EUROPE GENERATIVE AI MARKET, BY END USER, 2021-2031 ($BILLION)
TABLE 30. EUROPE GENERATIVE AI MARKET, BY COUNTRY, 2021-2031 ($BILLION)
TABLE 31. UK GENERATIVE AI MARKET, BY COMPONENT, 2021-2031 ($BILLION)
TABLE 32. UK GENERATIVE AI MARKET, BY TECHNOLOGY, 2021-2031 ($BILLION)
TABLE 33. UK GENERATIVE AI MARKET, BY END USER, 2021-2031 ($BILLION)
TABLE 34. GERMANY GENERATIVE AI MARKET, BY COMPONENT, 2021-2031 ($BILLION)
TABLE 35. GERMANY GENERATIVE AI MARKET, BY TECHNOLOGY, 2021-2031 ($BILLION)
TABLE 36. GERMANY GENERATIVE AI MARKET, BY END USER, 2021-2031 ($BILLION)
TABLE 37. FRANCE GENERATIVE AI MARKET, BY COMPONENT, 2021-2031 ($BILLION)
TABLE 38. FRANCE GENERATIVE AI MARKET, BY TECHNOLOGY, 2021-2031 ($BILLION)
TABLE 39. FRANCE GENERATIVE AI MARKET, BY END USER, 2021-2031 ($BILLION)
TABLE 40. ITALY GENERATIVE AI MARKET, BY COMPONENT, 2021-2031 ($BILLION)
TABLE 41. ITALY GENERATIVE AI MARKET, BY TECHNOLOGY, 2021-2031 ($BILLION)
TABLE 42. ITALY GENERATIVE AI MARKET, BY END USER, 2021-2031 ($BILLION)
TABLE 43. SPAIN GENERATIVE AI MARKET, BY COMPONENT, 2021-2031 ($BILLION)
TABLE 44. SPAIN GENERATIVE AI MARKET, BY TECHNOLOGY, 2021-2031 ($BILLION)
TABLE 45. SPAIN GENERATIVE AI MARKET, BY END USER, 2021-2031 ($BILLION)
TABLE 46. REST OF EUROPE GENERATIVE AI MARKET, BY COMPONENT, 2021-2031 ($BILLION)
TABLE 47. REST OF EUROPE GENERATIVE AI MARKET, BY TECHNOLOGY, 2021-2031 ($BILLION)
TABLE 48. REST OF EUROPE GENERATIVE AI MARKET, BY END USER, 2021-2031 ($BILLION)
TABLE 49. ASIA-PACIFIC GENERATIVE AI MARKET, BY COMPONENT, 2021-2031 ($BILLION)
TABLE 50. ASIA-PACIFIC GENERATIVE AI MARKET, BY TECHNOLOGY, 2021-2031 ($BILLION)
TABLE 51. ASIA-PACIFIC GENERATIVE AI MARKET, BY END USER, 2021-2031 ($BILLION)
TABLE 52. ASIA-PACIFIC GENERATIVE AI MARKET, BY COUNTRY, 2021-2031 ($BILLION)
TABLE 53. CHINA GENERATIVE AI MARKET, BY COMPONENT, 2021-2031 ($BILLION)
TABLE 54. CHINA GENERATIVE AI MARKET, BY TECHNOLOGY, 2021-2031 ($BILLION)
TABLE 55. CHINA GENERATIVE AI MARKET, BY END USER, 2021-2031 ($BILLION)
TABLE 56. INDIA GENERATIVE AI MARKET, BY COMPONENT, 2021-2031 ($BILLION)
TABLE 57. INDIA GENERATIVE AI MARKET, BY TECHNOLOGY, 2021-2031 ($BILLION)
TABLE 58. INDIA GENERATIVE AI MARKET, BY END USER, 2021-2031 ($BILLION)
TABLE 59. JAPAN GENERATIVE AI MARKET, BY COMPONENT, 2021-2031 ($BILLION)
TABLE 60. JAPAN GENERATIVE AI MARKET, BY TECHNOLOGY, 2021-2031 ($BILLION)
TABLE 61. JAPAN GENERATIVE AI MARKET, BY END USER, 2021-2031 ($BILLION)
TABLE 62. AUSTRALIA GENERATIVE AI MARKET, BY COMPONENT, 2021-2031 ($BILLION)
TABLE 63. AUSTRALIA GENERATIVE AI MARKET, BY TECHNOLOGY, 2021-2031 ($BILLION)
TABLE 64. AUSTRALIA GENERATIVE AI MARKET, BY END USER, 2021-2031 ($BILLION)
TABLE 65. SOUTH KOREA GENERATIVE AI MARKET, BY COMPONENT, 2021-2031 ($BILLION)
TABLE 66. SOUTH KOREA GENERATIVE AI MARKET, BY TECHNOLOGY, 2021-2031 ($BILLION)
TABLE 67. SOUTH KOREA GENERATIVE AI MARKET, BY END USER, 2021-2031 ($BILLION)
TABLE 68. REST OF ASIA-PACIFIC GENERATIVE AI MARKET, BY COMPONENT, 2021-2031 ($BILLION)
TABLE 69. REST OF ASIA-PACIFIC GENERATIVE AI MARKET, BY TECHNOLOGY, 2021-2031 ($BILLION)
TABLE 70. REST OF ASIA-PACIFIC GENERATIVE AI MARKET, BY END USER, 2021-2031 ($BILLION)
TABLE 71. LAMEA GENERATIVE AI MARKET, BY COMPONENT, 2021-2031 ($BILLION)
TABLE 72. LAMEA GENERATIVE AI MARKET, BY TECHNOLOGY, 2021-2031 ($BILLION)
TABLE 73. LAMEA GENERATIVE AI MARKET, BY END USER, 2021-2031 ($BILLION)
TABLE 74. LAMEA GENERATIVE AI MARKET, BY COUNTRY, 2021-2031 ($BILLION)
TABLE 75. LATIN AMERICA GENERATIVE AI MARKET, BY COMPONENT, 2021-2031 ($BILLION)
TABLE 76. LATIN AMERICA GENERATIVE AI MARKET, BY TECHNOLOGY, 2021-2031 ($BILLION)
TABLE 77. LATIN AMERICA GENERATIVE AI MARKET, BY END USER, 2021-2031 ($BILLION)
TABLE 78. MIDDLE EAST GENERATIVE AI MARKET, BY COMPONENT, 2021-2031 ($BILLION)
TABLE 79. MIDDLE EAST GENERATIVE AI MARKET, BY TECHNOLOGY, 2021-2031 ($BILLION)
TABLE 80. MIDDLE EAST GENERATIVE AI MARKET, BY END USER, 2021-2031 ($BILLION)
TABLE 81. AFRICA GENERATIVE AI MARKET, BY COMPONENT, 2021-2031 ($BILLION)
TABLE 82. AFRICA GENERATIVE AI MARKET, BY TECHNOLOGY, 2021-2031 ($BILLION)
TABLE 83. AFRICA GENERATIVE AI MARKET, BY END USER, 2021-2031 ($BILLION)
TABLE 84. ADOBE.: KEY EXECUTIVES
TABLE 85. ADOBE.: COMPANY SNAPSHOT
TABLE 86. ADOBE.: SERVICE SEGMENTS
TABLE 87. ADOBE.: PRODUCT PORTFOLIO
TABLE 88. ADOBE.: KEY STRATERGIES
TABLE 89. AMAZON WEB SERVICES, INC.: KEY EXECUTIVES
TABLE 90. AMAZON WEB SERVICES, INC.: COMPANY SNAPSHOT
TABLE 91. AMAZON WEB SERVICES, INC.: SERVICE SEGMENTS
TABLE 92. AMAZON WEB SERVICES, INC.: PRODUCT PORTFOLIO
TABLE 93. AMAZON WEB SERVICES, INC.: KEY STRATERGIES
TABLE 94. D-ID: KEY EXECUTIVES
TABLE 95. D-ID: COMPANY SNAPSHOT
TABLE 96. D-ID: PRODUCT SEGMENTS
TABLE 97. D-ID: PRODUCT PORTFOLIO
TABLE 98. D-ID: KEY STRATERGIES
TABLE 99. GENIE AI LTD.: KEY EXECUTIVES
TABLE 100. GENIE AI LTD.: COMPANY SNAPSHOT
TABLE 101. GENIE AI LTD.: PRODUCT SEGMENTS
TABLE 102. GENIE AI LTD.: PRODUCT PORTFOLIO
TABLE 103. GOOGLE LLC: KEY EXECUTIVES
TABLE 104. GOOGLE LLC: COMPANY SNAPSHOT
TABLE 105. GOOGLE LLC: SERVICE SEGMENTS
TABLE 106. GOOGLE LLC: PRODUCT PORTFOLIO
TABLE 107. GOOGLE LLC: KEY STRATERGIES
TABLE 108. IBM CORPORATION: KEY EXECUTIVES
TABLE 109. IBM CORPORATION: COMPANY SNAPSHOT
TABLE 110. IBM CORPORATION: SERVICE SEGMENTS
TABLE 111. IBM CORPORATION: PRODUCT PORTFOLIO
TABLE 112. IBM CORPORATION: KEY STRATERGIES
TABLE 113. MICROSOFT CORPORATION: KEY EXECUTIVES
TABLE 114. MICROSOFT CORPORATION: COMPANY SNAPSHOT
TABLE 115. MICROSOFT CORPORATION: SERVICE SEGMENTS
TABLE 116. MICROSOFT CORPORATION: PRODUCT PORTFOLIO
TABLE 117. MICROSOFT CORPORATION: KEY STRATERGIES
TABLE 118. MOSTLY AI INC.: KEY EXECUTIVES
TABLE 119. MOSTLY AI INC.: COMPANY SNAPSHOT
TABLE 120. MOSTLY AI INC.: PRODUCT SEGMENTS
TABLE 121. MOSTLY AI INC.: PRODUCT PORTFOLIO
TABLE 122. MOSTLY AI INC.: KEY STRATERGIES
TABLE 123. REPHRASE.AI: KEY EXECUTIVES
TABLE 124. REPHRASE.AI: COMPANY SNAPSHOT
TABLE 125. REPHRASE.AI: PRODUCT SEGMENTS
TABLE 126. REPHRASE.AI: PRODUCT PORTFOLIO
TABLE 127. REPHRASE.AI: KEY STRATERGIES
TABLE 128. SYNTHESIA: KEY EXECUTIVES
TABLE 129. SYNTHESIA: COMPANY SNAPSHOT
TABLE 130. SYNTHESIA: PRODUCT SEGMENTS
TABLE 131. SYNTHESIA: PRODUCT PORTFOLIO
TABLE 132. SYNTHESIA: KEY STRATERGIES
LIST OF FIGURES
FIGURE 01. GENERATIVE AI MARKET, 2021-2031
FIGURE 02. SEGMENTATION OF GENERATIVE AI MARKET, 2021-2031
FIGURE 03. TOP INVESTMENT POCKETS IN GENERATIVE AI MARKET (2022-2031)
FIGURE 04. LOW BARGAINING POWER OF SUPPLIERS
FIGURE 05. LOW BARGAINING POWER OF BUYERS
FIGURE 06. LOW THREAT OF SUBSTITUTES
FIGURE 07. LOW THREAT OF NEW ENTRANTS
FIGURE 08. LOW INTENSITY OF RIVALRY
FIGURE 09. DRIVERS, RESTRAINTS AND OPPORTUNITIES: GLOBALGENERATIVE AI MARKET
FIGURE 10. GENERATIVE AI MARKET, BY COMPONENT, 2021(%)
FIGURE 11. COMPARATIVE SHARE ANALYSIS OF GENERATIVE AI MARKET FOR SOFTWARE, BY COUNTRY 2021-2031(%)
FIGURE 12. COMPARATIVE SHARE ANALYSIS OF GENERATIVE AI MARKET FOR SERVICES, BY COUNTRY 2021-2031(%)
FIGURE 13. GENERATIVE AI MARKET, BY TECHNOLOGY, 2021(%)
FIGURE 14. COMPARATIVE SHARE ANALYSIS OF GENERATIVE AI MARKET FOR GENERATIVE ADVERSARIAL NETWORKS (GANS), BY COUNTRY 2021-2031(%)
FIGURE 15. COMPARATIVE SHARE ANALYSIS OF GENERATIVE AI MARKET FOR TRANSFORMER, BY COUNTRY 2021-2031(%)
FIGURE 16. COMPARATIVE SHARE ANALYSIS OF GENERATIVE AI MARKET FOR VARIATIONAL AUTOENCODER (VAE), BY COUNTRY 2021-2031(%)
FIGURE 17. COMPARATIVE SHARE ANALYSIS OF GENERATIVE AI MARKET FOR DIFFUSION NETWORKS, BY COUNTRY 2021-2031(%)
FIGURE 18. GENERATIVE AI MARKET, BY END USER, 2021(%)
FIGURE 19. COMPARATIVE SHARE ANALYSIS OF GENERATIVE AI MARKET FOR MEDIA AND ENTERTAINMENT, BY COUNTRY 2021-2031(%)
FIGURE 20. COMPARATIVE SHARE ANALYSIS OF GENERATIVE AI MARKET FOR BFSI, BY COUNTRY 2021-2031(%)
FIGURE 21. COMPARATIVE SHARE ANALYSIS OF GENERATIVE AI MARKET FOR IT AND TELECOM, BY COUNTRY 2021-2031(%)
FIGURE 22. COMPARATIVE SHARE ANALYSIS OF GENERATIVE AI MARKET FOR HEALTHCARE, BY COUNTRY 2021-2031(%)
FIGURE 23. COMPARATIVE SHARE ANALYSIS OF GENERATIVE AI MARKET FOR AUTOMOTIVE AND TRANSPORTATION, BY COUNTRY 2021-2031(%)
FIGURE 24. COMPARATIVE SHARE ANALYSIS OF GENERATIVE AI MARKET FOR OTHERS, BY COUNTRY 2021-2031(%)
FIGURE 25. GENERATIVE AI MARKET BY REGION, 2021
FIGURE 26. U.S. GENERATIVE AI MARKET, 2021-2031 ($BILLION)
FIGURE 27. CANADA GENERATIVE AI MARKET, 2021-2031 ($BILLION)
FIGURE 28. UK GENERATIVE AI MARKET, 2021-2031 ($BILLION)
FIGURE 29. GERMANY GENERATIVE AI MARKET, 2021-2031 ($BILLION)
FIGURE 30. FRANCE GENERATIVE AI MARKET, 2021-2031 ($BILLION)
FIGURE 31. ITALY GENERATIVE AI MARKET, 2021-2031 ($BILLION)
FIGURE 32. SPAIN GENERATIVE AI MARKET, 2021-2031 ($BILLION)
FIGURE 33. REST OF EUROPE GENERATIVE AI MARKET, 2021-2031 ($BILLION)
FIGURE 34. CHINA GENERATIVE AI MARKET, 2021-2031 ($BILLION)
FIGURE 35. INDIA GENERATIVE AI MARKET, 2021-2031 ($BILLION)
FIGURE 36. JAPAN GENERATIVE AI MARKET, 2021-2031 ($BILLION)
FIGURE 37. AUSTRALIA GENERATIVE AI MARKET, 2021-2031 ($BILLION)
FIGURE 38. SOUTH KOREA GENERATIVE AI MARKET, 2021-2031 ($BILLION)
FIGURE 39. REST OF ASIA-PACIFIC GENERATIVE AI MARKET, 2021-2031 ($BILLION)
FIGURE 40. LATIN AMERICA GENERATIVE AI MARKET, 2021-2031 ($BILLION)
FIGURE 41. MIDDLE EAST GENERATIVE AI MARKET, 2021-2031 ($BILLION)
FIGURE 42. AFRICA GENERATIVE AI MARKET, 2021-2031 ($BILLION)
FIGURE 43. TOP WINNING STRATEGIES, BY YEAR
FIGURE 44. TOP WINNING STRATEGIES, BY DEVELOPMENT
FIGURE 45. TOP WINNING STRATEGIES, BY COMPANY
FIGURE 46. PRODUCT MAPPING OF TOP 10 PLAYERS
FIGURE 47. COMPETITIVE DASHBOARD
FIGURE 48. COMPETITIVE HEATMAP: GENERATIVE AI MARKET
FIGURE 49. TOP PLAYER POSITIONING, 2021
FIGURE 50. ADOBE: NET REVENUE, 2019-2021 ($MILLION)
FIGURE 51. ADOBE: RESEARCH & DEVELOPMENT EXPENDITURE, 2019-2021 ($MILLION)
FIGURE 52. ADOBE: REVENUE SHARE BY SEGMENT, 2021 (%)
FIGURE 53. ADOBE: REVENUE SHARE BY REGION, 2021 (%)
FIGURE 54. AMAZON WEB SERVICES, INC.: NET REVENUE, 2019-2021 ($MILLION)
FIGURE 55. AMAZON WEB SERVICES, INC.: REVENUE SHARE BY SEGMENT, 2021 (%)
FIGURE 56. AMAZON WEB SERVICES, INC.: REVENUE SHARE BY REGION, 2021 (%)
FIGURE 57. GOOGLE LLC: NET REVENUE, 2019-2021 ($MILLION)
FIGURE 58. GOOGLE LLC: REVENUE SHARE BY SEGMENT, 2021 (%)
FIGURE 59. GOOGLE LLC: REVENUE SHARE BY REGION, 2021 (%)
FIGURE 60. IBM CORPORATION: NET REVENUE, 2019-2021 ($MILLION)
FIGURE 61. IBM CORPORATION: RESEARCH & DEVELOPMENT EXPENDITURE, 2019-2021
FIGURE 62. IBM CORPORATION: REVENUE SHARE BY REGION, 2021 (%)
FIGURE 63. IBM CORPORATION: REVENUE SHARE BY SEGMENT, 2021 (%)
FIGURE 64. MICROSOFT CORPORATION: NET REVENUE, 2020-2022 ($MILLION)
FIGURE 65. MICROSOFT CORPORATION: RESEARCH & DEVELOPMENT EXPENDITURE, 2020-2022
FIGURE 66. MICROSOFT CORPORATION: REVENUE SHARE BY SEGMENT, 2022 (%)
FIGURE 67. MICROSOFT CORPORATION: REVENUE SHARE BY REGION, 2022 (%)