FEATURED COMPANIES
Robert Bosch
DENSO Corporation
Valeo
Delphi Automotive LLP
Hitachi Appliances
Continental AG
Sensata Technologies
Infineon Technologies
Autoliv Inc
NXP Semiconductors
STMicroelectronics NV
Automotive Sensors Market Overview:
Automotive sensors detect, measure, and transmit the information, which helps in analyzing performance of the vehicles. These sensors utilize IC fabrication technology made on silicon wafers.
Automotive Sensors Market was valued at $22 billion, and is expected to reach $37 billion by 2022, supported by a CAGR of 7.5%.
Automotive sensors monitor and control the chemical, physical and process changes of the automobiles. Sensors are used to minimize the fuel consumption, reduce onboard weight of vehicle and comply with government regulations towards the passenger's safety.
Automotive sensors are swiftly gaining popularity among OEM especially in Asia-Pacific. TE Connectivity Ltd. is one f the prevalent manufacturers in global automotive sensor market, helping consumers to get reliable vehicle performance even in extreme conditions. Additionally, need for sensors in powertrain systems is constantly increasing, driven by stringent government regulations to increase fuel efficiency and reduce emission.
However, high cost pressure on OEMs is restraining the market growth. Moreover, advanced technologies and innovations such as advanced driver assistance systems (ADAS), lane departure warning (LDW) systems are likely to open new growth opportunities for players operating in the automotive sensors market.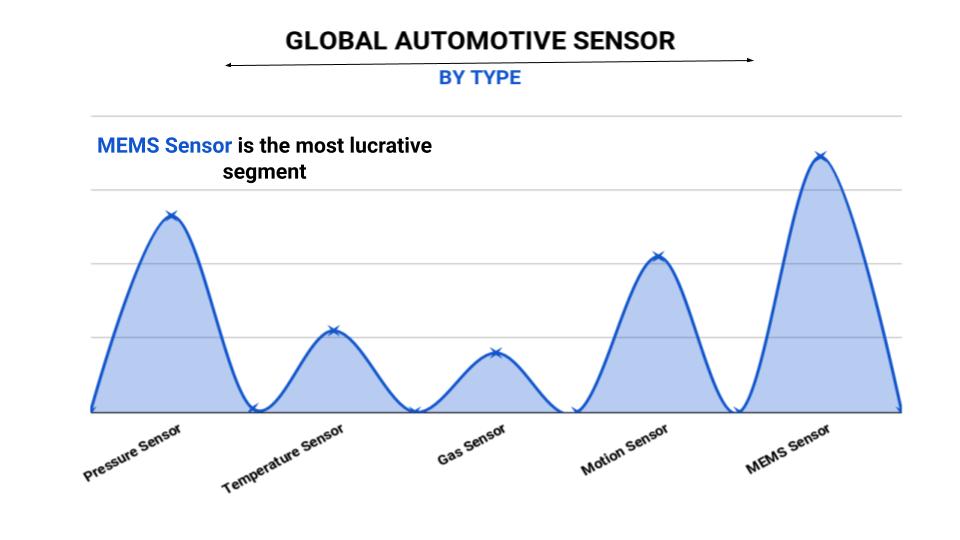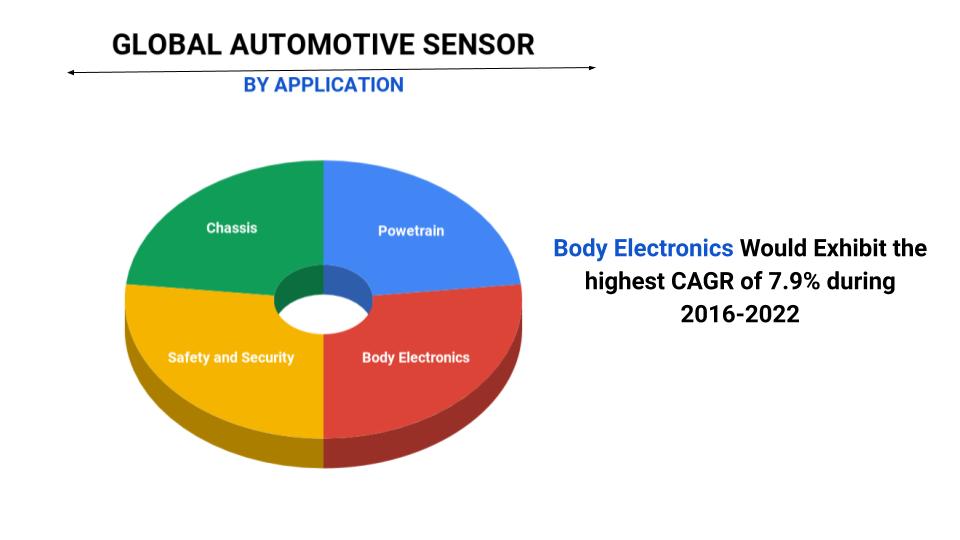 Major companies profiled in the report include Robert Bosch GmbH (Germany), Denso Corporation (Japan), Valeo Pvt. Ltd (France), Delphi Automotive LLP (UK), Hitachi Appliances Inc. (Japan), Continental AG Corporation (Germany), Sensata Technologies Inc. (US), Infineon Technologies AG (Germany), Autoliv Inc. (US), NXP semiconductors (US), and STMicroelectronics N.V (Switzerland).
SEGMENT OVERVIEW
Automotive sensors market is segmented on the basis of type, and application. The market also analyzes on the basis of various geographies, which include North America, Europe, Asia-Pacific and LAMEA.
North America is further sub segmented into U.S, Canada, and Mexico. Europe covers France, Germany, Italy, U.K and Rest of Europe. The countries covered in Asia-pacific are China, India, South Korea, Japan, and Rest of Asia Pacific. LAMEA includes South America Middle East, and Africa
USE OF AUTOMOTIVE SENSORS IN AUTONOMOUS CARS
Key companies such as Google, Tesla motors and Apple are focused on the research and development of driverless cars, which would propel the market of automotive sensors. For instance, Google's driverless car uses more than 8 different types of sensors namely image, proximity, LDS, bumper mounted radar, gyroscope and altimeters.
Autonomous cars offer 10 times more safety. Furthermore, various sensors such as image, radar and laser are being introduced to cater to the increasing consumer demand for driving safety and less emission in automobiles. Thus, above mentioned factors are expected to drive the global automotive sensor market significantly.
The winning strategies described below are a result of the analysis performed on company profiles of key players in the market. These results are gathered from the recent development of dominant players in the automotive sensors market. The following data is obtained from the press releases by key players of the market. The automotive sensors market is largely driven by acquisitions and products launch strategies.
KEY BENEFITS
The study provides an in-depth analysis of the global automotive sensors market to elucidate the prominent investment pockets in the market.

Current trends and future estimations have been outlined to determine the overall attractiveness, and to single out profitable trends to gain a stronger foothold in the market.

The report provides information regarding key drivers, restraints, and opportunities along with their impact analysis.

The market is analyzed based on various regions namely, North America, Europe, Asia-Pacific, and LAMEA.
AUTOMOTIVE SENSORS MARKET SEGMENTATION
By Type
Temperature

Gas

Pressure

Motion

MEMS
By Application
Chassis

Powertrain

Body Electronics

Safety & Security
By Geography
North America

Europe

France

Germany

Italy

U.K

Rest of Europe

Asia Pacific

China

India

South Korea

Japan

Rest of Asia Pacific

LAMEA

South America

Middle East

Africa
FEATURED COMPANIES
Robert Bosch
DENSO Corporation
Valeo
Delphi Automotive LLP
Hitachi Appliances
Continental AG
Sensata Technologies
Infineon Technologies
Autoliv Inc
NXP Semiconductors
STMicroelectronics NV
CHAPTER 1 INTRODUCTION
1.1 Overview
1.2 key benefits for stakeholders
1.3 key market segments
CHAPTER 2 EXECUTIVE SUMMARY
2.1 Overview
2.2 Market snapshot
2.3 CXO perspective
CHAPTER 3 MARKET OVERVIEW
3.1 Market definition and scope
3.2 Key findings
3.2.1 Top impacting factors
3.3 Top winning strategies
3.4 Top investment POCKETS
3.5 Porters five forces analysis
3.5.1 Bargaining power of suppliers
3.5.2 Bargaining power of buyers
3.5.3 Threat of substitution
3.5.4 Threat of new entrants
3.5.5 Competitive rivalry
3.6 Market share analysis, 2015
3.7 Drivers
3.7.1 Increasing use of sensors in hybrid and electric cars
3.7.2 Favorable legislations for use of automotive sensors
3.7.3 Consumer concerns about vehicle security and environment safety (includes image sensor)
3.8 Restraints
3.8.1 High development cost including raw material cost
3.9 Opportunities
3.9.1 Use of automotive sensors in autonomous cars
CHAPTER 4 WORLD AUTOMOTIVE SENSORS MARKET BY TYPE
4.1 Pressure sensors
4.1.1 Key market trends
4.1.2 Key growth factors and opportunities
4.1.3 Market size and forecast
4.1.3.1 North America Automotive Pressure Sensors Market, ($Million), Growth (%) 2014-2022
4.1.3.2 Europe Automotive Pressure Sensors Market, ($Million), Growth (%) 2014-2022
4.1.3.3 Asia Pacific Automotive Pressure Sensors Market, ($Million), Growth (%) 2014-2022
4.1.3.4 LAMEA Automotive Pressure Sensors Market, ($Million), Growth (%) 2014-2022
4.2 Temperature Sensors
4.2.1 Key Market Trends
4.2.2 Key Growth Factors and Opportunities
4.2.3 Market Size and Forecast
4.2.3.1 North America Automotive Temperature Sensors Market, ($Million), Growth (%) 2014-2022
4.2.3.2 Europe Temperature Sensors Market, ($Million), Growth (%) 2014-2022
4.2.3.3 Asia Pacific Temperature Sensors Market, ($Million), Growth (%) 2014-2022
4.2.3.4 LAMEA Temperature Sensors Market, ($Million), Growth (%) 2014-2022
4.3 Gas Sensors
4.3.1 Key Market Trends
4.3.2 Key Growth Factors and Opportunities
4.3.3 Market Size and Forecast
4.3.3.1 North America Gas Sensors Market, ($Million), Growth (%) 2014-2022
4.3.3.2 Europe Gas Sensors Market, ($Million), Growth (%) 2014-2022
4.3.3.3 Asia Pacific Gas Sensors Market, ($Million), Growth (%) 2014-2022
4.3.3.4 LAMEA Gas Sensors Market, ($Million), Growth (%) 2014-2022
4.4 Mems Sensors
4.4.1 Key Market Trends
4.4.2 Key Growth Factors and Opportunities
4.4.3 Market Size and Forecast
4.4.3.1 North America Mems Sensors Market, ($Million), Growth (%) 2014-2022
4.4.3.2 Europe Mems Sensors Market, ($Million), Growth (%) 2014-2022
4.4.3.3 Asia Pacific Mems Sensors Market, ($Million), Growth (%) 2014-2022
4.4.3.4 LAMEA Mems Sensors Market, ($Million), Growth (%) 2014-2022
4.5 Motion Sensors
4.5.1 Key Market Trends
4.5.2 Key Growth Factors and Opportunities
4.5.3 Market Size and Forecast
4.5.3.1 North America Automotive Motion Sensors Market, ($Million), Growth (%) 2014-2022
4.5.3.2 Europe Automotive Motion Sensors Market, ($Million), Growth (%) 2014-2022
4.5.3.3 Asia Pacific Automotive Motion Sensors Market, ($Million), Growth (%) 2014-2022
4.5.3.4 LAMEA Automotive Motion Sensors Market, ($Million), Growth (%) 2014-2022
CHAPTER 5 WORLD AUTOMOTIVE SENSORS MARKET BY APPLICATION
5.1 Overview
5.2 Power Train
5.2.1 Key Market Trends
5.2.2 Key Growth Factors and Opportunities
5.2.3 Market Size and Forecast
5.2.3.1 North America Automotive Sensors Market For Powertrain, ($Million), Growth (%) 2014-2022
5.2.3.2 Europe Automotive Sensors Market For Powertrain, ($Million), Growth (%) 2014-2022
5.2.3.3 Asia Pacific Automotive Sensors Market For Powertrain, ($Million), Growth (%) 2014-2022
5.2.3.4 LAMEA Automotive Sensors Market For Powertrain, ($Million), Growth (%) 2014-2022
5.3 Body Electronics
5.3.1 Key Market Trends
5.3.2 Key Growth Factors and Opportunities
5.3.3 Market Size and Forecast
5.3.3.1 North America Automotive Sensors Market For Body Electronics Market, ($Million), Growth (%) 2014-2022
5.3.3.2 Europe Automotive Sensors Market For Body Electronics, ($Million), Growth (%) 2014-2022
5.3.3.3 Asia Pacific Automotive Sensors Market For Body Electronics, ($Million), Growth (%) 2014-2022
5.3.3.4 LAMEA Automotive Sensors Market For Body Electronics, ($Million), Growth (%) 2014-2022
5.4 Chassis
5.4.1 Key Market Trends
5.4.2 Key Growth Factors and Opportunities
5.4.3 Market Size and Forecast
5.4.3.1 North America Automotive Sensors Market For Chassis, ($Million), Growth (%) 2014-2022
5.4.3.2 Europe Automotive Sensors Market For Chassis, ($Million), Growth (%) 2014-2022
5.4.3.3 Asia Pacific Automotive Sensors Market For Chassis, ($Million), Growth (%) 2014-2022
5.4.3.4 LAMEA Automotive Sensors Market For Chassis, ($Million), Growth (%) 2014-2022
5.5 Safety & Security
5.5.1 Key Market Trends
5.5.2 Key Growth Factors and Opportunities
5.5.3 Market Size and Forecast
5.5.3.1 North America Automotive Sensors Market For Safety & Security, ($Million), Growth (%) 2014-2022
5.5.3.2 Europe Automotive Sensors Market For Safety & Security, ($Million), Growth (%) 2014-2022
5.5.3.3 Asia Pacific Automotive Sensors Market For Safety & Security, ($Million), Growth (%) 2014-2022
5.5.3.4 LAMEA Automotive Sensors Market For Safety & Security, ($Million), Growth (%) 2014-2022
CHAPTER 6 WORLD AUTOMOTIOVE SENSORS MARKET BY GEOGRAPHY
6.1 Overview
6.2 North America
6.2.1 Key Market Trends
6.2.2 Key Growth Factors and Opportunities
6.2.3 Market Size and Forecast
6.2.3.1 U.S. Automotive Sensors Market, ($Million), Growth (%) 2014-2022
6.2.3.2 Canada Automotive Sensors Market, ($Million), Growth (%) 2014-2022
6.2.3.3 Mexico Automotive Market, ($Million), Growth (%) 2014-2022
6.3 Europe
6.3.1 Key Market Trends
6.3.2 Key Growth Factors and Opportunities
6.3.3 Market Size and Forecast
6.3.3.1 Germany Automotive Sensors Market, ($Million), Growth (%) 2014-2022
6.3.3.2 U.K Automotive Sensors Market ($Million), Growth (%) 2014-2022
6.3.3.3 France Automotive Sensors Market, ($Million), Growth (%) 2014-2022
6.3.3.4 Italy Automotive Sensors Market, ($Million), Growth (%) 2014-2022
6.3.3.5 Rest of Europe Automotive Sensors Market, ($Million), Growth (%) 2014-2022
6.4 Asia Pacific
6.4.1 Key Market Trends
6.4.2 Key Growth Factors and Opportunities
6.4.3 Market Size and Forecast
6.4.3.1 China Automotive Sensors Market, ($Million), Growth (%) 2014-2022
6.4.3.2 India Automotive Sensors Market, ($Million), Growth (%) 2014-2022
6.4.3.3 Japan Automotive Sensors Market, ($Million), Growth (%) 2014-2022
6.4.3.4 South Korea Automotive Sensors Market, ($Million), Growth (%) 2014-2022
6.4.3.5 Rest of Asia Pacific Automotive Sensors Market, ($Million), Growth (%) 2014-2022
6.5 LAMEA
6.5.1 Key Market Trends
6.5.2 Key Growth Factors and Opportunities
6.5.3 Market Size and Forecast
6.5.3.1 Latin America Automotive Sensors Market, ($Million), Growth (%) 2014-2022
6.5.3.2 Middle East Automotive Sensors Market, ($Million), Growth (%) 2014-2022
6.5.3.3 Africa Automotive Sensors Market, ($Million), Growth (%) 2014-2022
LIST of TABLES
TABLE 1 WORLD AUTOMOTIVE SENSORS MARKET SNAPSHOT
TABLE 2 WORLD AUTOMOTIVE PRESSURE SENSORS MARKET, ($MILLION), GROWTH (%) 2014-2022
TABLE 3 NORTH AMERICA AUTOMOTIVE PRESSURE SENSORS MARKET, ($MILLION), GROWTH (%) 2014-2022
TABLE 4 EUROPE AUTOMOTIVE PRESSURE SENSORS MARKET, ($MILLION), GROWTH (%) 2014-2022
TABLE 5 ASIA PACIFIC AUTOMOTIVE PRESSURE SENSORS MARKET, ($MILLION), GROWTH (%) 2014-2022
TABLE 6 LAMEA AUTOMOTIVE PRESSURE SENSORS MARKET, ($MILLION), GROWTH (%) 2014- 2022
TABLE 7 WORLD AUTOMOTIVE TEMPERATURE SENSORS MARKET, ($MILLION), GROWTH (%) 2014-2022
TABLE 8 NORTH AMERICA AUTOMOTIVE TEMPERATURE SENSORS MARKET, ($MILLION), GROWTH (%) 2014-2022
TABLE 9 EUROPE TEMPERATURE SENSORS MARKET, ($MILLION), GROWTH (%) 2014-2022
TABLE 10 ASIA PACIFIC TEMPERATURE SENSORS MARKET, ($MILLION), GROWTH (%) 2014-2022
TABLE 11 LAMEA TEMPERATURE SENSORS MARKET, ($MILLION), GROWTH (%) 2014-2022
TABLE 12 WORLD GAS SENSORS MARKET, ($MILLION), GROWTH (%) 2014-2022
TABLE 13 NORTH AMERICA GAS SENSORS MARKET, ($MILLION), GROWTH (%) 2014-2022
TABLE 14 EUROPE GAS SENSORS MARKET, ($MILLION), GROWTH (%) 2014-2022
TABLE 15 ASIA PACIFIC GAS SENSORS MARKET, ($MILLION), GROWTH (%) 2014-2022
TABLE 16 LAMEA GAS SENSORS MARKET, ($MILLION), GROWTH (%) 2014-2022
TABLE 17 WORLD TYPE MEMS SENSORS MARKET, ($MILLION), GROWTH (%) 2014-2022
TABLE 18 NORTH AMERICA MEMS SENSORS MARKET, ($MILLION), GROWTH (%) 2014-2022
TABLE 19 EUROPE MEMS MARKET, ($MILLION), GROWTH (%) 2014-2022
TABLE 20 ASIA PACIFIC MEMS SENSORS MARKET, ($MILLION), GROWTH (%) 2014-2022
TABLE 21 LAMEA MEMS SENSORS MARKET, ($MILLION), GROWTH (%) 2014- 2022
TABLE 22 WORLD AUTOMOTIVE MOTION SENSORS MARKET, ($MILLION), GROWTH (%) 2014-2022
TABLE 23 NORTH AMERICA AUTOMOTIVE MOTION SENSORS MARKET, ($MILLION), GROWTH (%) 2014-2022
TABLE 24 EUROPE AUTOMOTIVE MOTION MARKET, ($MILLION), GROWTH (%) 2014-2022
TABLE 25 ASIA PACIFIC AUTOMOTIVE MOTION SENSORS MARKET, ($MILLION), GROWTH (%) 2014-2022
TABLE 26 LAMEA AUTOMOTIVE MOTION SENSORS MARKET, ($MILLION), GROWTH (%) 2014-2022
TABLE 27 WORLD AUTOMOTIVE SENSORS MARKET FOR POWERTRAIN, ($MILLION), GROWTH (%) 2014-2022
TABLE 28 NORTH AMERICA AUTOMOTIVE SENSORS MARKET FOR POWERTRAIN, ($MILLION), GROWTH (%) 2014-2022
TABLE 29 EUROPE AUTOMOTIVE SENSORS MARKET FOR POWERTRAIN, ($MILLION), GROWTH (%) 2014-2022
TABLE 30 ASIA PACIFIC AUTOMOTIVE SENSORS MARKET FOR POWERTRAIN, ($MILLION), GROWTH (%) 2014-2022
TABLE 31 LAMEA POWERTRAIN MARKET, ($MILLION), GROWTH (%) 2014-2022
TABLE 32 WORLD AUTOMOTIVE SENSORS MARKET FOR BODY ELECTRONICS, ($MILLION), GROWTH (%) 2014-2022
TABLE 33 NORTH AMERICA AUTOMOTIVE SENSORS MARKET FOR BODY ELECTRONICS, ($MILLION), GROWTH (%) 2014-2022
TABLE 34 EUROPE AUTOMOTIVE SENSORS MARKET FOR BODY ELECTRONICS MARKET, ($MILLION), GROWTH (%) 2014-2022
TABLE 35 ASIA PACIFIC AUTOMOTIVE SENSORS MARKET FOR BODY ELECTRONICS, ($MILLION), GROWTH (%) 2014-2022
TABLE 36 LAMEA AUTOMOTIVE SENSORS MARKET FOR BODY ELECTRONICS, ($MILLION), GROWTH (%) 2014-2022
TABLE 37 TABLE 1 WORLD AUTOMOTIVE SENSORS MARKET FOR CHASSIS, ($MILLION), GROWTH (%) 2014-2022
TABLE 38 NORTH AMERICA AUTOMOTIVE SENSORS MARKET FOR CHASSIS, ($MILLION), GROWTH (%) 2014-2022
TABLE 39 EUROPE AUTOMOTIVE SENSORS MARKET FOR CHASSIS, ($MILLION), GROWTH (%) 2014-2022
TABLE 40 ASIA PACIFIC AUTOMOTIVE SENSORS MARKET FOR CHASSIS, ($MILLION), GROWTH (%) 2014-2022
TABLE 41 LAMEA AUTOMOTIVE SENSORS MARKET FOR CHASSIS, ($MILLION), GROWTH (%) 2014-2022
TABLE 42 WORLD AUTOMOTIVE SENSORS MARKET FOR SAFETY & SECURITY, ($MILLION), GROWTH (%) 2014-2022
TABLE 43 NORTH AMERICA AUTOMOTIVE SAFETY & SECURITY MARKET, ($MILLION), GROWTH (%) 2014-2022
TABLE 44 EUROPE AUTOMOTIVE SENSORS MARKET FOR SAFETY & SECURITY, ($MILLION), GROWTH (%) 2014-2022
TABLE 45 ASIA PACIFIC AUTOMOTIVE SENSORS MARKET FOR SAFETY & SECURITY, ($MILLION), GROWTH (%) 2014-2022
TABLE 46 LAMEA AUTOMOTIVE SENSORS MARKET FOR SAFETY & SECURITY, ($MILLION), GROWTH (%) 2014-2022
TABLE 47 NORTH AMERICA AUTOMOTIVE SENSORS MARKET, ($MILLION), GROWTH (%) 2014-2022
TABLE 48 U.S. AUTOMOTIVE SENSORS MARKET, ($MILLION), GROWTH (%) 2014- 2022
TABLE 49 CANADA AUTOMOTIVE SENSORS MARKET, ($MILLION), GROWTH (%) 2014-2022
TABLE 50 MEXICO AUTOMOTIVE SENSORS MARKET, ($MILLION), GROWTH (%) 2016- 2022
TABLE 51 EUROPE AUTOMOTIVE SENSORS MARKET, ($MILLION), GROWTH (%) 2014-2022
TABLE 52 GERMANY AUTOMOTIVE SENSORS MARKET, ($MILLION), GROWTH (%) 2014-2022
TABLE 53 U.K AUTOMOTIVE SENSORS MARKET, ($MILLION), GROWTH (%) 2016- 2022
TABLE 54 FRANCE AUTOMOTIVE SENSORS MARKET, ($MILLION), GROWTH (%) 2014-2022
TABLE 55 ITALY AUTOMOTIVE SENSORS MARKET, ($MILLION), GROWTH (%) 2014-2022
TABLE 56 REST of EUROPE AUTOMOTIVE SENSORS MARKET, ($MILLION), GROWTH (%) 2014-2022
TABLE 57 ASIA PACIFIC AUTOMOTIVE SENSORS MARKET, ($MILLION), GROWTH (%) 2014-2022
TABLE 58 CHINA AUTOMOTIVE SENSORS MARKET, ($MILLION), GROWTH (%) 2014-2022
TABLE 59 INDIA AUTOMOTIVE SENSORS MARKET, ($MILLION), GROWTH (%) 2014-2022
TABLE 60 JAPAN AUTOMOTIVE SENSORS MARKET, ($MILLION), GROWTH (%) 2014-2022
TABLE 61 SOUTH KOREA AUTOMOTIVE SENSORS MARKET, ($MILLION), GROWTH (%) 2014-2022
TABLE 62 REST of ASIA PACIFIC AUTOMOTIVE SENSORS MARKET, ($MILLION), GROWTH (%) 2014-2022
TABLE 63 LAMEA AUTOMOTIVE SENSORS MARKET, ($MILLION), GROWTH (%) 2014-2022
TABLE 64 LATIN AMERICA AUTOMOTIVE SENSORS MARKET, ($MILLION), GROWTH (%) 2014-2022
TABLE 65 MIDDLE EAST AUTOMOTIVE SENSORS MARKET, ($MILLION), GROWTH (%) 2014-2022
TABLE 66 AFRICA AUTOMOTIVE SENSORS MARKET, ($MILLION), GROWTH (%) 2016- 2022