DIGITAL LENDING PLATFORM MARKET OVERVIEW: 2026
The global digital lending platform market was valued at USD 4.79828 Billion in 2018, and digital lending platform market forecast is projected to reach USD 19.88451 Billion by 2026, registering a CAGR of 19.6% from 2019 to 2026.
These platforms are increasingly adopted among banks as it offers seamless monitoring and enhanced profitability benefits. In addition, it provides borrowers to apply with ease and offers them transparency, which in turn leads to significant time-savings. This automated nature of online lending platforms offers lenders and borrowers a more precise approach to deliver funding solutions, thus reducing stress and increasing chances of successful loan approval.
The growth of the global digital lending platform market is driven by a rise in the shift from traditional lending to digital lending, an increase in government initiatives toward digital lending, and a surge in need of reduced loan management time among borrowers, and lenders. However, security-related issues are expected to impact the growth of the digital lending platform market during the forecast period. On the contrary, continuous increase in the adoption of cloud-based digital lending technologies and the technological innovations in digital lending platforms are expected to be opportunistic for the global market.
Based on the deployment model, the on-premise segment dominated the overall digital lending platform market size in 2018 and is expected to maintain dominance during the forecast period. However, cloud-based platforms are expected to exhibit the highest growth rate during the forecast period, owing to a rise in need for cost-efficient and scalable technology among lenders, which can reduce IT and infrastructure costs among these organizations while providing high scalability, and better outcomes.
Based on end-user, the bank's segment dominated the global digital lending platform market size in 2018, owing to the significant adoption of digital lending technology among them. However, the peer-to-peer lending segment is expected to grow at the highest rate in the near future, due to a rise in the digital lending platform market for online P2P lending in growing countries, such as India, Japan, and China.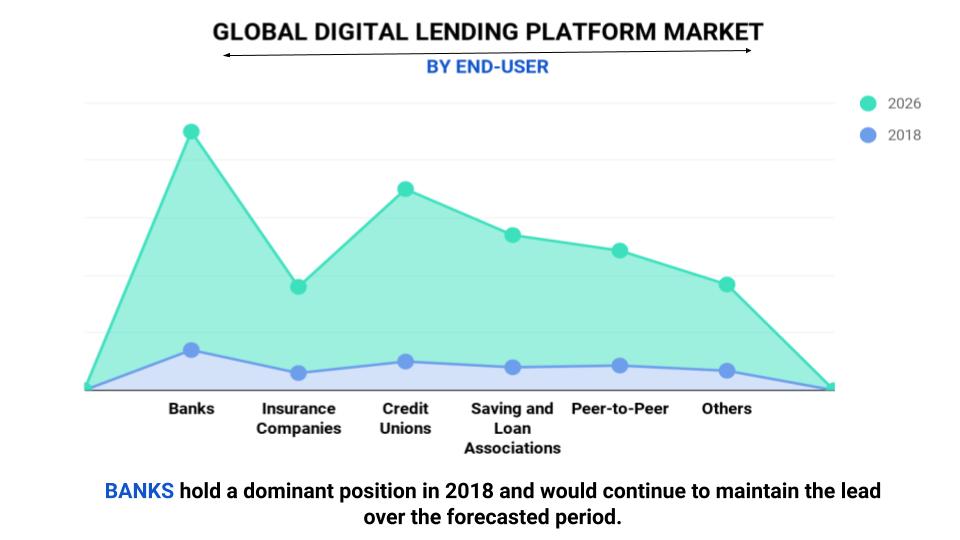 North America governed the overall digital lending platform market share, in terms of revenue, in 2018, due to a well-established BFSI industry, and significant FinTech investments in the region. However, Asia-Pacific is expected to witness the highest growth rate during the forecast period, owing to factors such as an increase in IT spending among banks, a rise in government initiatives for online lending, and a surge in the number of start-ups in the region.
The report focuses on the growth prospects, restraints, and trends of the global digital lending platform market analysis. Moreover, the study includes Porter's five forces analysis of the industry to understand the impact of various factors such as bargaining power of suppliers, competitive intensity of competitors, the threat of new entrants, threat of substitutes, and bargaining power of buyers on the growth of the market.
TOP IMPACTING FACTORS
Technological innovations in digital lending platforms:
Digital lending has experienced a drastic change over centuries, owing to the emergence of disruptive technologies. The digital lending innovation has revolutionized business in the financial sector in recent years and helped banks and other lenders to streamline the processes and improve the quality of their services. These innovations are constantly being developed and account for numerous opportunities for the sector. For instance, AI in digital lending solutions possesses extreme capabilities to reduce loan processing time and operational costs. In addition, cognitive computing possesses capabilities to analyze large amounts of data to create opportunities for lenders in risk analysis and management. More advanced technologies integration in the upcoming years is expected to create significant opportunities for the digital lending platform market.
Enabling Regulatory Environment:
Digital lending has witnessed continuous global growth, owing to an increase in a number of government initiatives and financial regulators in both developed and developing economies. Several regulators in economies, such as the U.S., the UK, Singapore, Hong Kong, and Australia, have created sandboxes to support innovations in the financial sector. In developing countries, such as China, and India, the regulatory commissions, such as the China Banking Regulatory Commission, has issued draft rules for digital lending. Moreover, governments have been proactive in promoting online lending among their businesses. For instance, the Indian government launched a digital lending platform for SMEs in 2018 through which they are able to apply for loans of up to Rs.1 Crore within 59 Minutes. All such measures taken by the regulators and governments in different countries have boosted the growth of digital lending.
Increase in Focus of Organizations on Digitalizing Their Financial Services:
Digitization has been one of the most widely adopted strategies in financial services to improve core processing capabilities and offer better consumer services and insights. In addition, these organizations have reportedly increased their sales percentage by focusing on the digitalization of their financial services. A study has revealed that investments in financial technologies witnessed an impressive growth in 2017, which was almost twice that of 2014. In addition, more than half of these investments have been associated with lending and payments. Digitization in the lending landscape has helped the organizations and their customers for better loan management decisions as well as rapid application and disbursement processes. Thus, the increase in the focus of organizations on digitalizing their financial services to achieve business efficiency, and better outcomes drive the digital lending platform market growth.
SEGMENT REVIEW
The global digital lending platform market is segmented based on component, type, deployment model, end-user, and region. Depending on the component, the market is divided into software and solution. Based on type, it is segmented into loan origination, determination automation, collections and recovery, risk and compliance management, and others. On the basis of the deployment model, it is bifurcated into on-premise, and cloud-based. By end-user, it is classified into banks, insurance companies, credit unions, savings and loan associations, peer-to-peer lending, and others. Based on the region, it is analyzed across North America, Europe, Asia-Pacific, and LAMEA.
The key players operating in the global digital lending platform market include Black Knight, Ellie MAE, Finastra, FIS Global, Fiserv, Intellect Design Arena, Nucleus Software, Tavant Technologies, Temenos, and Wipro. These players have adopted various strategies to increase their digital lending platform market penetration and strengthen their position in the industry
Key Benefits for Digital Lending Platform Market:
This study includes the analytical depiction of the global digital lending platform market trends and future estimations to determine the imminent investment pockets.

The report presents information related to key drivers, restraints, and opportunities.

The current digital lending platform market is quantitatively analyzed from 2018 to 2026 to highlight the financial competency of the industry.

Porter's five forces analysis illustrates the potency of buyers & suppliers in the digital lending platform industry.
Digital Lending Platform Market Segments:
Digital Lending Platform Market By Component
Digital Lending Platform Market By Type
Digital Lending Platform Market By Deployment Model
Digital Lending Platform Market By End-User
Digital Lending Platform Market By Region
North America

Europe

UK

Germany

France

Rest of Europe

Asia-Pacific

China

India

Japan

Rest of Asia-Pacific

LAMEA

Latin America

Middle East

Africa
Digital Lending Platform Market By Key Market Players
Black Knight

Ellie MAE

Finastra

FIS Global

Fiserv

Intellect Design Arena

Nucleus Software

Tavant Technologies

Temenos

Wipro
CHAPTER 1: INTRODUCTION
1.1. REPORT DESCRIPTION
1.2. KEY MARKET SEGMENTS
1.3. KEY BENEFITS
1.4. RESEARCH METHODOLOGY
1.4.1. Primary research
1.4.2. Secondary research
1.4.3. Analyst tools and models
CHAPTER 2: EXECUTIVE SUMMARY
2.1. CXO PERSPECTIVE
CHAPTER 3: MARKET LANDSCAPE
3.1. MARKET DEFINITION AND SCOPE
3.2. KEY FINDINGS
3.2.1. Top investment pockets
3.2.2. Top winning strategies
3.3. PORTER'S FIVE FORCES ANALYSIS
3.3.1. Bargaining power of suppliers
3.3.2. Threat of new entrants
3.3.3. Threat of substitutes
3.3.4. Competitive rivalry
3.3.5. Bargaining power among buyers
3.4. MARKET SHARE ANALYSIS/TOP PLAYER POSITIONING
3.4.1. Market share analysis/top player positioning 2018
3.5. MARKET DYNAMICS
3.5.1. Drivers
3.5.2. Restraints
3.5.3. Opportunities
CHAPTER 4: DIGITAL LENDING PLATFORM MARKET BY COMPONENT
4.1. OVERVIEW
4.2. SOFTWARE
4.2.1. Key market trends, growth factors and opportunities
4.2.2. Market Size and Forecast by region
4.2.3. Market share analysis, by country
4.3. SERVICE
4.3.1. Key market trends, growth factors and opportunities
4.3.2. Market Size and Forecast by region
4.3.3. Market share analysis, by country
CHAPTER 5: DIGITAL LENDING PLATFORM MARKET BY TYPE
5.1. OVERVIEW
5.2. LOAN ORIGINATION
5.2.1. Key market trends, growth factors and opportunities
5.2.2. Market Size and Forecast by region
5.2.3. Market share analysis, by country
5.3. DECISION AUTOMATION
5.3.1. Key market trends, growth factors and opportunities
5.3.2. Market Size and Forecast by region
5.3.3. Market share analysis, by country
5.4. COLLECTIONS AND RECOVERY
5.4.1. Key market trends, growth factors and opportunities
5.4.2. Market Size and Forecast by region
5.4.3. Market share analysis, by country
5.5. RISK AND COMPLIANCE MANAGEMENT
5.5.1. Key market trends, growth factors and opportunities
5.5.2. Market Size and Forecast by region
5.5.3. Market share analysis, by country
5.6. OTHERS
5.6.1. Key market trends, growth factors and opportunities
5.6.2. Market Size and Forecast by region
5.6.3. Market share analysis, by country
CHAPTER 6: DIGITAL LENDING PLATFORM MARKET BY DEPLOYMENT MODEL
6.1. OVERVIEW
6.2. ON-PREMISE
6.2.1. Key market trends, growth factors and opportunities
6.2.2. Market Size and Forecast by region
6.2.3. Market share analysis, by country
6.3. CLOUD
6.3.1. Key market trends, growth factors and opportunities
6.3.2. Market Size and Forecast by region
6.3.3. Market share analysis, by country
CHAPTER 7: DIGITAL LENDING PLATFORM MARKET BY END-USER
7.1. OVERVIEW
7.2. BANKS
7.2.1. Key market trends, growth factors and opportunities
7.2.2. Market Size and Forecast by region
7.2.3. Market share analysis, by country
7.3. INSURANCE COMPANIES
7.3.1. Key market trends, growth factors and opportunities
7.3.2. Market Size and Forecast by region
7.3.3. Market share analysis, by country
7.4. CREDIT UNIONS
7.4.1. Key market trends, growth factors and opportunities
7.4.2. Market Size and Forecast by region
7.4.3. Market share analysis, by country
7.5. SAVINGS AND LOAN ASSOCIATIONS
7.5.1. Key market trends, growth factors and opportunities
7.5.2. Market Size and Forecast by region
7.5.3. Market share analysis, by country
7.6. PEER-TO-PEER LENDING
7.6.1. Key market trends, growth factors and opportunities
7.6.2. Market Size and Forecast by region
7.6.3. Market share analysis, by country
7.7. OTHERS
7.7.1. Key market trends, growth factors and opportunities
7.7.2. Market Size and Forecast by region
7.7.3. Market share analysis, by country
CHAPTER 8: DIGITAL LENDING PLATFORM MARKET BY REGION
8.1. OVERVIEW
8.2. NORTH AMERICA
8.2.1. Key market trends and opportunities
8.2.2. Market size and forecast by component
8.2.3. Market size and forecast by type
8.2.4. Market size and forecast by deployment model
8.2.5. Market size and forecast by end-user
8.2.6. Market size and forecast by Country
8.2.7. U.S. Digital Lending Platform Market
8.2.7.1. Market size and forecast by component
8.2.7.2. Market size and forecast by type
8.2.7.3. Market size and forecast by deployment model
8.2.7.4. Market size and forecast by end-user
8.2.8. Canada Digital Lending Platform Market
8.2.8.1. Market size and forecast by component
8.2.8.2. Market size and forecast by type
8.2.8.3. Market size and forecast by deployment model
8.2.8.4. Market size and forecast by end-user
8.3. EUROPE
8.3.1. Key market trends and opportunities
8.3.2. Market size and forecast by component
8.3.3. Market size and forecast by type
8.3.4. Market size and forecast by deployment model
8.3.5. Market size and forecast by end-user
8.3.6. Market size and forecast by Country
8.3.7. UK Digital Lending Platform Market
8.3.7.1. Market size and forecast by component
8.3.7.2. Market size and forecast by type
8.3.7.3. Market size and forecast by deployment model
8.3.7.4. Market size and forecast by end-user
8.3.8. Germany Digital Lending Platform Market
8.3.8.1. Market size and forecast by component
8.3.8.2. Market size and forecast by type
8.3.8.3. Market size and forecast by deployment model
8.3.8.4. Market size and forecast by end-user
8.3.9. France Digital Lending Platform Market
8.3.9.1. Market size and forecast by component
8.3.9.2. Market size and forecast by type
8.3.9.3. Market size and forecast by deployment model
8.3.9.4. Market size and forecast by end-user
8.3.10. Rest of Europe Digital Lending Platform Market
8.3.10.1. Market size and forecast by component
8.3.10.2. Market size and forecast by type
8.3.10.3. Market size and forecast by deployment model
8.3.10.4. Market size and forecast by end-user
8.4. ASIA-PACIFIC
8.4.1. Key market trends and opportunities
8.4.2. Market size and forecast by component
8.4.3. Market size and forecast by type
8.4.4. Market size and forecast by deployment model
8.4.5. Market size and forecast by end-user
8.4.6. Market size and forecast by Country
8.4.7. China Digital Lending Platform Market
8.4.7.1. Market size and forecast by component
8.4.7.2. Market size and forecast by type
8.4.7.3. Market size and forecast by deployment model
8.4.7.4. Market size and forecast by end-user
8.4.8. India Digital Lending Platform Market
8.4.8.1. Market size and forecast by component
8.4.8.2. Market size and forecast by type
8.4.8.3. Market size and forecast by deployment model
8.4.8.4. Market size and forecast by end-user
8.4.9. Japan Digital Lending Platform Market
8.4.9.1. Market size and forecast by component
8.4.9.2. Market size and forecast by type
8.4.9.3. Market size and forecast by deployment model
8.4.9.4. Market size and forecast by end-user
8.4.10. Rest of Asia-Pacific Digital Lending Platform Market
8.4.10.1. Market size and forecast by component
8.4.10.2. Market size and forecast by type
8.4.10.3. Market size and forecast by deployment model
8.4.10.4. Market size and forecast by end-user
8.5. LAMEA
8.5.1. Key market trends and opportunities
8.5.2. Market size and forecast by component
8.5.3. Market size and forecast by type
8.5.4. Market size and forecast by deployment model
8.5.4. Market size and forecast by end-user
8.5.5. Market size and forecast by Country
8.5.6. Latin America Digital Lending Platform Market
8.5.6.1. Market size and forecast by component
8.5.6.2. Market size and forecast by type
8.5.6.3. Market size and forecast by deployment model
8.5.6.4. Market size and forecast by end-user
8.5.8. Middle East Digital Lending Platform Market
8.5.8.1. Market size and forecast by component
8.5.8.2. Market size and forecast by type
8.5.8.3. Market size and forecast by deployment model
8.5.8.4. Market size and forecast by end-user
8.5.9. Africa Digital Lending Platform Market
8.5.9.1. Market size and forecast by component
8.5.9.2. Market size and forecast by type
8.5.9.3. Market size and forecast by deployment model
8.5.9.4. Market size and forecast by end-user
CHAPTER 9: COMPANY PROFILES
9.1. BLACK KNIGHT
9.1.1. Company overview
9.1.2. Business performance
9.1.3. Key strategic moves and developments
9.2. ELLIE MAE
9.2.1. Company overview
9.2.2. Business performance
9.2.3. Key strategic moves and developments
9.3. FINASTRA
9.3.1. Company overview
9.3.2. Business performance
9.3.3. Key strategic moves and developments
9.4. FIS GLOBAL
9.4.1. Company overview
9.4.2. Business performance
9.4.3. Key strategic moves and developments
9.5. FISERV
9.5.1. Company overview
9.5.2. Business performance
9.5.3. Key strategic moves and developments
9.6. INTELLECT DESIGN ARENA
9.6.1. Company overview
9.6.2. Business performance
9.6.3. Key strategic moves and developments
9.7. NUCLEUS SOFTWARE
9.7.1. Company overview
9.7.2. Business performance
9.7.3. Key strategic moves and developments
9.8. TAVANT TECHNOLOGIES
9.8.1. Company overview
9.8.2. Business performance
9.8.3. Key strategic moves and developments
9.9. TEMENOS
9.9.1. Company overview
9.9.2. Business performance
9.9.3. Key strategic moves and developments
9.10. WIPRO
9.10.1. Company overview
9.10.2. Business performance
9.10.3. Key strategic moves and developments
LIST OF TABLES
TABLE 1. GLOBAL DIGITAL LENDING PLATFORM MARKET, BY COMPONENT 2018-2026 ($MILLION)
TABLE 2. DIGITAL LENDING PLATFORM MARKET FOR SOFTWARE, BY REGION, 2018-2026 ($MILLION)
TABLE 3. DIGITAL LENDING PLATFORM MARKET FOR SERVICE, BY REGION, 2018-2026 ($MILLION)
TABLE 4. GLOBAL DIGITAL LENDING PLATFORM MARKET, BY TYPE 2018-2026 ($MILLION)
TABLE 5. DIGITAL LENDING PLATFORM MARKET FOR LOAN ORIGINATION, BY REGION, 2018-2026 ($MILLION)
TABLE 6. DIGITAL LENDING PLATFORM MARKET FOR DECISION AUTOMATION, BY REGION, 2018-2026 ($MILLION)
TABLE 7. DIGITAL LENDING PLATFORM MARKET FOR COLLECTIONS AND RECOVERY, BY REGION, 2018-2026 ($MILLION)
TABLE 8. DIGITAL LENDING PLATFORM MARKET FOR RISK AND COMPLIANCE MANAGEMENT, BY REGION, 2018-2026 ($MILLION)
TABLE 9. DIGITAL LENDING PLATFORM MARKET FOR OTHERS, BY REGION, 2018-2026 ($MILLION)
TABLE 10. GLOBAL DIGITAL LENDING PLATFORM MARKET, BY DEPLOYMENT MODEL 2018-2026 ($MILLION)
TABLE 11. DIGITAL LENDING PLATFORM MARKET FOR ON-PREMISE, BY REGION, 2018-2026 ($MILLION)
TABLE 12. DIGITAL LENDING PLATFORM MARKET FOR CLOUD, BY REGION, 2018-2026 ($MILLION)
TABLE 13. GLOBAL DIGITAL LENDING PLATFORM MARKET, BY END-USER 2018-2026 ($MILLION)
TABLE 14. DIGITAL LENDING PLATFORM MARKET FOR BANKS, BY REGION, 2018-2026 ($MILLION)
TABLE 15. DIGITAL LENDING PLATFORM MARKET FOR INSURANCE COMPANIES, BY REGION, 2018-2026 ($MILLION)
TABLE 16. DIGITAL LENDING PLATFORM MARKET FOR CREDIT UNIONS, BY REGION, 2018-2026 ($MILLION)
TABLE 17. DIGITAL LENDING PLATFORM MARKET FOR SAVINGS AND LOAN ASSOCIATIONS, BY REGION, 2018-2026 ($MILLION)
TABLE 18. DIGITAL LENDING PLATFORM MARKET FOR PEER-TO-PEER LENDING, BY REGION, 2018-2026 ($MILLION)
TABLE 19. DIGITAL LENDING PLATFORM MARKET FOR OTHERS, BY REGION, 2018-2026 ($MILLION)
TABLE 20. DIGITAL LENDING PLATFORM MARKET, BY REGION, 2018-2026 ($MILLION)
TABLE 21. NORTH AMERICA DIGITAL LENDING PLATFORM, BY COMPONENT 2018-2026 ($MILLION)
TABLE 22. NORTH AMERICA DIGITAL LENDING PLATFORM, BY TYPE 2018-2026 ($MILLION)
TABLE 23. NORTH AMERICA DIGITAL LENDING PLATFORM, BY DEPLOYMENT MODEL 2018-2026 ($MILLION)
TABLE 24. NORTH AMERICA DIGITAL LENDING PLATFORM, BY END-USER 2018-2026 ($MILLION)
TABLE 25. NORTH AMERICA DIGITAL LENDING PLATFORM, BY REGION, 2018-2026 ($MILLION)
TABLE 26. EUROPE DIGITAL LENDING PLATFORM, BY COMPONENT 2018-2026 ($MILLION)
TABLE 27. EUROPE DIGITAL LENDING PLATFORM, BY TYPE 2018-2026 ($MILLION)
TABLE 28. EUROPE DIGITAL LENDING PLATFORM, BY DEPLOYMENT MODEL 2018-2026 ($MILLION)
TABLE 29. EUROPE DIGITAL LENDING PLATFORM, BY END-USER 2018-2026 ($MILLION)
TABLE 30. EUROPE DIGITAL LENDING PLATFORM, BY REGION, 2018-2026 ($MILLION)
TABLE 31. ASIA-PACIFIC DIGITAL LENDING PLATFORM, BY COMPONENT 2018-2026 ($MILLION)
TABLE 32. ASIA-PACIFIC DIGITAL LENDING PLATFORM, BY TYPE 2018-2026 ($MILLION)
TABLE 33. ASIA-PACIFIC DIGITAL LENDING PLATFORM, BY DEPLOYMENT MODEL 2018-2026 ($MILLION)
TABLE 34. ASIA-PACIFIC DIGITAL LENDING PLATFORM, BY END-USER 2018-2026 ($MILLION)
TABLE 35. ASIA-PACIFIC DIGITAL LENDING PLATFORM, BY REGION, 2018-2026 ($MILLION)
TABLE 36. LAMEA DIGITAL LENDING PLATFORM, BY COMPONENT 2018-2026 ($MILLION)
TABLE 37. LAMEA DIGITAL LENDING PLATFORM, BY TYPE 2018-2026 ($MILLION)
TABLE 38. LAMEA DIGITAL LENDING PLATFORM, BY DEPLOYMENT MODEL 2018-2026 ($MILLION)
TABLE 39. LAMEA DIGITAL LENDING PLATFORM, BY END-USER 2018-2026 ($MILLION)
TABLE 40. LAMEA DIGITAL LENDING PLATFORM, BY REGION, 2018-2026 ($MILLION)
TABLE 41. BLACK KNIGHT: COMPANY SNAPSHOT
TABLE 42. BLACK KNIGHT: OPERATING SEGMENTS
TABLE 43. ELLIE MAE: COMPANY SNAPSHOT
TABLE 44. ELLIE MAE: OPERATING SEGMENTS
TABLE 45. FINASTRA: COMPANY SNAPSHOT
TABLE 46. FINASTRA: OPERATING SEGMENTS
TABLE 47. FIS GLOBAL: COMPANY SNAPSHOT
TABLE 48. FIS GLOBAL: OPERATING SEGMENTS
TABLE 49. FISERV: COMPANY SNAPSHOT
TABLE 50. FISERV: OPERATING SEGMENTS
TABLE 51. INTELLECT DESIGN ARENA: COMPANY SNAPSHOT
TABLE 52. INTELLECT DESIGN ARENA: OPERATING SEGMENTS
TABLE 53. NUCLEUS SOFTWARE: COMPANY SNAPSHOT
TABLE 54. NUCLEUS SOFTWARE: OPERATING SEGMENTS
TABLE 55. TAVANT TECHNOLOGIES: COMPANY SNAPSHOT
TABLE 56. TAVANT TECHNOLOGIES: OPERATING SEGMENTS
TABLE 57. TEMENOS: COMPANY SNAPSHOT
TABLE 58. TEMENOS: OPERATING SEGMENTS
TABLE 59. WIPRO: COMPANY SNAPSHOT
TABLE 60. WIPRO: OPERATING SEGMENTS