FEATURED COMPANIES
Walker Modular
Offsite Solutions
Bathsystem
Interpod
Eurocomponents
Elements Europe
Sanika
Oldcastle SurePods
Taplanes
Pivotek
Buildom
Others
Prefabricated Bathroom Pods Market

Statistics
The Prefabricated Bathroom Pods market size was valued at US$ 1242.2 million in 2020 and is projected to reach US$ 2446.3 million by 2027, at a CAGR of 10.2% during the forecast period 2021-2027. In this study, 2020 has been considered as the base year and 2021 to 2027 as the forecast period to estimate the market size for Prefabricated Bathroom Pods. In 2019, Europe and Asia-Pacific contributed to the main consumer market(approximately 80% in total).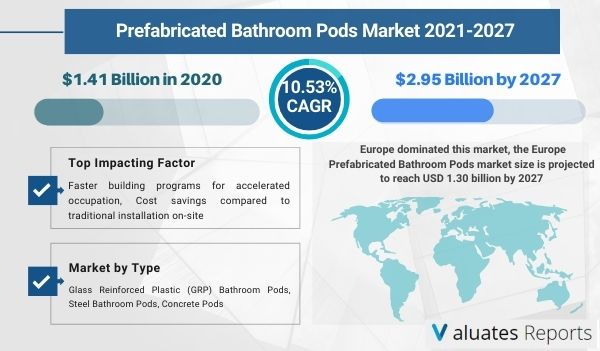 Top 3 Significant Benefits of Prefabricated Bathroom Pods
Faster building programs for accelerated occupation
Cost savings compared to traditional installation on-site
Elimination of many potential on-site health and safety issues
Overall demand for Prefabricated Bathroom Pods has been driven by a combination of factors, including demand for design standardisation and fast-track construction; ongoing key skills shortages; growth in the number of sites where there is restricted space; and increasing demand in the main end-user markets.
The market for Prefabricated Bathroom Pods is fragmented with major players such as Walker Modular, Altor Industrie (Part Group), Offsite Solutions, BAUDET, Interpod, Bathsystem, StercheleGroup, Eurocomponents, Taplanes, Sanika, Modul Panel, Oldcastle SurePods, Elements Europe, Pivotek, B&T Manufacturing, Buildom and so on. There are many small companies in this market.
In terms of the production side, this report researches the Prefabricated Bathroom Pods capacity, production, growth rate, market share by manufacturers and regions (or countries), from 2016 to 2020, and forecast to 2027.
In terms of the sales side, this report focuses on the sales of Prefabricated Bathroom Pods by regions (countries), company, by Type and by Application. from 2016 to 2020 and forecast to 2027.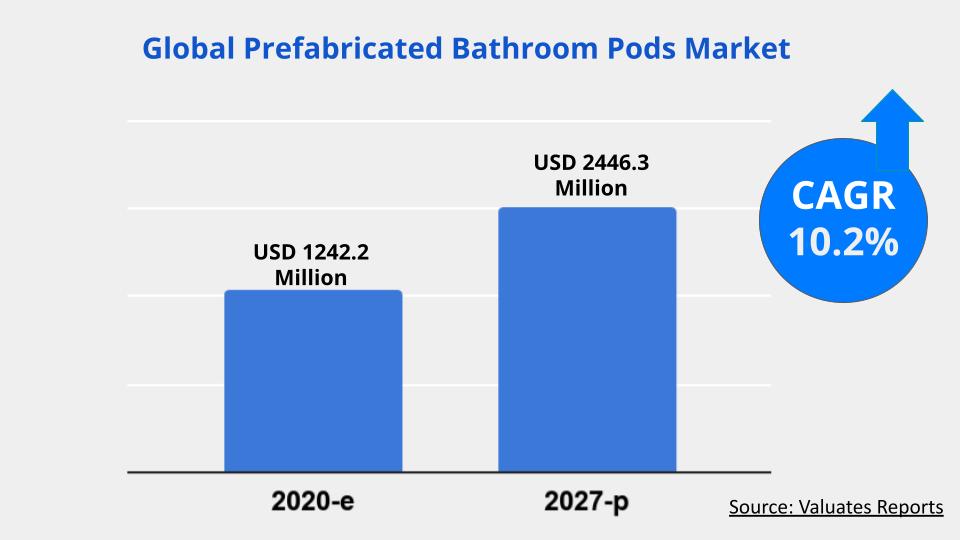 One of the most convenient ways to add bathroom section in a time-saving manner is by using the prefabricated bathroom pods. Compared to a conventional bathroom, bathroom pods ensures hassle-free construction and involves simple installation. These toilets are suitable for outdoor activities such as temporary military camps, adventure camps, and establishment of toilets in the already constructed room. The bathroom pods are smooth and economical, which means that hotels, offices, spas, and lounges have a strong demand for them.
Bathroom pods assist the job environment to be cleaner and safer, to decrease job, equipment, waste, expenses, and to speed up occupancy. Prefabricated bathroom pod are commissioned ready for use as they come fully fitted with all fixtures such as bathroom sink bathroom fan, bathroom taps, and fittings such as bathroom tiles.
The use of the bathroom and toilet pods is increasingly being advocated by offsite production as an alternative to all volume building in the established industries such as hotels, housing for students, and health care.
Scope of the Report:
| | |
| --- | --- |
| Report Metric | Details |
| Report Name | Prefabricated Bathroom Pods Market |
| Market size value in 2019 | USD 1242.2 Million |
| Revenue forecast in 2027 | USD 2446.3 Million |
| Base year | 2019 |
| Forecast period | 2021-2027 |
| Units | Value (USD) |
| Segments covered | Type, End-User, Offerings, and Region |
| Market BY Type | GRP Bathroom Pods, Steel Bathroom Pods, Others |
| Market BY Applications | Residential Use, Commercial Use, Others |
| Geographic regions covered | North America, APAC, Europe, and RoW |
Prefabricated Bathroom Pods Market Forecast
Simplifying the overall management of building construction is the common goal for all construction companies. The prefabricated bathroom pods help in this aspect. It capitalizes on the ability to transfer products under controlled production circumstances and on tight stock control and project schedules. This prefabricated bathroom pod is inherently waste-conscious and, if thoroughly and strategically supplied, can have a minimum effect on the site.
The report includes all data on worldwide and regional economies, including historical and future trends in market demand, size, trade, supply, rivals, and prices.
Prefabricated Bathroom Pods Market Segmentation and Classification
Prefabricated Bathroom Pods Market Type
This report tactically categorizes the Prefabricated bathroom pod sector into three.
Glass Reinforced Plastic (GRP) Bathroom Pods - For projects where robustness, longevity, and ease of maintenance are the main factors, GRP bathroom pods are indicated. These pods are commonly used in the sectors of student housing, affordable housing, army, healthcare, and hotels.
Steel Bathroom Pods - Steel bathroom pods provide the perfect solution for customers who are looking for elevated and specific requirements. Steel-framed bathroom pods give developers premium aesthetics with traditional ceramic tiling, high-quality finishing, and outstanding flexibility in design for large-scale housing flats, hotels, and lodging for students.
Concrete Pods - Concrete pods are made of thin, regular or lightweight walls with tubes integrated for electrical and plumbing crops, and are made up of reinforced concrete and light ceilings.
Prefabricated Bathroom Pods Market by Application
Residential Use

Commercial Use

Others (Military accommodation, etc.
Key Major Vendors
The number of companies present in the bathroom pod manufacturing business is relatively moderate and are based predominantly in North America and Asia-Pacific region. These bathroom pod manufacturers use different construction design and materials to satisfy their target audience. A few of these companies include,
Walker Modular

Offsite Solutions

Bathsystem

Interpod

Eurocomponents

Elements Europe

Sanika

Oldcastle SurePods

Taplanes

Pivotek

Buildom

BAUDET

Altor Industrie (Part Group)

StercheleGroup

Modul Panel

B&T Manufacturing

Suzhou COZY House Equipment

Syswo Housing Tech

Guangzhou Seagull Housing Industry

Hunan Xinling Housing Equipment Co., Ltd.

Honlley

Changsha Broad Homes Industrial Group

Red Sea International
This report introduces the global market size of the prefabricated bathrooms pods (value, manufacturing, and usage), divided between producers, area, type and application by historical information 2014–2019 and forecast to 2025. This report also analyzes market position, market share, growth rate, trends in the future, drivers of the market, possibilities and difficulties, hazards and entry obstacles, marketing channels.
Prefabricated Bathroom Pods Market by Region
North America

United States

Canada

Mexico

Asia-Pacific

China

Japan

Korea

Southeast Asia

Australia

Europe

Germany

France

UK

Italy

Russia

Rest of Europe

ROW (Rest of World)

Brazil

GCC Countries