Machine Translation Market
Global Machine Translation market is projected to reach US$ 1098.8 million in 2029, increasing from US$ 487.1 million in 2022, with the CAGR of 12.5% during the period of 2023 to 2029.
Computational linguistics includes the topic of machine translation (MT). Machine translation systems are software programs or internet services that can translate text from one language into another by utilizing machine learning to translate enormous quantities of information between the languages they support.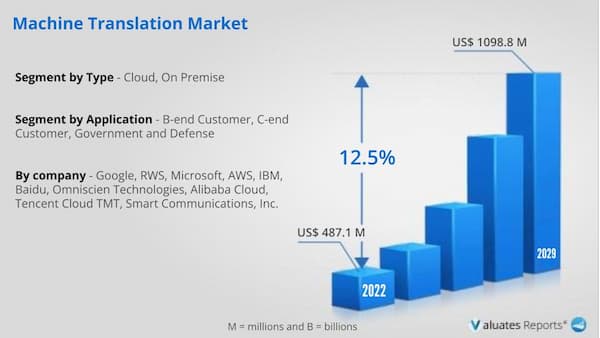 Machine Translation Market Trends
The growing need for multilingual communication and information sharing among individuals, businesses, and organizations on a worldwide scale is one of the key factors driving the machine translation market's expansion. The expansion of global trade, collaboration, and cultural interchange has increased the need for competent and affordable language translation services. Machine translation techniques are becoming important for bridging linguistic divides and facilitating international communication. The machine translation industry has undergone a revolution thanks to the introduction of neural machine translation (NMT) technology. Artificial neural networks are used by NMT systems to increase translation accuracy and fluency. As a result of these systems, the quality of machine-generated translations has substantially improved, making them more helpful in a variety of professional settings, such as e-commerce, healthcare, and business.
The expansion of e-commerce, travel, and international trade has increased the need for real-time translation services. Instantaneous language translation machine translation systems, such as those built into chat programs, navigational aids, and video conferencing platforms, have become quite popular. As technology advances and consumer expectations for real-time translation rise, this tendency is likely to persist. Large-scale content translation is now possible for a fraction of the price of traditional human translation services because of machine translation. Processes for translation can be automated by businesses, saving time and money. Machine translation is a desirable alternative for companies of all sizes since it can be quickly expanded to fulfill growing translation demands without dramatically raising costs.
It is becoming simpler for businesses to translate and localize their content because of the increased integration of machine translation technologies with content management systems and e-commerce platforms. By streamlining the translation process, this connectivity enables businesses to effectively reach a worldwide audience and enhance user experience by offering information in many languages. Large datasets are used by machine translation systems to enhance translation quality. Machine translation algorithms now have access to a multitude of data to improve language models and translation quality because of the exponential rise of digital material and user-generated data. One of the factors influencing the development of machine translation technology is the availability of large amounts of multilingual data.
Machine Translation Market Share
Google, RWS, Microsoft, and Lionbridge are some of the leading machine translation companies on the planet. A share of around 65% is held by the top four producers globally. With a market share of almost 93%, the cloud is the most significant product category. The largest application in terms of use is B-end customers, which has a market share of roughly 71%.