FEATURED COMPANIES
Honeywell
Intelex Technologies
SAP
Bcfooderp
Trimble
Food Decision Software
JustFoodERP
IBM
Intact
Mass Group
Company
Japan
Food Traceability Market Statistics 2027
the global Food Traceability market size was $16180 million in 2020 and is forecast to $30110 million in 2027, growing at a CAGR of 10.9% during 2021-2027. In this study, 2020 has been considered as the base year and 2021 to 2027 as the forecast period to estimate the market size for Food Traceability.
"The food traceability industry has got great development in the past five years".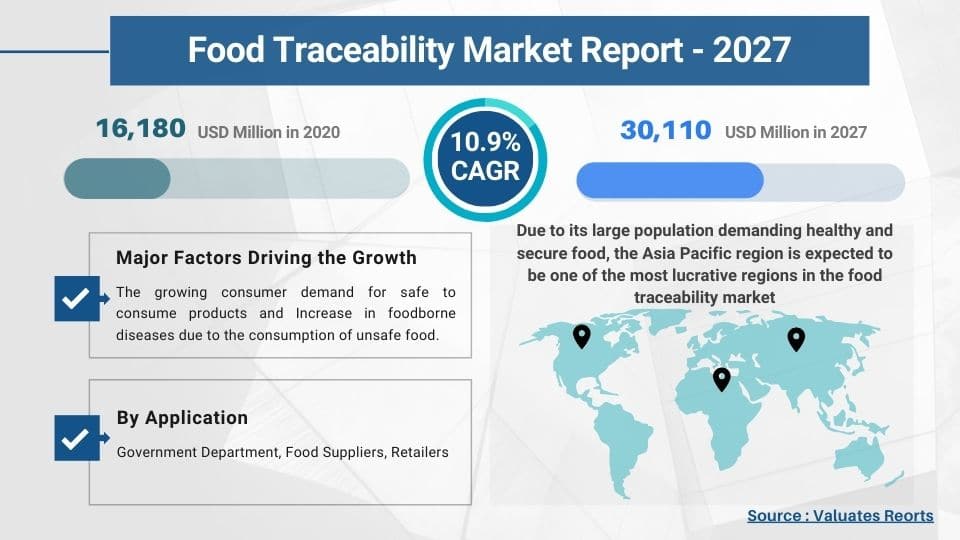 Food traceability is tracing any food, feed, food-producing animal or substance that will be used for consumption, through all stages of production, processing and distribution to identify and address risks and protect public health.
Food traceability is a way of responding to potential risks that can arise in food and feed, to ensure that all food products are safe for citizens to eat.
Due to its large population demanding healthy and secure food, the Asia Pacific region is expected to be one of the most lucrative regions in the food traceability market. Furthermore, the demand is predicted to increase rapidly due to the increased demand for safety concerns following the recent COVID outbreak in China.
The market research report offered here is a very useful resource that can help manufacturers, stakeholders, decision-makers, and other market participants to become familiar with every factor impacting the growth of the global Food Traceability market. The analysts authoring the report have closely studied key strategies adopted by top players of the global Food Traceability market. The report includes SWOT, and other market analyses to provide a clear and deep understanding of important aspects of the global Food Traceability market. Readers of the report can become informed about current and future trends of the global Food Traceability market and how they will impact market growth during the forecast period.
Food Traceability Market by Region
North America

U.S.

Canada

Europe

Germany

France

U.K.

Italy

Russia

Asia Pacific

China

Japan

South Korea

India

Australia

Taiwan

Indonesia

Thailand

Malaysia

Philippines

Vietnam

Latin America

Mexico

Brazil

Argentina

Middle East & Africa

Turkey

Saudi Arabia

U.A.E
Food Traceability Market by Type
Meat Traceability System

Vegetable and Fruit Traceability System

Milk Food Traceability System
Food Traceability Market by Application
Government Department

Food Suppliers

Retailers
Major Players in the Food Traceability Market
Honeywell

Intelex Technologies

SAP

Bcfooderp

Trimble

Food Decision Software

JustFoodERP

IBM

Intact

Mass Group
Scope of the Food Traceability Market Report
| | |
| --- | --- |
| Report Metric | Details |
| Report Name | Food Traceability Market |
| The market size in 2020 | USD 16180 Million |
| The revenue forecast in 2027 | USD 30110 Million |
| Growth Rate | CAGR of 10.9% from 2021 to 2027 |
| Base year considered | 2019 |
| Forecast period | 2021-2027 |
| Forecast units | Value (USD) |
| Segments covered | Type, End-User, Offerings, and Region |
| Market by Type | Meat Traceability System, Vegetable and Fruit Traceability System, Milk Food Traceability System |
| Market by Applications/Enduser | Government Department, Food Suppliers, Retailers |
| Report coverage | Revenue & volume forecast, company share, competitive landscape, growth factors, and trends |
| Geographic regions covered | North America, Europe, Asia Pacific, Latin America, Middle East & Africa |