FEATURED COMPANIES
Manitoba Harvest
CW Hemp/CW Botanicals
Aphria
Canopy Growth Corporation
Nutiva
Agropro
CV Sciences
Isodiol
Endoca
Jinzhou Qiaopai Biotech
North American Hemp & Grain Co
Yunnan Industrial Hemp
GFR Ingredients Inc
Hempco
Yishutang
Naturally Splendid
BAFA neu GmbH
AOS Products
Suyash Herbs
HEMP MARKET OVERIVEW
In 2019, the global Hemp market size was US$ 1533.2 million and it is expected to reach US$ 6666.3 million by the end of 2026, with a CAGR of 23.1% during 2021-2026.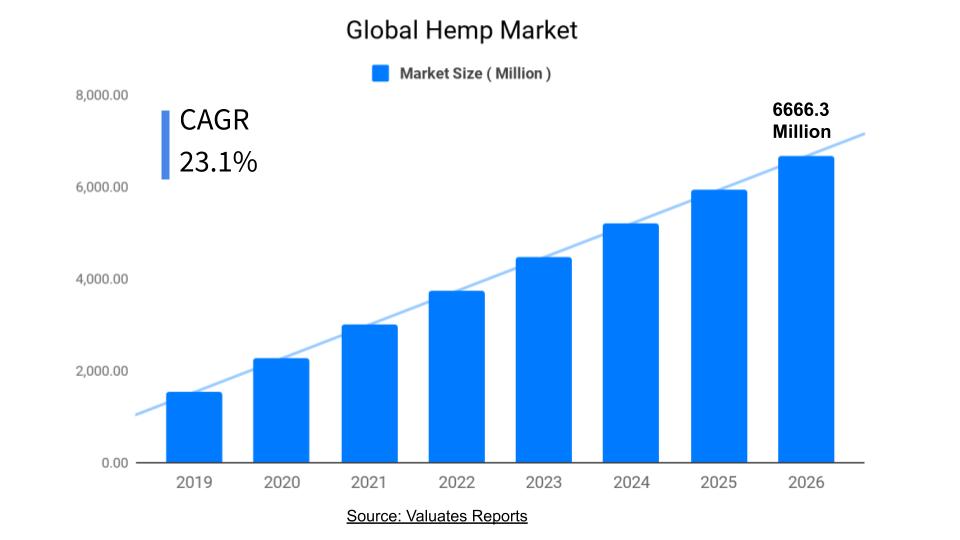 Hemp, or industrial hemp, typically found in the northern hemisphere, is a variety of the Cannabis sativa plant species that is grown specifically for the industrial uses of its derived products. It is one of the fastest growing plants and was one of the first plants to be spun into usable fiber 10,000 years ago.

The global average price of Hemp is in the increasing trend, from 16.13 USD/Unit in 2013 to 19.75 USD/Unit in 2017. With the situation of global economy, prices will be in increasing trend in the following five years.
Increasing beneficial use of industrial hemp products in paper, textiles, biodegradable plastics, fuel, construction and health food is expected to provide countless growth possibilities in the years ahead.
The report classifies the hemp market based on, hemp seeds, hemp oil, hemp Protein and soft gel. Due to the increasing demand for hemp grain to acquire seed oil, the seeds segment dominates the industry with the largest share of 50.90 per cent in 2018.
FACTORS DRIVING THE MARKET
Increasing amount of chronic illnesses such as diabetes

Increased use of hempseed oil & hemp seed in multiple food applications

Increased legalization in industrial hemp cultivation
REGION WISE MARKET ANALYSIS
During the forecast period, the European region is expected to be the fastest-growing region on the industrial hemp market due to increased consumption of hemp plants as food as well as their broad use in other food products such as smoothies, yoghurt, cereals and bars. Also, it is anticipated that the growing legalization of Industrial Hemp in the European region will increase the industrial hemp market in the coming years.
Due to the rising geriatric population and growing concerns about skin diseases and UV protection that are supposed to drive the region's personal care industry demand for hemp oil, North America market is on the rise.
Asia Pacific is a quickly growing region in the production of biodegradable textiles for consumer and industrial applications due to increased fibre consumption. It is anticipated that the presence of significant provider nations including China, India, Australia and South Korea will have a beneficial effect on regional development
SEGMENTS AND CLASSIFICATION
The overall hemp market is classified into three sections based on product, end-user and region.
1) Segments in Global Hemp Market Based on Product
Hemp Seeds

Hemp Oil

Hemp Protein

Soft Gel Caps
2) Segments in Global Hemp Market Based on End-user
Supermarkets

Convenience Stores

Others
3) Segments in Global Hemp Market Based on Region
FEATURED COMPANY
Some of the major players in the hemp market discussed in this report are,
Manitoba Harvest

CW Hemp/CW Botanicals

Aphria

Canopy Growth Corporation

Nutiva

Agropro

CV Sciences

Isodiol

ENDOCA

Jinzhou Qiaopai Biotech

North American Hemp & Grain Co

Yunnan Industrial Hemp

GFR Ingredients Inc

Hempco

Yishutang

Naturally Splendid

BAFA neu GmbH

Aos Products

Suyash Herbs
WHAT THE REPORT HAS TO OFFER
This study analyzes Hemp's worldwide market size in important areas such as North America, Europe, Asia Pacific, Central & South America, and Middle East & Africa, focusing on Hemp production. This report analyzes the top players/brands, area, type and end customer categorizes of the worldwide Hemp market. This study also looks at the worldwide market status of Hemp, competitive landscape, market share, growth rate, future trends, market drivers, possibilities and difficulties, marketing channels and distributors
FEATURED COMPANIES
Manitoba Harvest
CW Hemp/CW Botanicals
Aphria
Canopy Growth Corporation
Nutiva
Agropro
CV Sciences
Isodiol
Endoca
Jinzhou Qiaopai Biotech
North American Hemp & Grain Co
Yunnan Industrial Hemp
GFR Ingredients Inc
Hempco
Yishutang
Naturally Splendid
BAFA neu GmbH
AOS Products
Suyash Herbs
TABLE OF CONTENT
FEATURED COMPANIES
Manitoba Harvest
CW Hemp/CW Botanicals
Aphria
Canopy Growth Corporation
Nutiva
Agropro
CV Sciences
Isodiol
Endoca
Jinzhou Qiaopai Biotech
North American Hemp & Grain Co
Yunnan Industrial Hemp
GFR Ingredients Inc
Hempco
Yishutang
Naturally Splendid
BAFA neu GmbH
AOS Products
Suyash Herbs
LIST OF TABLES & FIGURES