FEATURED COMPANIES
Madhava Natural Sweeteners
Truvia
SweetLeaf Stevia
Tate & Lyle
Whole Earth Sweetener
Imperial Sugar
Herboveda
Sunwin Stevia International
Morita Kagaku Kogyo
ABF Ingredients
Evolva
GLG Lifetech
Galam Group
Merisant
Ohly
Pure Circle
Zevia
Natural Sweeteners Market Statistics 2026
The global Natural Sweeteners market size is projected to reach USD 27940 Million by 2026, from USD 22490 Million in 2020, at a CAGR of 3.7% during 2021-2026.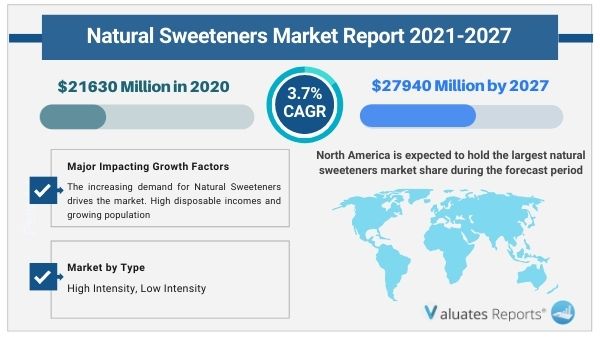 Natural sweeteners, in comparison to nonnutritive sweeteners, contain calories and nutrients, are metabolized, and change as they pass through the body. They include agave nectar, brown rice syrup, date sugar, honey, maple syrup, molasses and blackstrap molasses, sorghum syrup and stevia.
Growing consumer awareness about the ill effects of excessive sugar intake, such as weight gain, diabetes, blood pressure, and heart problems, obliges consumers to opt for low-calorie sugar alternatives, thus promoting the growth of the natural sweeteners market size. Furthermore, manufacturers' efforts to develop high-quality formulations at a lower price are expected to increase the acceptance of natural sweeteners among consumers and, in turn, drive the natural sweeteners market size.
The increasing demand for Natural Sweeteners drives the market. High disposable incomes and growing population are key drivers to boost the growth of Natural Sweeteners market. Advancement in technology and new product development is expected to bring about various improvements in sugar substitutes market.
Increasing concerns towards growing health problems such as obesity and diabetes coupled with sugar taxes in numerous countries is likely to draw attention towards adopting non-caloric products based on natural sweeteners. Increasing prevalence of chronic diseases such as obesity and diabetes also lead to the growth of the market. Asia Pacific Excluding Japan (APEJ) is expected to remain dominant during the forecast period.
| | |
| --- | --- |
| Report Metric | Details |
| Report Name | Natural Sweeteners Market |
| The market size value in 2020 | USD 22,490 Million |
| The revenue forecast in 2026 | USD 27,940 Million |
| Growth Rate | CAGR of 3.7% from 2020 to 2026 |
| Base year considered | 2019 |
| Forecast period | 2020-2026 |
| Forecast units | Value (USD) |
| Segments covered | Type, End-User, Offerings, and Region |
| Report coverage | Revenue & volume forecast, company share, competitive landscape, growth factors, and trends |
| Geographic regions covered | North America, Europe, Asia Pacific, Latin America, Middle East & Africa |
Natural Sweeteners Market Segmentation
Natural Sweeteners Market Based on the Regions
North America is expected to hold the largest natural sweeteners market share during the forecast period. This dominance of North America is attributed to the increasing sports activities and raising awareness about calorie intake in the region. Furthermore, increased consumption of sweets and chocolates on special occasions and festivals such as birthdays, Christmas and Halloween also augment the growth of the natural sweeteners market size in this region.
Asia-Pacific (China, Japan, South Korea, India and ASEAN)

North America (US and Canada)

Europe (Germany, France, UK and Italy)

Rest of World (Latin America, Middle East & Africa)
Natural Sweeteners Market Based on the Type
High Intensity

Low Intensity
Natural Sweeteners Market Based on the Application
Madhava Natural Sweeteners

Truvia

SweetLeaf Stevia

Tate & Lyle

Whole Earth Sweetener

Imperial Sugar

Herboveda

Sunwin Stevia International

Morita Kagaku Kogyo

ABF Ingredients

Evolva

Galam Group

GLG Lifetech

Merisant

Ohly

Pure Circle

Zevia
"We can also add the other companies as you want"
FEATURED COMPANIES
Madhava Natural Sweeteners
Truvia
SweetLeaf Stevia
Tate & Lyle
Whole Earth Sweetener
Imperial Sugar
Herboveda
Sunwin Stevia International
Morita Kagaku Kogyo
ABF Ingredients
Evolva
GLG Lifetech
Galam Group
Merisant
Ohly
Pure Circle
Zevia
TABLE OF CONTENT
FEATURED COMPANIES
Madhava Natural Sweeteners
Truvia
SweetLeaf Stevia
Tate & Lyle
Whole Earth Sweetener
Imperial Sugar
Herboveda
Sunwin Stevia International
Morita Kagaku Kogyo
ABF Ingredients
Evolva
GLG Lifetech
Galam Group
Merisant
Ohly
Pure Circle
Zevia
LIST OF TABLES & FIGURES