FEATURED COMPANIES
AMD Global Telemedicine
Apollo Hospitals
GE Healthcare
Haemonetics
Philips Healthcare
Cloudvisit Telemedicine
Maestros Telemedicine
Medisoft Telemedicine
Reach Health
SnapMD Telemedicine Technology
Telemedicine Market - 2027
The Telemedicine Market size was valued at USD 31.46 Billion in 2018 and is expected to witness more than 19.28% CAGR during the forecast period. Telehealth helps to reduce emergency room visits and hospitalization rates. Furthermore, improving clinical infrastructure, increasing post-acute care monitoring, and growing demand in emerging economies is expected to increase the telemedicine market size.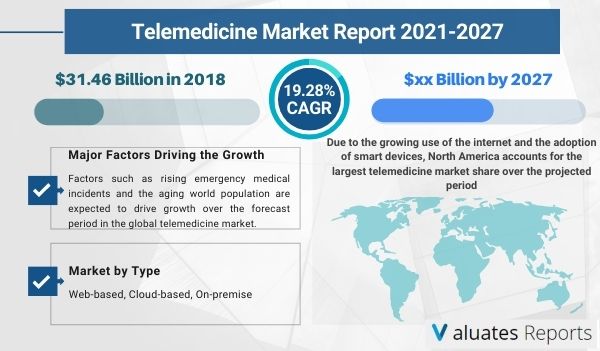 Factors such as rising emergency medical incidents and the ageing world population are expected to drive growth over the forecast period in the global telemedicine market.
Telemedicine electronic communications and software offers clinical services to patients without an in-person visit. In telemedicine, technology enables healthcare providers by video conferencing to treat patients using a smartphone. Its system is used for the treatment of medication, chronic condition care, and other health services. Telemedicine is used by health care systems, physician practices, and skilled nursing facilities to provide more efficient health care facilities.
The healthcare sector is huge, and it is predicted that its centralization would help to harmonize the entire process as well as provide economic assistance. The ongoing outbreak of COVID-19 across the globe has resulted in increased demand for telemedicine solutions. Since social distancing is one of the key strategies to minimize the spread of COVID-19 infection, physicians can utilize telemedicine technologies to provide patients with healthcare services, thus encouraging social distancing and reducing the risk of infection.
An increasing number of positive cases of coronavirus along with chronic respiratory diseases has improved telemedicine adoption services. Patients with suspected flu-like symptoms access various telemedicine platforms for remote access to healthcare services. Moreover, in the midst of the COVID-19 pandemic, various telemedicine companies are witnessing a spike in virtual visits. Such companies are increasing their ability to manage several thousand virtual visits a day to fulfill the rising need. This factor is expected to increase the telemedicine market size during the forecast period.
Within healthcare industry, telemedicine has paved into diverse industries. It's used in radiology, cardiology, mental health, and others. This surge in use in various applications has further sparked new telemedicine, business models. In addition, in response to the increasing geriatric population and improved accessibility to advanced healthcare around the world, the Telemedicine market size is expected to witness an upward spike.
Growing demand for mobile devices, combined with increasing patient acceptance of home treatment and decreased hospital visits, is expected to accelerate the growth of Telehealth market size.
Telemedicine Market Scope
| | |
| --- | --- |
| Report Metric | Details |
| Report Name | Telemedicine Market |
| Market size value in 2018 | 31.46 Billion |
| Revenue forecast in 2027 | xx Billion |
| Forecast Period 2020 to 2027 CAGR | 19.28% |
| Base year considered | 2019 |
| Historical Data for | 2020-2027 |
| Forecast units | Value (USD) |
| Segments covered | Type, End-User, Offerings, and Region |
| Report coverage | Revenue & volume forecast, company share, competitive landscape, growth factors, and trends |
| Geographic regions covered | North America, Europe, Asia Pacific, Latin America, Middle East & Africa |
Telemedicine Market Share Analysis
Due to the growing use of the internet and the adoption of smart devices, North America accounts for the largest telemedicine market share over the projected period. Thanks to the high-speed internet access, the demand for telemedicine has been rising rapidly over the past few years.
Europe is the second-largest region in the telemedicine market, followed by North America, owing to the strong support of the numerous telemedicine initiatives from European countries.
The Asia Pacific is predicted to witness lucrative growth over the forecast period owing to developing economies such as China and India. Economic reforms, a booming IT industry, and low cost of service are the main factors that draw market players in this area. The recent COVID-19 outbreak has further propelled the telemedicine market share in this region.
Telemedicine Market Regional Analysis
Due to the increasing use of the internet, North America accounts for a significant share over the forecast period, and the adoption of smart devices is the major factor that helps the telemedicine market to grow. Because of the high-speed internet access, the telemedicine industry has been growing rapidly over the past few years.
The telemedicine market in Europe is projected to witness significant growth over the forecast period. Factors such as rising healthcare costs and increasing chronic disease prevalence are expected to drive growth in Europe's telemedicine market in the coming years.
Asia-Pacific is capable of recording the fastest growth in the forecast period on the global telemedicine market.
The market is driven by the need for better healthcare in rural areas, tremendous growth in telecommunication, rising prevalence of chronic diseases in BRIC nations, and low cost of telemedicine. However, high infrastructural costs and a lack of skilled resources may restrain market growth to a certain extent. On the other hand, favorable government initiatives present a huge growth potential for telemedicine in the BRIC nations. Lack of telemedicine standards in the BRIC countries may pose a challenge to the growth of the BRIC telemedicine market.
Top Major Players in the Telemedicine Industry
The telemedicine market is highly competitive, with larger corporates dominating the market. Reputation becomes a major factor in telemedicine, and hence people majorly prefer large multinational corporations. Some of the major players analyzed in this report are:
GE Healthcare is a New York-based American multinational corporation headquartered in Chicago, Illinois. As of 2017, the company is a manufacturer and distributor of radiopharmaceutical and diagnostic imaging agents for imaging modalities used in medical imaging procedures.
Philips Koninklijke NV. It is a Dutch multinational business corporation based in Amsterdam, formerly one of the largest electronics firms in the world, currently concentrating on health technology and successfully divested in other divisions.
Apollo Hospitals Enterprise Limited is an Indian hospital chain based in Chennai, India. It was founded as the first corporate health care in India by Dr.Prathap C. Reddy in 1983.
Telemedicine Market Segments
Telemedicine Market by Regions
United States

Europe

China

Japan

Southeast Asia

India

Central & South America
Telemedicine Market Players
Telemedicine Market by Type
Web-based

Cloud-based

On-premise
Telemedicine Market by Application
Teleconsultation

Telecardiology

Teleradiology

Teledermatology

Tele Home health

Teleoncology

Emergency Medication
The Study Objectives of the global Telemedicine Market Report are
To analyze global Telemedicine status, future forecast, growth opportunity, key market, and key players.

To present the Telemedicine development in the United States, Europe, and China.

To strategically profile the key players and comprehensively analyze their development plan and strategies.

To define, describe and forecast the market by product type, market, and key regions.