FEATURED COMPANIES
Astute Solutions
Facebook
Helpshift
Imperson Ltd.
GOOGLE INC
Kiwi
Haptik
Kasisto
Microsoft Corporation
Pandorabots
The Global Chatbots Market to grow from USD 2.28593 Billion in 2018 to USD 9.172.49 Billion by 2025, at a Compound Annual Growth Rate (CAGR) of 21.95%.
Some of the major market players include Astute Solutions, Facebook, Inc., Helpshift, Imperson Ltd., and Kiwi, Inc..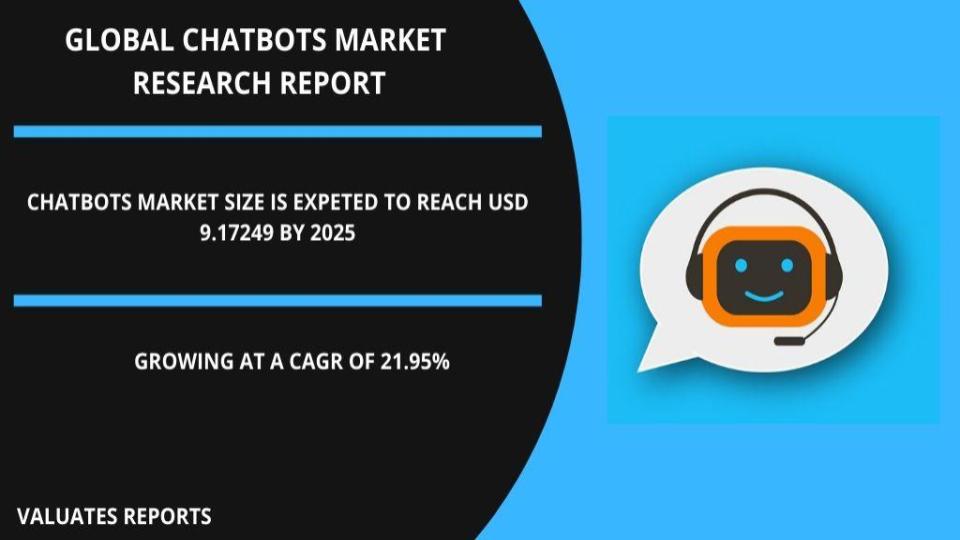 Chatbos/Talkbot Market Segmentation & Coverage:
The research report categorizes the Chatbots Market to forecast the revenues and analyze the trends in each of the following segments:
On the basis of Type, the Chatbots Market is studied across
On the basis of Deployment, the Chatbots Market is studied across
On the basis of End User, the Chatbots Market is studied across
BFSI
Government
Hospitality
Travel
Retail.
On the basis of Geography, the Chatbots Market is studied across
Americas
Asia-Pacific
Europe
Middle East
Africa.
Company Usability Profiles:
The Chatbots/Talkbot Market is highly competitive and characterized by the presence of a large number of international and regional players in the market. The market has witnessed increasing competition between vendors based on the pricing model, technology differentiation, brand name, quality of service, price differentiation, and technical expertise.
The Chatbots Market research report provides the company usability profiles and analyze the overview, strategy, SWOT and scorecard of the following company:
Astute Solutions
Facebook, Inc.
Helpshift
Imperson Ltd.
Kiwi, Inc.
Google, Inc.
Haptik, Inc.
Kasisto Inc.
Microsoft Corporation
Pandorabots, Inc
Others.
Report Highlights:
The report provides deep insights on demand forecasts, market trends and micro and macro indicators. In addition, this report provides insights on the factors that are driving and restraining the demand of the Chatbots Market. Moreover, the study highlights current market trends and provides forecast. We also have highlighted future trends in the Chatbots Market that will impact the demand during the forecast period. Moreover, the competitive analysis of the Chatbots Market brings an insight on the company usability profiles of the leading players. Additionally, the analysis highlights business overview, strategy, and SWOT analysis of the key companies in the market.
Reasons to Buy:
The Chatbots Market research study reveals hidden insights and dynamic, which in turn helps the players in the ecosystem take better strategic decisions. The firms looking for purchasing the Chatbots Market research report could look for following prospects on their way to better understand the market that can aid further decision making and possibly identify the best opportunities to exploit.
Evaluate the qualitative and quantitative aspects of the report and analyze the Chatbots Market penetration with respect to industries and geographies.
Evaluates the key vendors and deeply analyze competitive landscape, revenue pockets, market trends, growth prospects, pain points, drivers, restraints, challenges and opportunities of the Chatbots Market .
Evaluate the key vendors in the Chatbots Market in terms of products satisfaction and business strategy.