Pickup Truck Market Statistics 2027
The global Pickup Truck market size is projected to reach US$ 214370 million by 2027, from US$ 171950 million in 2020, at a CAGR of 3.2% during 2021-2027. Moreover, the pick-up truck market is expected to witness a sale of 8.85 Million units of pickup trucks by the end of 2025. A combination of style and technical improvements such as advanced driver assistance systems are pushing consumers into trucks, this, in turn, is expected to drive the growth of the pickup truck market. Furthermore, increasing consumer preference for online shopping is, in turn, necessitates the use of pickup trucks to transport these products. Another factor fueling the pickup truck market's growth is rising customer demand for fuel-efficient vehicles for outdoor activities such as boating and camping, as well as a growing preference for pickup trucks over SUVs.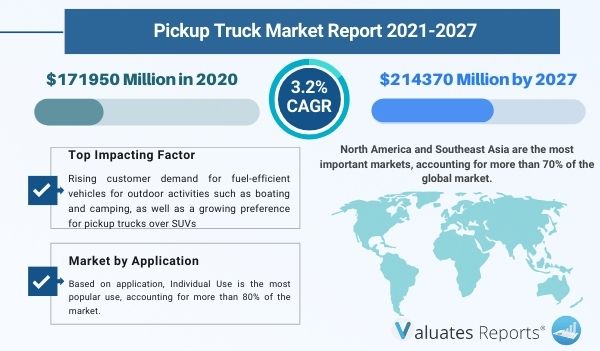 Trends Influencing The Growth Of The Pickup Truck Market
The adoption of technology advancements to improve driving comfort is likely to accelerate the growth of the pickup truck market. Bluetooth connectivity, all-wheel drive (AWD), automated gearboxes, and DVD players are just a few of the modern pickup truck options. Pick-up truck manufacturers are also concentrating on improving the driving experience by implementing advanced driver assistance systems such as blind-spot alarms and rear cross-traffic warnings, as well as multiple camera angles. This, in turn, is predicted to lead to a greater level of customer acceptance, hence increasing the size of the pick-up truck market.
Due to the expansion of e-commerce and SMEs, there is an increase in product transportation, which is driving up demand for pickup trucks. Furthermore, as pickup trucks offer a superior value proposition and can seat more passengers while still carrying freight, the market for pickup trucks is likely to rise.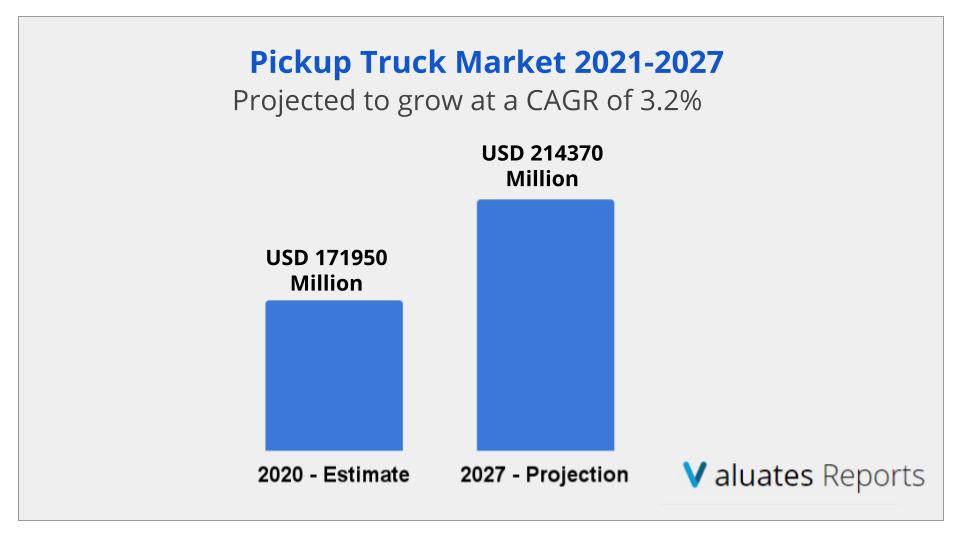 Another factor driving the pickup truck market's growth is the rising customer desire for fuel-efficient cars that can be used on and off-road. The pickup truck has wheels that can readily negotiate muddy, wet, and rough terrains, making it suitable for outdoor activities like fishing and hunting. The cab of the vehicle is elevated above the axle, allowing the driver a better perspective, which is useful for both off-road driving and city traffic jams.
Pickup Truck Market Share Analysis
Based on region, North America and Southeast Asia are the most important markets, accounting for more than 70% of the global market. This is attributed to the increased vehicle manufacturing and a higher preference for pickup trucks in the area. Customer preferences for pick-up trucks, as well as an increase in the number of small and medium-sized firms using pick-up trucks to deliver their products, are growing in these regions.
Based on type, Full-Size Pickups are the most common, accounting for around 80% of all pickups.
Based on application, Individual Use is the most popular use, accounting for more than 80% of the market.
Top Companies In The Pickup Truck Market
The pick-up truck is dominated by global players. Ford, GM, Toyota, and other important players in the worldwide Pickup Truck market. Over 60% of the global market share is held by the top three competitors.