Same Day Delivery Market Statistics 2027
The global Same-day Delivery market size is projected to reach US$ 123050 million by 2027, from US$ 11620 million in 2020, at a CAGR of 38.5% during the forecast period 2021-2027. Same-day delivery services have grown in popularity in the logistics industry because they allow service providers to grow and expand their businesses profitably. As a result, the Same Day Delivery market is expected to grow.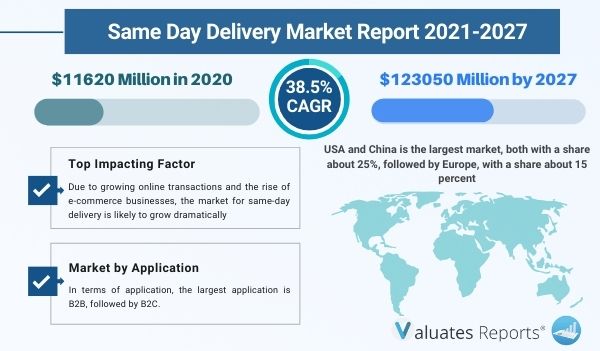 Furthermore, as a result of the increased demand for products in a shorter time frame, manufacturers have chosen to deliver products quickly, resulting in attractive growth potential. Same-day delivery services also have several advantages, such as improving customer satisfaction and lowering logistical costs, all of which contribute to the market's growth.
Global Same-day Delivery key players include A-1 Express, DHL, TForce Final Mile, UPS, USA Couriers, etc. Global top five manufacturers hold a share of about 30%. USA and China is the largest market, both with a share of about 25%, followed by Europe, with a share of about 15 percent. In terms of application, the largest application is B2B, followed by B2C.
Same-day delivery has the potential to transform our shopping habits. It combines the convenience of online shopping with the immediacy of physical stores. In recent years, an increasing number of businesses have begun testing and implementing new same-day delivery models. Given the compelling value proposition of same-day delivery for consumers, demand is expected to skyrocket.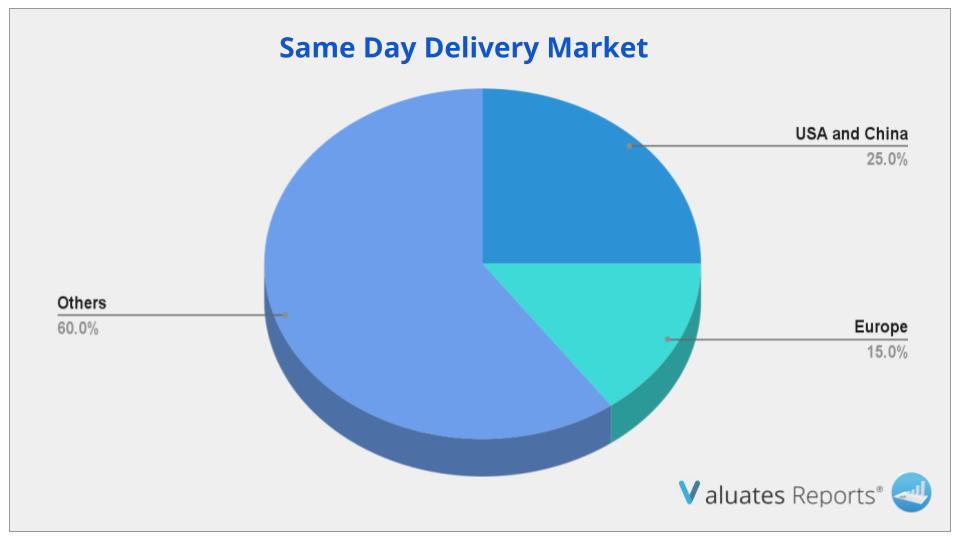 Trends Influencing The Growth Of Same Day Delivery Market
The market for same-day delivery is expected to grow dramatically as online transactions and e-commerce businesses grow. With same-day delivery, the convenience of online retail shopping is combined with the immediacy of physical retail stores. The ease of ordering through online platforms and the shorter shipping time drive the size of the Same Day Delivery Market.
In addition, the continued substitution of online sales via e-commerce platforms for stationary retail sales has resulted in a significant increase in B2C shipments. As a result, the market for same-day delivery is expected to expand in lockstep with the increase in shipments and customer demand for faster delivery services.
The necessity for extensive distribution infrastructure, combined with the hefty initial investment, is expected to limit the size of the same-day delivery market. Businesses in the same-day delivery market must focus on developing effective delivery infrastructure to avoid late deliveries. In addition, the major e-commerce platforms are establishing their own logistics operations in order to provide distribution services to their customers.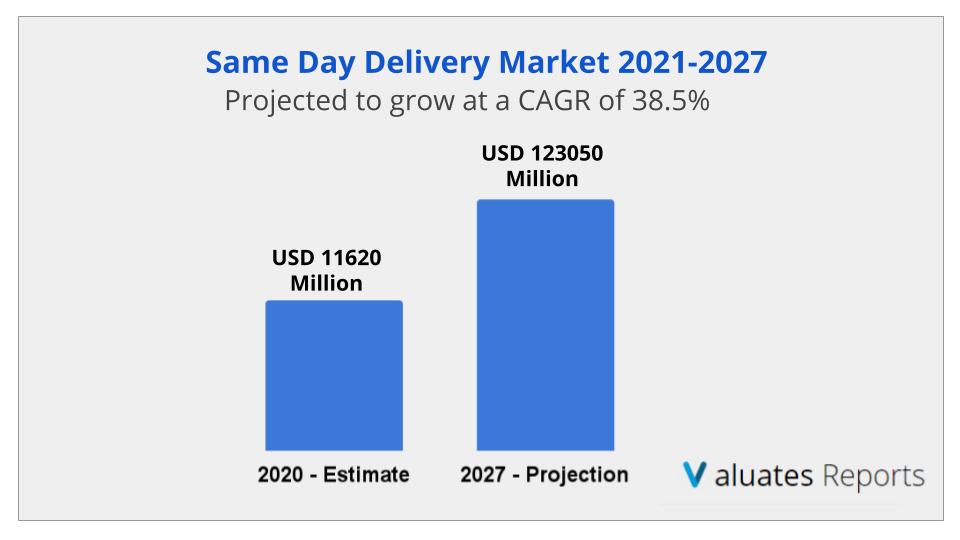 Due to the global COVID-19 epidemic, which is projected to take a long time to resolve, e-commerce is experiencing new challenges in customer behavior as well as broad supply chain issues. Customers' purchasing patterns change overnight as they switch from bulk buying to internet shopping, where they change what they buy, where they buy it, and how they buy it. Many governments around the world demand that e-commerce companies only fill orders for essential commodities like groceries, which will have a negative influence on the industry's profitability.
Same Day Delivery Market Share Analysis
The B2B segment is expected to have the largest market share during the forecast period. Manufacturers, merchants, and distributors are among the B2B category's end-user clients. Business development is aided by the introduction of online B2B e-commerce platforms. Furthermore, the B2B category has a larger market share due to the heavyweight of the goods, resulting in higher product delivery costs.
The Asia Pacific dominates the same-day delivery market, thanks to an increasing number of e-commerce businesses and online buyers. Due to rising urbanization, internet penetration, and smartphone use, this area has dominated the market share.
North America is expected to grow significantly over the forecast period due to the presence of major businesses such as FedEx, A1 Express Services Inc., and United Parcel Service of America, Inc. in the region.
The industry has become more consolidated as a result of the involvement of well-known global corporations. To stay competitive in the industry, companies rely heavily on mergers, acquisitions, and joint ventures or partnerships.
Furthermore, market players concentrate on enhancing their market presence through a variety of growth strategies. These strategies help businesses expand their global market and strengthen their products in specific areas.
Major Key Players in the Same Day Delivery Market
For the data information by region, company, type and application, 2019 is considered as the base year. Whenever data information was unavailable for the base year, the prior year has been considered.