FEATURED COMPANIES
IBM
Cisco
Microsoft
Oracle
Schneider Electric
Siemens
Hitachi
Ericsson
Huawei
Toshiba
GE
Google
Honeywell
HP
Smart Cities Market Overview
The Global Smart Cities Market size is expected to reach 252.56 Billion US$ by the end of 2025, with a CAGR of 16.53% between 2019 and 2025.
Global Smart Cities Market report studies the Smart Cities market size by players, regions, product types and end industries, history data 2013-2018 and forecast data 2019-2025; Global Smart Cities Market report also studies the global market competition landscape, market drivers and trends, opportunities and challenges, risks and entry barriers, sales channels, distributors and Porter's Five Forces Analysis.
Smart Cities Market Trends & Analysis
A smart city uses ICT, including mobile networks, to improve the quality of livelihood in a sustainable way. A smart city combines and shares disparate comprehensive data sets captured by intelligently-connected infrastructure, people, and vehicles, to generate new insights. It also provides ubiquitous services that enable citizens to access information about city administrative services, improve the efficiency of city operations, enhance security levels, fuel economic activity, and even increase resilience to natural disasters.
Among regions, APAC is projected to have the largest market share by 2023 and is expected to lead the smart cities market, in terms of growth, from 2019 to 2025.
SMART CITIES MARKET BY KEY PLAYERS
IBM

Cisco

Microsoft

Oracle

Schneider Electric

Siemens

Ericsson

Hitachi

Huawei

Toshiba

GE

Google

Honeywell

HP

Others
SMART CITIES MARKET BY COUNTRIES
North America

Europe

China

Rest of Asia Pacific

Central & South America

Middle East & Africa
SMART CITIES MARKET BY TYPE
SMART CITIES MARKET BY APPLICATION
SMART CITIES MARKET STUDY OBJECTIVE
To study and forecast the market size of Smart Cities in global market.

To analyze the global key players, SWOT analysis, value and global market share for top players.

To define, describe and forecast the market by type, end use and region.

To analyze and compare the market status and forecast among global major regions.

To analyze the global key regions market potential and advantage, opportunity and challenge, restraints and risks.

To identify significant trends and factors driving or inhibiting the market growth.

To analyze the opportunities in the market for stakeholders by identifying the high growth segments.

To strategically analyze each submarket with respect to individual growth trend and their contribution to the market

To analyze competitive developments such as expansions, agreements, new product launches, and acquisitions in the market.

To strategically profile the key players and comprehensively analyze their growth strategies.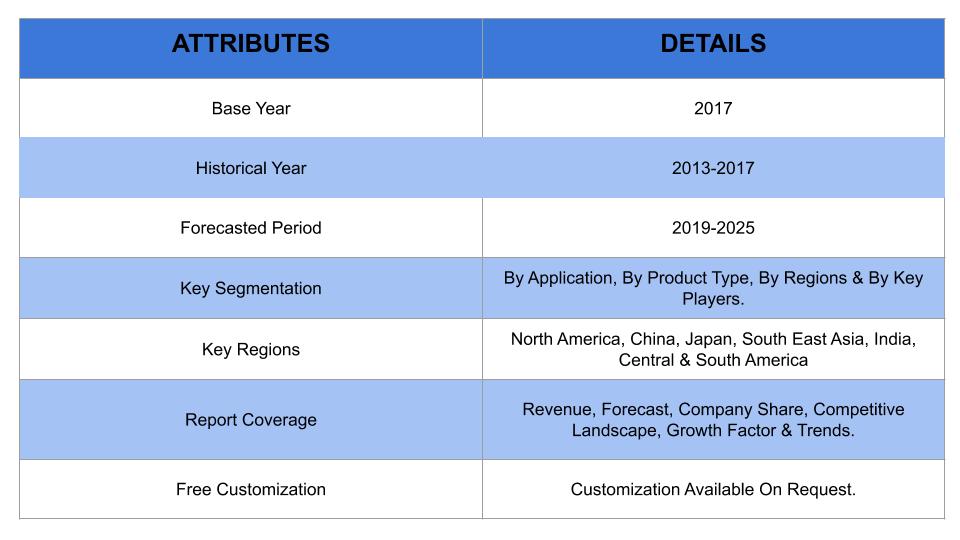 In this study, the years considered to estimate the market size of Smart Cities are as follows:
For the data information by region, company, type and application, 2017 is considered as the base year. Whenever data information was unavailable for the base year, the prior year has been considered.
SMART CITIES MARKET KEY STAKEHOLDERS
Raw material suppliers

Distributors/traders/wholesalers/suppliers

Regulatory bodies, including government agencies and NGO

Commercial research & development (R&D) institutions

Importers and exporters

Government organizations, research organizations, and consulting firms

Trade associations and industry bodies
End-use industries
Available Customizations

With the given market data, QYResearch offers customizations according to the company's specific needs. The following customization options are available for the report:

Further breakdown of Smart Cities market on basis of the key contributing countries.

Detailed analysis and profiling of additional market players.
FEATURED COMPANIES
IBM
Cisco
Microsoft
Oracle
Schneider Electric
Siemens
Hitachi
Ericsson
Huawei
Toshiba
GE
Google
Honeywell
HP
1 Report Overview
1.1 Study Scope
1.2 Key Market Segments
1.3 Players Covered: Ranking by Smart Cities Revenue
1.4 Market by Type
1.4.1 Global Smart Cities Market Size Growth Rate by Type: 2020 VS 2026
1.4.2 Solution
1.4.3 Services
1.5 Market by Application
1.5.1 Global Smart Cities Market Share by Application: 2020 VS 2026
1.5.2 Smart security
1.5.3 Smart infrastructure
1.5.4 Smart energy
1.5.5 Smart governance and smart education
1.5.6 Smart building
1.5.7 Smart healthcare
1.5.8 Smart mobility
1.6 Study Objectives
1.7 Years Considered
2 Global Growth Trends
2.1 Global Smart Cities Market Perspective (2015-2026)
2.2 Global Smart Cities Growth Trends by Regions
2.2.1 Smart Cities Market Size by Regions: 2015 VS 2020 VS 2026
2.2.2 Smart Cities Historic Market Share by Regions (2015-2020)
2.2.3 Smart Cities Forecasted Market Size by Regions (2021-2026)
2.3 Industry Trends and Growth Strategy
2.3.1 Market Top Trends
2.3.2 Market Drivers
2.3.3 Market Challenges
2.3.4 Porter's Five Forces Analysis
2.3.5 Smart Cities Market Growth Strategy
2.3.6 Primary Interviews with Key Smart Cities Players (Opinion Leaders)
3 Competition Landscape by Key Players
3.1 Global Top Smart Cities Players by Market Size
3.1.1 Global Top Smart Cities Players by Revenue (2015-2020)
3.1.2 Global Smart Cities Revenue Market Share by Players (2015-2020)
3.1.3 Global Smart Cities Market Share by Company Type (Tier 1, Tier 2 and Tier 3)
3.2 Global Smart Cities Market Concentration Ratio
3.2.1 Global Smart Cities Market Concentration Ratio (CR5 and HHI)
3.2.2 Global Top 10 and Top 5 Companies by Smart Cities Revenue in 2019
3.3 Smart Cities Key Players Head office and Area Served
3.4 Key Players Smart Cities Product Solution and Service
3.5 Date of Enter into Smart Cities Market
3.6 Mergers & Acquisitions, Expansion Plans
4 Market Size by Type (2015-2026)
4.1 Global Smart Cities Historic Market Size by Type (2015-2020)
4.2 Global Smart Cities Forecasted Market Size by Type (2021-2026)
5 Market Size by Application (2015-2026)
5.1 Global Smart Cities Market Size by Application (2015-2020)
5.2 Global Smart Cities Forecasted Market Size by Application (2021-2026)
6 North America
6.1 North America Smart Cities Market Size (2015-2020)
6.2 Smart Cities Key Players in North America (2019-2020)
6.3 North America Smart Cities Market Size by Type (2015-2020)
6.4 North America Smart Cities Market Size by Application (2015-2020)
7 Europe
7.1 Europe Smart Cities Market Size (2015-2020)
7.2 Smart Cities Key Players in Europe (2019-2020)
7.3 Europe Smart Cities Market Size by Type (2015-2020)
7.4 Europe Smart Cities Market Size by Application (2015-2020)
8 China
8.1 China Smart Cities Market Size (2015-2020)
8.2 Smart Cities Key Players in China (2019-2020)
8.3 China Smart Cities Market Size by Type (2015-2020)
8.4 China Smart Cities Market Size by Application (2015-2020)
9 Japan
9.1 Japan Smart Cities Market Size (2015-2020)
9.2 Smart Cities Key Players in Japan (2019-2020)
9.3 Japan Smart Cities Market Size by Type (2015-2020)
9.4 Japan Smart Cities Market Size by Application (2015-2020)
10 Southeast Asia
10.1 Southeast Asia Smart Cities Market Size (2015-2020)
10.2 Smart Cities Key Players in Southeast Asia (2019-2020)
10.3 Southeast Asia Smart Cities Market Size by Type (2015-2020)
10.4 Southeast Asia Smart Cities Market Size by Application (2015-2020)
11 India
11.1 India Smart Cities Market Size (2015-2020)
11.2 Smart Cities Key Players in India (2019-2020)
11.3 India Smart Cities Market Size by Type (2015-2020)
11.4 India Smart Cities Market Size by Application (2015-2020)
12 Central & South America
12.1 Central & South America Smart Cities Market Size (2015-2020)
12.2 Smart Cities Key Players in Central & South America (2019-2020)
12.3 Central & South America Smart Cities Market Size by Type (2015-2020)
12.4 Central & South America Smart Cities Market Size by Application (2015-2020)
13 Key Players Profiles
13.1 IBM
13.1.1 IBM Company Details
13.1.2 IBM Business Overview
13.1.3 IBM Smart Cities Introduction
13.1.4 IBM Revenue in Smart Cities Business (2015-2020))
13.1.5 IBM Recent Development
13.2 Cisco
13.2.1 Cisco Company Details
13.2.2 Cisco Business Overview
13.2.3 Cisco Smart Cities Introduction
13.2.4 Cisco Revenue in Smart Cities Business (2015-2020)
13.2.5 Cisco Recent Development
13.3 Microsoft
13.3.1 Microsoft Company Details
13.3.2 Microsoft Business Overview
13.3.3 Microsoft Smart Cities Introduction
13.3.4 Microsoft Revenue in Smart Cities Business (2015-2020)
13.3.5 Microsoft Recent Development
13.4 Oracle
13.4.1 Oracle Company Details
13.4.2 Oracle Business Overview
13.4.3 Oracle Smart Cities Introduction
13.4.4 Oracle Revenue in Smart Cities Business (2015-2020)
13.4.5 Oracle Recent Development
13.5 Schneider Electric
13.5.1 Schneider Electric Company Details
13.5.2 Schneider Electric Business Overview
13.5.3 Schneider Electric Smart Cities Introduction
13.5.4 Schneider Electric Revenue in Smart Cities Business (2015-2020)
13.5.5 Schneider Electric Recent Development
13.6 Siemens
13.6.1 Siemens Company Details
13.6.2 Siemens Business Overview
13.6.3 Siemens Smart Cities Introduction
13.6.4 Siemens Revenue in Smart Cities Business (2015-2020)
13.6.5 Siemens Recent Development
13.7 Ericsson
13.7.1 Ericsson Company Details
13.7.2 Ericsson Business Overview
13.7.3 Ericsson Smart Cities Introduction
13.7.4 Ericsson Revenue in Smart Cities Business (2015-2020)
13.7.5 Ericsson Recent Development
13.8 Hitachi
13.8.1 Hitachi Company Details
13.8.2 Hitachi Business Overview
13.8.3 Hitachi Smart Cities Introduction
13.8.4 Hitachi Revenue in Smart Cities Business (2015-2020)
13.8.5 Hitachi Recent Development
13.9 Huawei
13.9.1 Huawei Company Details
13.9.2 Huawei Business Overview
13.9.3 Huawei Smart Cities Introduction
13.9.4 Huawei Revenue in Smart Cities Business (2015-2020)
13.9.5 Huawei Recent Development
13.10 Toshiba
13.10.1 Toshiba Company Details
13.10.2 Toshiba Business Overview
13.10.3 Toshiba Smart Cities Introduction
13.10.4 Toshiba Revenue in Smart Cities Business (2015-2020)
13.10.5 Toshiba Recent Development
13.11 GE
10.11.1 GE Company Details
10.11.2 GE Business Overview
10.11.3 GE Smart Cities Introduction
10.11.4 GE Revenue in Smart Cities Business (2015-2020)
10.11.5 GE Recent Development
13.12 Google
10.12.1 Google Company Details
10.12.2 Google Business Overview
10.12.3 Google Smart Cities Introduction
10.12.4 Google Revenue in Smart Cities Business (2015-2020)
10.12.5 Google Recent Development
13.13 Honeywell
10.13.1 Honeywell Company Details
10.13.2 Honeywell Business Overview
10.13.3 Honeywell Smart Cities Introduction
10.13.4 Honeywell Revenue in Smart Cities Business (2015-2020)
10.13.5 Honeywell Recent Development
13.14 HP
10.14.1 HP Company Details
10.14.2 HP Business Overview
10.14.3 HP Smart Cities Introduction
10.14.4 HP Revenue in Smart Cities Business (2015-2020)
10.14.5 HP Recent Development
14 Analyst's Viewpoints/Conclusions
15 Appendix
15.1 Research Methodology
15.1.1 Methodology/Research Approach
15.1.2 Data Source
15.2 Disclaimer
15.3 Author Details
FEATURED COMPANIES
IBM
Cisco
Microsoft
Oracle
Schneider Electric
Siemens
Hitachi
Ericsson
Huawei
Toshiba
GE
Google
Honeywell
HP
List of Tables and Figures
Figure Smart Cities Product Scope
Figure Global Smart Cities Market Size (Million USD) (2013-2018)
Table Global Smart Cities Market Size (Million USD) and Growth Rate by Regions (2013-2018)
Figure Global Smart Cities Market Share by Regions in 2017
Figure North America Smart Cities Market Size (Million USD) and Growth Rate by Regions (2013-2018)
Figure Europe Smart Cities Market Size (Million USD) and Growth Rate by Regions (2013-2018)
Figure China Smart Cities Market Size (Million USD) and Growth Rate by Regions (2013-2018)
Figure Rest of Asia Pacific Smart Cities Market Size (Million USD) and Growth Rate by Regions (2013-2018)
Figure Central & South America Smart Cities Market Size (Million USD) and Growth Rate by Regions (2013-2018)
Figure Middle East & Africa Smart Cities Market Size (Million USD) and Growth Rate by Regions (2013-2018)
Figure Global Smart Cities Market Share by Type in 2017
Figure Solution Market Size (Million USD) and Growth Rate (2013-2018)
Figure Services Market Size (Million USD) and Growth Rate (2013-2018)
Figure Global Smart Cities Market Share by Application in 2017
Table Key Downstream Customer in Smart security
Figure Smart Cities Market Size (Million USD) and Growth Rate in Smart security (2013-2018)
Table Key Downstream Customer in Smart infrastructure
Figure Smart Cities Market Size (Million USD) and Growth Rate in Smart infrastructure (2013-2018)
Table Key Downstream Customer in Smart energy
Figure Smart Cities Market Size (Million USD) and Growth Rate in Smart energy (2013-2018)
Table Key Downstream Customer in Smart governance and smart education
Figure Smart Cities Market Size (Million USD) and Growth Rate in Smart governance and smart education (2013-2018)
Table Key Downstream Customer in Smart building
Figure Smart Cities Market Size (Million USD) and Growth Rate in Smart building (2013-2018)
Table Key Downstream Customer in Smart healthcare
Figure Smart Cities Market Size (Million USD) and Growth Rate in Smart healthcare (2013-2018)
Table Key Downstream Customer in Smart mobility
Figure Smart Cities Market Size (Million USD) and Growth Rate in Smart mobility (2013-2018)
Table Smart Cities Market Size (Million USD) by Players (2017 and 2018)
Figure Smart Cities Market Size Share by Players in 2017
Figure Smart Cities Market Size Share by Players in 2018
Table IBM Basic Information List
Table Smart Cities Business Revenue (Million USD) of IBM (2013-2018)
Figure IBM Smart Cities Business Revenue Market Share in 2017
Table Cisco Basic Information List
Table Smart Cities Business Revenue (Million USD) of Cisco (2013-2018)
Figure Cisco Smart Cities Business Revenue Market Share in 2017
Table Microsoft Basic Information List
Table Smart Cities Business Revenue (Million USD) of Microsoft (2013-2018)
Figure Microsoft Smart Cities Business Revenue Market Share in 2017
Table Oracle Basic Information List
Table Smart Cities Business Revenue (Million USD) of Oracle (2013-2018)
Figure Oracle Smart Cities Business Revenue Market Share in 2017
Table Schneider Electric Basic Information List
Table Smart Cities Business Revenue (Million USD) of Schneider Electric (2013-2018)
Figure Schneider Electric Smart Cities Business Revenue Market Share in 2017
Table Siemens Basic Information List
Table Smart Cities Business Revenue (Million USD) of Siemens (2013-2018)
Figure Siemens Smart Cities Business Revenue Market Share in 2017
Table Ericsson Basic Information List
Table Smart Cities Business Revenue (Million USD) of Ericsson (2013-2018)
Figure Ericsson Smart Cities Business Revenue Market Share in 2017
Table Hitachi Basic Information List
Table Smart Cities Business Revenue (Million USD) of Hitachi (2013-2018)
Figure Hitachi Smart Cities Business Revenue Market Share in 2017
Table Huawei Basic Information List
Table Smart Cities Business Revenue (Million USD) of Huawei (2013-2018)
Figure Huawei Smart Cities Business Revenue Market Share in 2017
Table Toshiba Basic Information List
Table Smart Cities Business Revenue (Million USD) of Toshiba (2013-2018)
Figure Toshiba Smart Cities Business Revenue Market Share in 2017
Table GE Basic Information List
Table Google Basic Information List
Table Honeywell Basic Information List
Table HP Basic Information List
Table Global Smart Cities Market Size (Million USD) by Type (2013-2018)
Figure Global Smart Cities Market Size Share by Type in 2013
Figure Global Smart Cities Market Size Share by Type in 2014
Figure Global Smart Cities Market Size Share by Type in 2015
Figure Global Smart Cities Market Size Share by Type in 2016
Figure Global Smart Cities Market Size Share by Type in 2017
Figure Global Smart Cities Market Size Share by Type in 2018
Table Global Smart Cities Market Size (Million USD) by Application (2013-2018)
Figure Global Smart Cities Market Size (Million USD) by Application in 2013
Figure Global Smart Cities Market Size (Million USD) by Application in 2014
Figure Global Smart Cities Market Size (Million USD) by Application in 2015
Figure Global Smart Cities Market Size (Million USD) by Application in 2016
Figure Global Smart Cities Market Size (Million USD) by Application in 2017
Figure Global Smart Cities Market Size (Million USD) by Application in 2018
Table Top Consumer/End Users of Smart Cities
Figure North America Smart Cities Market Size (Million USD) and Growth Rate by Regions (2013-2018)
Table North America Smart Cities Market Size (Million USD) by Players (2013-2018)
Figure North America Smart Cities Market Size Share by Players in 2017
Figure North America Smart Cities Market Size Share by Players in 2018
Figure Europe Smart Cities Market Size (Million USD) and Growth Rate by Regions (2013-2018)
Table Europe Smart Cities Market Size (Million USD) by Players (2013-2018)
Figure Europe Smart Cities Market Size Share by Players in 2017
Figure Europe Smart Cities Market Size Share by Players in 2018
Figure China Smart Cities Market Size (Million USD) and Growth Rate by Regions (2013-2018)
Table China Smart Cities Market Size (Million USD) by Players (2013-2018)
Figure China Smart Cities Market Size Share by Players in 2017
Figure China Smart Cities Market Size Share by Players in 2018
Figure Rest of Asia Pacific Smart Cities Market Size (Million USD) and Growth Rate by Regions (2013-2018)
Table Rest of Asia Pacific Smart Cities Market Size (Million USD) by Players (2013-2018)
Figure Rest of Asia Pacific Smart Cities Market Size Share by Players in 2017
Figure Rest of Asia Pacific Smart Cities Market Size Share by Players in 2018
Figure Central & South America Smart Cities Market Size (Million USD) and Growth Rate by Regions (2013-2018)
Table Central & South America Smart Cities Market Size (Million USD) by Players (2013-2018)
Figure Central & South America Smart Cities Market Size Share by Players in 2017
Figure Central & South America Smart Cities Market Size Share by Players in 2018
Figure Middle East & Africa Smart Cities Market Size (Million USD) and Growth Rate by Regions (2013-2018)
Table Middle East & Africa Smart Cities Market Size (Million USD) by Players (2013-2018)
Figure Middle East & Africa Smart Cities Market Size Share by Players in 2017
Figure Middle East & Africa Smart Cities Market Size Share by Players in 2018
Figure Global Smart Cities Market Size (Million USD) by Regions (2018-2025)
Table Global Smart Cities Market Size (Million USD) by Regions (2018-2025)
Figure Global Smart Cities Market Size Share by Regions in 2018
Figure Global Smart Cities Market Size Share by Regions in 2025
Figure North America Smart Cities Revenue (Million USD) and Growth Rate (2018-2025)
Figure Europe Smart Cities Revenue (Million USD) and Growth Rate (2018-2025)
Figure China Smart Cities Revenue (Million USD) and Growth Rate (2018-2025)
Figure Rest of Asia Pacific Smart Cities Revenue (Million USD) and Growth Rate (2018-2025)
Figure Central & South America Smart Cities Revenue (Million USD) and Growth Rate (2018-2025)
Figure Middle East & Africa Smart Cities Revenue (Million USD) and Growth Rate (2018-2025)
Table Global Smart Cities Market Size (Million USD) by Type (2018-2025)
Figure Global Smart Cities Market Size Share by Type in 2018
Figure Global Smart Cities Market Size Share by Type in 2025
Table Global Smart Cities Market Size (Million USD) by Application (2018-2025)
Figure Global Smart Cities Market Size (Million USD) by Application in 2018
Figure Global Smart Cities Market Size (Million USD) by Application in 2025