FEATURED COMPANIES
Skillsoft
GP Strategies
Adobe
Expertus
City & Guilds Group
AllenComm
G-Cube
Learning Pool
Articulate
EI Design
CCS Digital Education
PulseLearning
SweetRush
Learnnovators
XoomPoint
Designing Digitally
Tata Interactive Systems
Elucidat
CORPORATE E-LEARNING MARKET SIZE
The global Corporate E-learning market size is projected to reach USD 37160.40 Million by 2026, from USD 17245.65 Million in 2019, at a CAGR of 10.91% during 2020-2026.
E-learning describes the cognitive science principles of effective multimedia learning using electronic educational technology.
| | |
| --- | --- |
| Report Metric | Details |
| Report Name | Corporate E-learning Market |
| Market size value in 2019 | 17245.65 Million |
| Revenue forecast in 2026 | 37160.40 Million |
| CAGR | 10.91% |
| By Type | On-Premise Deployment, Cloud-Based Deployment |
| By Enabling Technology | Automotive Industry, BFSI, Consumer Goods Sector, Energy Sector |
To see the full list of related reports click on Corporate E-learning Market Reports
The on-premise deployment segment accounted for the major shares of the corporate e-learning market. This deployment method enables the organization to have complete control over all the components of e-learning. Large enterprises that consider training as an integral part of the overall business model usually prefer this deployment type.
This report studies the Corporate E-learning market size by players, regions, product types and end industries, history data 2014-2018 and forecast data 2019-2025; This report also studies the global market competition landscape, market drivers and trends, opportunities and challenges, risks and entry barriers, sales channels, distributors and Porter's Five Forces Analysis.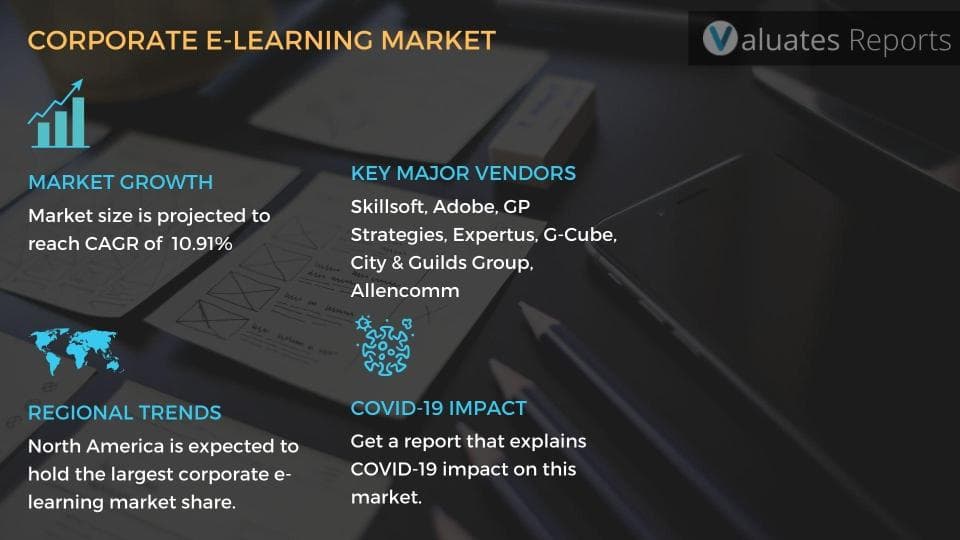 Corporate eLearning Companies: The Top Providers
Skillsoft
GP Strategies
Adobe
Expertus
City & Guilds Group
AllenComm
G-Cube
Learning Pool
Articulate
EI Design
CCS Digital Education
PulseLearning
SweetRush
Learnnovators
XoomPoint
Designing Digitally
Tata Interactive Systems
Elucidat
Cornerstone OnDemand
CORPORATE E-LEARNING MARKET SEGMENTATION
By Region
North America
Europe
China
Rest of Asia Pacific
Central & South America
Middle East & Africa
By Type
On-Premise Deployment
Cloud-Based Deployment
By Application
Automotive Industry
BFSI
Consumer Goods Sector
Energy Sector
Others
FREQUENTLY ASKED QUESTIONS (FAQ) ?
1. How large is the Corporate eLearning Market?
K-12 Education Technology market size will reach USD 37160.40 Million in 2026 at a CAGR of 10.91%
2. What are the top Corporate eLearning Companies?
Skillsoft, GP Strategies, Adobe, Expertus, City & Guilds Group, G-Cube, AllenComm, Learning Pool
3. Which region has largest market share in Corporate eLearning?
North America is expected to hold the largest corporate e-learning market share based on the region during the forecast period.
4. What are the major trends in the Corporate eLearning market?
(i) Reducing employee training costs has been instrumental in driving the growth.
(ii) The adoption of microlearning for employee training is expected to fuel the growth.
(iii) The adoption of video instructor-led training approaches and recent technological advancements such as AR & VR provide new ways of delivering instruction.
These factors are expected to give lucrative opportunities for the vendors in the corporate eLearning market.

Tags: Online Learning Market, K12 Education Technology Market, eLearning Market, Academic eLearning Market, Corporate LMS Market, Digital Education Market
FEATURED COMPANIES
Skillsoft
GP Strategies
Adobe
Expertus
City & Guilds Group
AllenComm
G-Cube
Learning Pool
Articulate
EI Design
CCS Digital Education
PulseLearning
SweetRush
Learnnovators
XoomPoint
Designing Digitally
Tata Interactive Systems
Elucidat
1 Industry Overview of Corporate E-learning
1.1 Corporate E-learning Market Overview
1.1.1 Corporate E-learning Product Scope
1.1.2 Market Status and Outlook
1.2 Global Corporate E-learning Market Size and Analysis by Regions
1.2.1 North America
1.2.2 Europe
1.2.3 China
1.2.4 Rest of Asia Pacific
1.2.5 Central & South America
1.2.6 Middle East & Africa
1.3 Corporate E-learning Market by Type
1.3.1 On-Premise Deployment
1.3.2 Cloud-Based Deployment
1.4 Corporate E-learning Market by End Users/Application
1.4.1 Automotive Industry
1.4.2 BFSI
1.4.3 Consumer Goods Sector
1.4.4 Energy Sector
1.4.5 Others
2 Global Corporate E-learning Competition Analysis by Players
2.1 Corporate E-learning Market Size (Value) by Players (2018 and 2019)
2.2 Competitive Status and Trend
2.2.1 Market Concentration Rate
2.2.2 Product/Service Differences
2.2.3 New Entrants
2.2.4 The Technology Trends in Future
3 Company (Top Players) Profiles
3.1 Skillsoft
3.1.1 Company Profile
3.1.2 Main Business/Business Overview
3.1.3 Products, Services and Solutions
3.1.4 Corporate E-learning Revenue (Value) (2014-2019)
3.1.5 Recent Developments
3.2 GP Strategies
3.2.1 Company Profile
3.2.2 Main Business/Business Overview
3.2.3 Products, Services and Solutions
3.2.4 Corporate E-learning Revenue (Value) (2014-2019)
3.2.5 Recent Developments
3.3 Adobe
3.3.1 Company Profile
3.3.2 Main Business/Business Overview
3.3.3 Products, Services and Solutions
3.3.4 Corporate E-learning Revenue (Value) (2014-2019)
3.3.5 Recent Developments
3.4 Expertus
3.4.1 Company Profile
3.4.2 Main Business/Business Overview
3.4.3 Products, Services and Solutions
3.4.4 Corporate E-learning Revenue (Value) (2014-2019)
3.4.5 Recent Developments
3.5 City & Guilds Group
3.5.1 Company Profile
3.5.2 Main Business/Business Overview
3.5.3 Products, Services and Solutions
3.5.4 Corporate E-learning Revenue (Value) (2014-2019)
3.5.5 Recent Developments
3.6 AllenComm
3.6.1 Company Profile
3.6.2 Main Business/Business Overview
3.6.3 Products, Services and Solutions
3.6.4 Corporate E-learning Revenue (Value) (2014-2019)
3.6.5 Recent Developments
3.7 G-Cube
3.7.1 Company Profile
3.7.2 Main Business/Business Overview
3.7.3 Products, Services and Solutions
3.7.4 Corporate E-learning Revenue (Value) (2014-2019)
3.7.5 Recent Developments
3.8 Learning Pool
3.8.1 Company Profile
3.8.2 Main Business/Business Overview
3.8.3 Products, Services and Solutions
3.8.4 Corporate E-learning Revenue (Value) (2014-2019)
3.8.5 Recent Developments
3.9 Articulate
3.9.1 Company Profile
3.9.2 Main Business/Business Overview
3.9.3 Products, Services and Solutions
3.9.4 Corporate E-learning Revenue (Value) (2014-2019)
3.9.5 Recent Developments
3.10 EI Design
3.10.1 Company Profile
3.10.2 Main Business/Business Overview
3.10.3 Products, Services and Solutions
3.10.4 Corporate E-learning Revenue (Value) (2014-2019)
3.10.5 Recent Developments
3.11 CCS Digital Education
3.12 PulseLearning
3.13 SweetRush
3.14 Learnnovators
3.15 XoomPoint
3.16 Designing Digitally
3.17 Tata Interactive Systems
3.18 Elucidat
3.19 Cornerstone OnDemand
4 Global Corporate E-learning Market Size by Type and Application (2014-2019)
4.1 Global Corporate E-learning Market Size by Type (2014-2019)
4.2 Global Corporate E-learning Market Size by Application (2014-2019)
4.3 Potential Application of Corporate E-learning in Future
4.4 Top Consumer/End Users of Corporate E-learning
5 North America Corporate E-learning Development Status and Outlook
5.1 North America Corporate E-learning Market Size (2014-2019)
5.2 North America Corporate E-learning Market Size and Market Share by Players (2018 and 2019)
6 Europe Corporate E-learning Development Status and Outlook
6.1 Europe Corporate E-learning Market Size (2014-2019)
6.2 Europe Corporate E-learning Market Size and Market Share by Players (2018 and 2019)
7 China Corporate E-learning Development Status and Outlook
7.1 China Corporate E-learning Market Size (2014-2019)
7.2 China Corporate E-learning Market Size and Market Share by Players (2018 and 2019)
8 Rest of Asia Pacific Corporate E-learning Development Status and Outlook
8.1 Rest of Asia Pacific Corporate E-learning Market Size (2014-2019)
8.2 Rest of Asia Pacific Corporate E-learning Market Size and Market Share by Players (2018 and 2019)
9 Central & South America Corporate E-learning Development Status and Outlook
9.1 Central & South America Corporate E-learning Market Size (2014-2019)
9.2 Central & South America Corporate E-learning Market Size and Market Share by Players (2018 and 2019)
10 Middle East & Africa Corporate E-learning Development Status and Outlook
10.1 Middle East & Africa Corporate E-learning Market Size (2014-2019)
10.2 Middle East & Africa Corporate E-learning Market Size and Market Share by Players (2018 and 2019)
11 Market Forecast by Regions, Type and Application (2019-2025)
11.1 Global Corporate E-learning Market Size (Value) by Regions (2019-2025)
11.1.1 North America Corporate E-learning Revenue and Growth Rate (2019-2025)
11.1.2 Europe Corporate E-learning Revenue and Growth Rate (2019-2025)
11.1.3 China Corporate E-learning Revenue and Growth Rate (2019-2025)
11.1.4 Rest of Asia Pacific Corporate E-learning Revenue and Growth Rate (2019-2025)
11.1.5 Central & South America Corporate E-learning Revenue and Growth Rate (2019-2025)
11.1.6 Middle East & Africa Corporate E-learning Revenue and Growth Rate (2019-2025)
11.2 Global Corporate E-learning Market Size (Value) by Type (2019-2025)
11.3 Global Corporate E-learning Market Size by Application (2019-2025)
12 Corporate E-learning Market Dynamics
12.1 Corporate E-learning Market Opportunities
12.2 Corporate E-learning Challenge and Risk
12.2.1 Competition from Opponents
12.2.2 Downside Risks of Economy
12.3 Corporate E-learning Market Constraints and Threat
12.3.1 Threat from Substitute
12.3.2 Government Policy
12.3.3 Technology Risks
12.4 Corporate E-learning Market Driving Force
12.4.1 Growing Demand from Emerging Markets
12.4.2 Potential Application
13 Market Effect Factors Analysis
13.1 Technology Progress/Risk
13.1.1 Substitutes
13.1.2 Technology Progress in Related Industry
13.2 Consumer Needs Trend/Customer Preference
13.3 External Environmental Change
13.3.1 Economic Fluctuations
13.3.2 Other Risk Factors
14 Research Finding/Conclusion
15 Appendix
Methodology
Analyst Introduction
Data Source
FEATURED COMPANIES
Skillsoft
GP Strategies
Adobe
Expertus
City & Guilds Group
AllenComm
G-Cube
Learning Pool
Articulate
EI Design
CCS Digital Education
PulseLearning
SweetRush
Learnnovators
XoomPoint
Designing Digitally
Tata Interactive Systems
Elucidat
Figure Corporate E-learning Product Scope
Figure Global Corporate E-learning Market Size (Million USD) (2014-2019)
Table Global Corporate E-learning Market Size (Million USD) and Growth Rate by Regions (2014-2019)
Figure Global Corporate E-learning Market Share by Regions in 2018
Figure North America Corporate E-learning Market Size (Million USD) and Growth Rate by Regions (2014-2019)
Figure Europe Corporate E-learning Market Size (Million USD) and Growth Rate by Regions (2014-2019)
Figure China Corporate E-learning Market Size (Million USD) and Growth Rate by Regions (2014-2019)
Figure Rest of Asia Pacific Corporate E-learning Market Size (Million USD) and Growth Rate by Regions (2014-2019)
Figure Central & South America Corporate E-learning Market Size (Million USD) and Growth Rate by Regions (2014-2019)
Figure Middle East & Africa Corporate E-learning Market Size (Million USD) and Growth Rate by Regions (2014-2019)
Figure Global Corporate E-learning Market Share by Type in 2018
Figure On-Premise Deployment Market Size (Million USD) and Growth Rate (2014-2019)
Figure Cloud-Based Deployment Market Size (Million USD) and Growth Rate (2014-2019)
Figure Global Corporate E-learning Market Share by Application in 2018
Table Key Downstream Customer in Automotive Industry
Figure Corporate E-learning Market Size (Million USD) and Growth Rate in Automotive Industry (2014-2019)
Table Key Downstream Customer in BFSI
Figure Corporate E-learning Market Size (Million USD) and Growth Rate in BFSI (2014-2019)
Table Key Downstream Customer in Consumer Goods Sector
Figure Corporate E-learning Market Size (Million USD) and Growth Rate in Consumer Goods Sector (2014-2019)
Table Key Downstream Customer in Energy Sector
Figure Corporate E-learning Market Size (Million USD) and Growth Rate in Energy Sector (2014-2019)
Table Key Downstream Customer in Others
Figure Corporate E-learning Market Size (Million USD) and Growth Rate in Others (2014-2019)
Table Corporate E-learning Market Size (Million USD) by Players (2018 and 2019)
Figure Corporate E-learning Market Size Share by Players in 2018
Figure Corporate E-learning Market Size Share by Players in 2019
Table Skillsoft Basic Information List
Table Corporate E-learning Business Revenue (Million USD) of Skillsoft (2014-2019)
Figure Skillsoft Corporate E-learning Business Revenue Market Share in 2018
Table GP Strategies Basic Information List
Table Corporate E-learning Business Revenue (Million USD) of GP Strategies (2014-2019)
Figure GP Strategies Corporate E-learning Business Revenue Market Share in 2018
Table Adobe Basic Information List
Table Corporate E-learning Business Revenue (Million USD) of Adobe (2014-2019)
Figure Adobe Corporate E-learning Business Revenue Market Share in 2018
Table Expertus Basic Information List
Table Corporate E-learning Business Revenue (Million USD) of Expertus (2014-2019)
Figure Expertus Corporate E-learning Business Revenue Market Share in 2018
Table City & Guilds Group Basic Information List
Table Corporate E-learning Business Revenue (Million USD) of City & Guilds Group (2014-2019)
Figure City & Guilds Group Corporate E-learning Business Revenue Market Share in 2018
Table AllenComm Basic Information List
Table Corporate E-learning Business Revenue (Million USD) of AllenComm (2014-2019)
Figure AllenComm Corporate E-learning Business Revenue Market Share in 2018
Table G-Cube Basic Information List
Table Corporate E-learning Business Revenue (Million USD) of G-Cube (2014-2019)
Figure G-Cube Corporate E-learning Business Revenue Market Share in 2018
Table Learning Pool Basic Information List
Table Corporate E-learning Business Revenue (Million USD) of Learning Pool (2014-2019)
Figure Learning Pool Corporate E-learning Business Revenue Market Share in 2018
Table Articulate Basic Information List
Table Corporate E-learning Business Revenue (Million USD) of Articulate (2014-2019)
Figure Articulate Corporate E-learning Business Revenue Market Share in 20187
Table EI Design Basic Information List
Table Corporate E-learning Business Revenue (Million USD) of EI Design (2014-2019)
Figure EI Design Corporate E-learning Business Revenue Market Share in 2018
Table CCS Digital Education Basic Information List
Table PulseLearning Basic Information List
Table SweetRush Basic Information List
Table Learnnovators Basic Information List
Table XoomPoint Basic Information List
Table Designing Digitally Basic Information List
Table Tata Interactive Systems Basic Information List
Table Elucidat Basic Information List
Table Cornerstone OnDemand Basic Information List
Table Global Corporate E-learning Market Size (Million USD) by Type (2014-2019)
Figure Global Corporate E-learning Market Size Share by Type in 2014
Figure Global Corporate E-learning Market Size Share by Type in 2015
Figure Global Corporate E-learning Market Size Share by Type in 2016
Figure Global Corporate E-learning Market Size Share by Type in 2017
Figure Global Corporate E-learning Market Size Share by Type in 2018
Figure Global Corporate E-learning Market Size Share by Type in 2019
Table Global Corporate E-learning Market Size (Million USD) by Application (2014-2019)
Figure Global Corporate E-learning Market Size (Million USD) by Application in 2014
Figure Global Corporate E-learning Market Size (Million USD) by Application in 2015
Figure Global Corporate E-learning Market Size (Million USD) by Application in 2015
Figure Global Corporate E-learning Market Size (Million USD) by Application in 2017
Figure Global Corporate E-learning Market Size (Million USD) by Application in 2018
Figure Global Corporate E-learning Market Size (Million USD) by Application in 2019
Table Top Consumer/End Users of Corporate E-learning
Figure North America Corporate E-learning Market Size (Million USD) and Growth Rate by Regions (2014-2019)
Table North America Corporate E-learning Market Size (Million USD) by Players (2014-2019)
Figure North America Corporate E-learning Market Size Share by Players in 2018
Figure North America Corporate E-learning Market Size Share by Players in 2019
Figure Europe Corporate E-learning Market Size (Million USD) and Growth Rate by Regions (2014-2019)
Table Europe Corporate E-learning Market Size (Million USD) by Players (2014-2019)
Figure Europe Corporate E-learning Market Size Share by Players in 2018
Figure Europe Corporate E-learning Market Size Share by Players in 2019
Figure China Corporate E-learning Market Size (Million USD) and Growth Rate by Regions (2014-2019)
Table China Corporate E-learning Market Size (Million USD) by Players (2014-2019)
Figure China Corporate E-learning Market Size Share by Players in 2018
Figure China Corporate E-learning Market Size Share by Players in 2019
Figure Rest of Asia Pacific Corporate E-learning Market Size (Million USD) and Growth Rate by Regions (2014-2019)
Table Rest of Asia Pacific Corporate E-learning Market Size (Million USD) by Players (2014-2019)
Figure Rest of Asia Pacific Corporate E-learning Market Size Share by Players in 2018
Figure Rest of Asia Pacific Corporate E-learning Market Size Share by Players in 2019
Figure Central & South America Corporate E-learning Market Size (Million USD) and Growth Rate by Regions (2014-2019)
Table Central & South America Corporate E-learning Market Size (Million USD) by Players (2014-2019)
Figure Central & South America Corporate E-learning Market Size Share by Players in 2018
Figure Central & South America Corporate E-learning Market Size Share by Players in 2019
Figure Middle East & Africa Corporate E-learning Market Size (Million USD) and Growth Rate by Regions (2014-2019)
Table Middle East & Africa Corporate E-learning Market Size (Million USD) by Players (2014-2019)
Figure Middle East & Africa Corporate E-learning Market Size Share by Players in 2018
Figure Middle East & Africa Corporate E-learning Market Size Share by Players in 2019
Figure Global Corporate E-learning Market Size (Million USD) by Regions (2019-2025)
Table Global Corporate E-learning Market Size (Million USD) by Regions (2019-2025)
Figure Global Corporate E-learning Market Size Share by Regions in 2019
Figure Global Corporate E-learning Market Size Share by Regions in 2025
Figure North America Corporate E-learning Revenue (Million USD) and Growth Rate (2019-2025)
Figure Europe Corporate E-learning Revenue (Million USD) and Growth Rate (2019-2025)
Figure China Corporate E-learning Revenue (Million USD) and Growth Rate (2019-2025)
Figure Rest of Asia Pacific Corporate E-learning Revenue (Million USD) and Growth Rate (2019-2025)
Figure Central & South America Corporate E-learning Revenue (Million USD) and Growth Rate (2019-2025)
Figure Middle East & Africa Corporate E-learning Revenue (Million USD) and Growth Rate (2019-2025)
Table Global Corporate E-learning Market Size (Million USD) by Type (2019-2025)
Figure Global Corporate E-learning Market Size Share by Type in 2019
Figure Global Corporate E-learning Market Size Share by Type in 2025
Table Global Corporate E-learning Market Size (Million USD) by Application (2019-2025)
Figure Global Corporate E-learning Market Size (Million USD) by Application in 2019
Figure Global Corporate E-learning Market Size (Million USD) by Application in 2025