The global Single-use Bioprocessing market size is projected to reach US$ 6956.3 million by 2027, from US$ 3905.3 million in 2020, at a CAGR of 10.1% during 2021-2027. Factors such as increased demand for biopharmaceuticals and energy efficiency, as well as the need to reduce water waste, equipment floor space requirements, and the risk of cross-contamination, are driving the growth of the single-use bioprocessing market. Other factors driving the growth of the Single-use Bioprocessing market are high energy efficiency, decreased space requirements, less water usage, and a lower risk of contamination.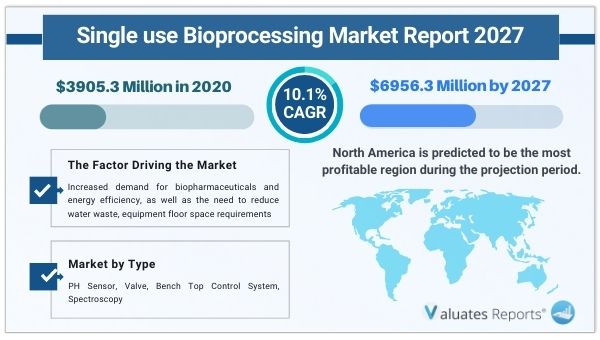 Single-use technology (SUT) has evolved as a key technology in pre-commercial manufacturing, which includes preclinical and clinical stages. As a result, developing SUT-based medications has become a top goal for pandemic management. Single-use technologies are used in much COVID-19 vaccination research.
Trends Influencing The Growth Of The Single-use Bioprocessing Market
Bioreactor systems are more difficult to maintain than single-use facilities. Costs for complex production procedures like cleaning (CIP) and sterilization (SIP) are removed when single-use technologies are used, resulting in cost and resource savings. Additionally, water and chemical costs can all be decreased. Cleaning and sterilization are not required, resulting in a longer operational life and cheaper total cost of ownership. As a result, the Single-use Bioprocessing market is predicted to increase due to the cost-effectiveness of features.
The market for single-use bioprocessing is predicted to develop due to the rising demand for pharmaceutical products around the world. Single-use bioprocessing is widely used in the pharmaceutical sector for media preparation and biologic shipment. Furthermore, single-use goods consisting of high-grade polymer materials and plastic composites are gaining traction because of their improved intrinsic strength and lower total operating costs. It also ensures the continuation of biomanufacturing, which aids the market's growth.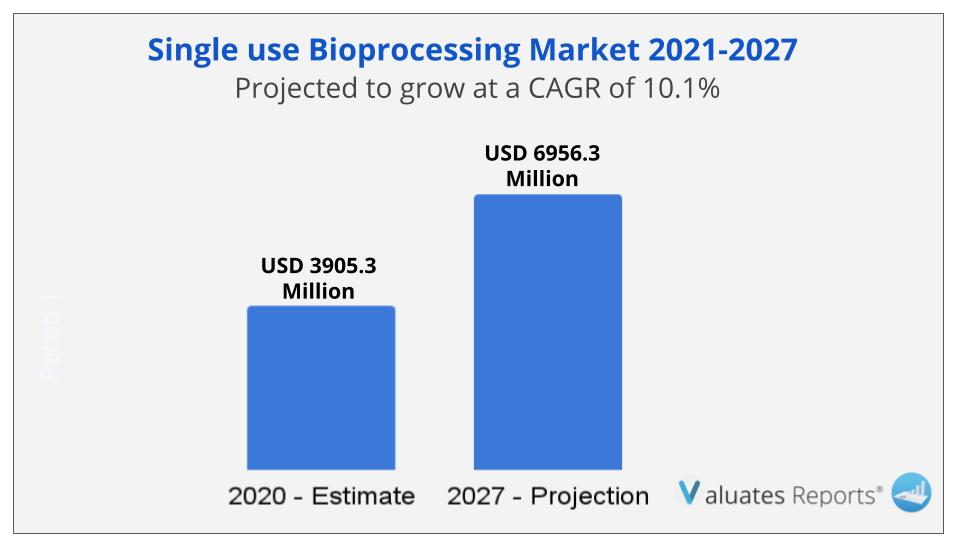 Because single-use systems are disposable, they don't need to be cleaned or disinfected after each use and may be thrown away right away. Single-use systems are often designed and dimensioned for disposable liquid pathways, allowing for rapid and easy installation. In terms of preparation, implementation, validation, and documentation, this saves time and money. When compared to stainless steel reactors, the elimination of CIP- and SIP procedures results in a project duration of at least eight months shorter for the implementation of single-use manufacturing facilities. As a result, the demand for shorter bioprocessing project timelines is likely to propel the Single-use Bioprocessing market forward.
Single-use Bioprocessing Market Share Analysis
North America is predicted to be the most profitable region during the projection period. This is due to significant R&D spending, the presence of large-scale manufacturing units, the growing popularity of disposables, rising healthcare costs, and well-established healthcare infrastructure.