The global Hydrogen Fuel Cell market size is projected to reach US$ 18720 million by 2027, from US$ 3322.1 million in 2020, at a CAGR of 33.4% during 2021-2027. The major factors that are expected to increase the hydrogen fuel cell market size are an increase in environmental concerns, increased government initiatives to develop infrastructure for hydrogen fuel cells, and technological advancements. Asia-Pacific is the largest market with about 47% market share. North America and Europe are followers, accounting for about 45% market share.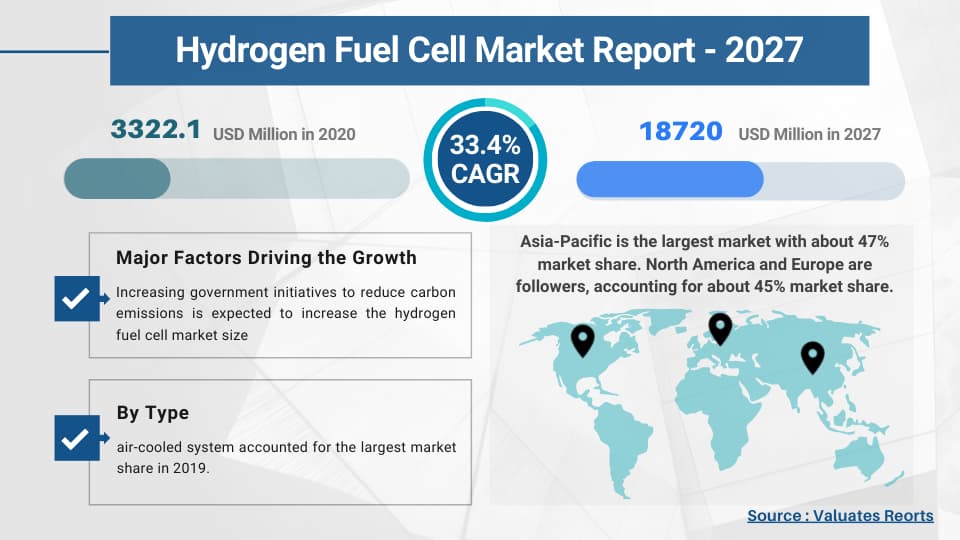 This study also analyzes the market status, market share, growth rate, future trends, market drivers, opportunities and challenges, risks and entry barriers, sales channels, distributors, and Porter's Five Forces Analysis.
What is the Hydrogen Fuel Cell Market?
This report studies the Hydrogen Fuel Cell market, Hydrogen Fuel Cell use hydrogen as a chemical element, and are made into batteries that store energy. The basic principle is the reverse reaction of electrolysis of water, hydrogen and oxygen were supplied to the cathode and anode, hydrogen diffusion through the cathode and the electrolyte reaction, the release of electrons through the external load to reach the anode.
A hydrogen fuel cell is a power plant that utilizes the inverse process of electrolyzed water to generate electricity as well as the only emissions: water. Clean and environmentally friendly, and high energy density, compared to the battery on the market can have a longer battery life.
Hydrogen Fuel Cell Market Overview
Increasing government initiatives to reduce carbon emissions is expected to increase the hydrogen fuel cell market. Due to its eco-friendly nature and high efficiency when compared to a combustion engine the hydrogen fuel cell is expected to be adopted on a larger scale by the automotive industry.
Traditionally, the North American market develops significantly due to the commercialization and adoption of electric vehicles. However, Asia Pacific emerges as a growing market in terms of shipment in 2019. Growing demand for new energy vehicles and power systems in the APAC market triggers the market demand.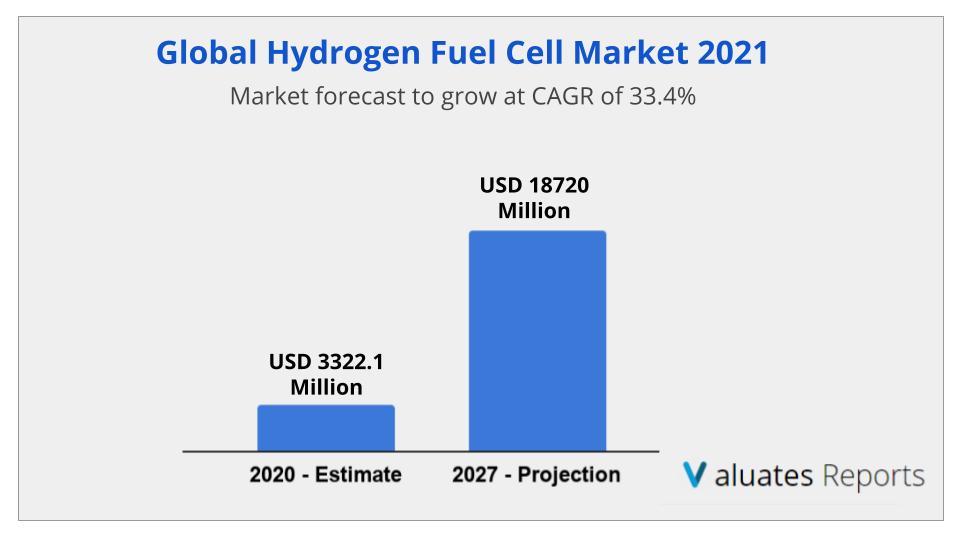 The hydrogen and fuel cells market, by type, is segmented into air-cooled type and transport-cooled type, and air-cooled system accounted for the largest market share in 2019.
Growing demand for clean energy generation and reliance on hydrogen and fuel cells-based public transportation systems in developed regions is driving the market growth. Moreover, advantages offered by the air-cooled system, such as structure is simple, lightweight, the price is relatively cheap are likely to drive the demand for air-cooled system during the forecast period.
Power-based electricity generation is effective in minimizing the emission of carbon dioxide or any other hazardous pollutants. Hence, hydrogen and fuel cells technology plays a vital role in dealing with environmental issues as well as encouraging the use of renewable carriers of energy. Ongoing product developments and innovation is expected to open new opportunities for emerging players.
| | |
| --- | --- |
| Report Metric | Details |
| Report Name | Hydrogen Fuel Cell Market |
| The market size in 2019 | $1860.8 Million |
| The revenue forecast in 2026 | $13760 Million |
| Growth Rate | 33.1% during 2021-2026 |
| Base year considered | 2019 |
| Forecast period | 2020-2026 |
| Forecast units | Value (USD) |
| Segments covered | Type, End-User, Offerings, and Region |
| Market by Type | Air-cooled Type, Transport-cooled Type, Others |
| Market by Applications/Enduser | Transport, Stationary, Others |
| Report coverage | Revenue & volume forecast, company share, competitive landscape, growth factors, and trends |
| Geographic regions covered | North America, Europe, Asia Pacific, Latin America, Middle East & Africa |