FEATURED COMPANIES
Honeywell
Siemens
Johnson Controls
Schneider Electric
United Technologies
Legrand
Hubbell
ABB Ltd
Ingersoll Rand
Lutron
Crestron
Buildingiq
BUILDING AUTOMATION MARKET OVERVIEW
The global Building Automation market size is projected to reach USD 112.3 Billion by 2026, from USD 64.7 Billion in 2019, at a CAGR of 8.2% during 2020-2026.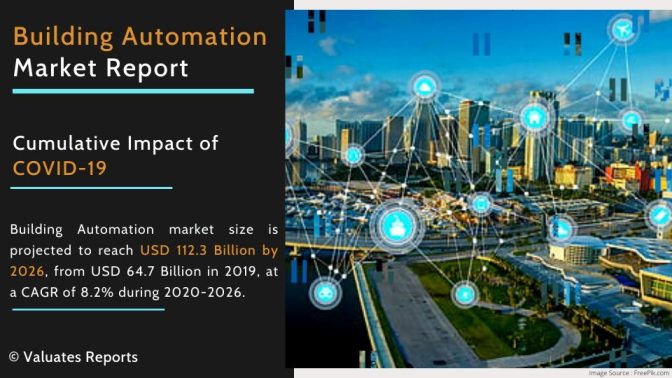 A building management system (BMS) is a computer-based control system installed in buildings that controls and monitors the building's mechanical and electrical equipment such as ventilation, lighting, power systems, fire systems, and security systems.
The rise in the adoption of automated building security systems, the development of wireless protocols and wireless network sensor technology for Building automation systems, and the rapid penetration of IoT in building automation systems are the key factors driving the growth of the Building Automation Market size.
BUILDING AUTOMATION SCOPE AND MARKET SIZE
Nowadays, all organizations are keen on initiating steps to reduce energy usage. This has encouraged them to adopt building automation systems as these technologies offer various applications such as lighting management, air conditioning, and heat ventilation management. Furthermore, building automation systems help organizations to analyze their building data and manage energy usage. These factors have led to increased adoption of BAS by the organization, and has, in turn, led to the increase in the growth of building automation market size.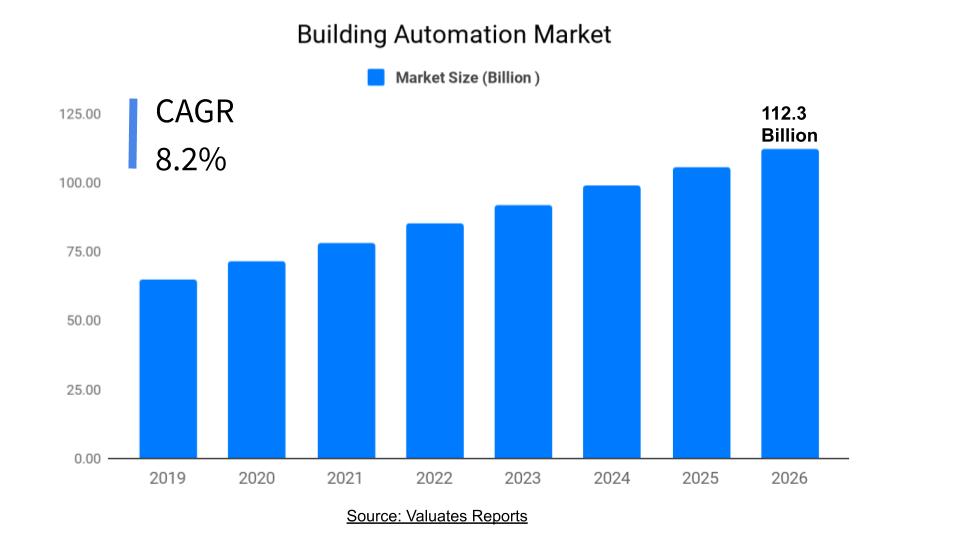 Rising use of renewable energy sources and increasing awareness among consumers about environmental protection will further drive the building automation market size.
The growing need for enhanced building protection and surveillance is also expected to contribute considerably to the growth of the building automation market size.
Building Automation market is segmented by Type, and by Application. Players, stakeholders, and other participants in the global Building Automation market will be able to gain the upper hand as they use the report as a powerful resource. The segmental analysis focuses on revenue and forecast by Type and by Application in terms of revenue and forecast for the period 2015-2026.
THE FOLLOWING PLAYERS ARE COVERED IN THIS REPORT
Honeywell

Siemens

Johnson Controls

Schneider Electric

United Technologies

Bosch

Legrand

Hubbell

ABB

Ingersoll-Rand

Lutron

Crestron

BuildingIQ
BUILDING AUTOMATION BREAKDOWN DATA BY TYPE
Wired Technology

Wireless Technology
BUILDING AUTOMATION BREAKDOWN DATA BY APPLICATION
Residential

Commercial

Industrial
BUILDING AUTOMATION BREAKDOWN DATA BY REGION
North America

Europe

China

Japan

Southeast Asia

India

Central & South America