FEATURED COMPANIES
Ant Financial
Adyen
Qudian
Xero
SoFi
Lufax
Avant
ZhongAn
Klarna
FINTECH INDUSTRY REPORT 2020
The global fintech market size is expected to grow to USD 124.3 Billion by the end of 2025 at a Compound Annual Growth Rate (CAGR) of 23.84%.
FinTech market' s growth is driven by the omnipresence of technology and innovation in the market which is helping the financial advisors to come up with new solutions to meet customers' financial needs.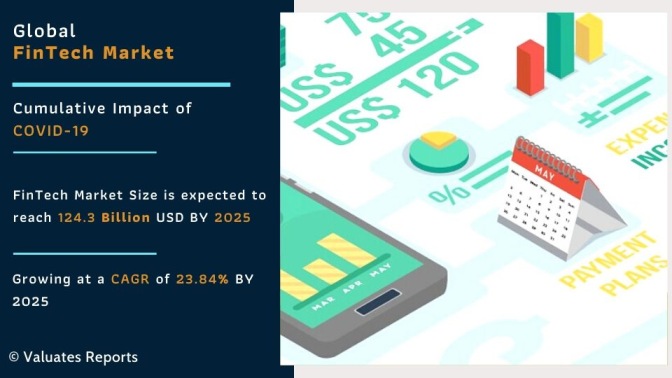 Blockchain can have important consequences for the way in which financial institutions operate. The technological advancements in blockchain technology are expected to increase the fintech market size.The technology is not yet mature and will have to face the challenges of developing a successful business model and regulatory approval.
Financial technology (FinTech) is the latest innovation that seeks to compete in the delivery of financial services with traditional economic techniques.
A significant majority of global banks, insurers, and investment managers plan to partner with financial technology firms over the next 3-5 years and expect an average investment return of 20 percent on their development projects.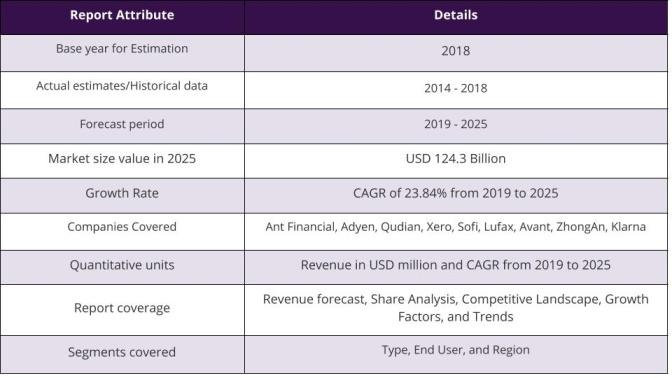 The Digital Payments market segment has resulted in consumer transactions and involves payments for Internet-based products and services as well as mobile point-of-sale (POS) payments via smartphone apps. The total transaction value in the prediction period is anticipated to record an annual growth rate.
Banks need to reposition themselves and use FinTech to find suitable growth strategies to revolutionize their business. However, since the financial / bank sector continues to be rather conservative, technology companies will concentrate on combining technological advancement and scenario implementations in order to achieve success in the financial sector.
Fintech has made goods and services payments quicker, safer, more convenient, and more cost-effective for consumers. Customers may now pay for different products and services via cryptocurrencies, loyalty points, and other alternatives to digital cash. Development in demand for digital exchange and the proliferation of mobile devices has led to an increase in the fintech market size
TECHNOLOGIES THAT CONTRIBUTING TO THE GROWTH OF FINTECH MARKET
AI & machine learning is contributing to the growth of the Fintech industry by increasing the accuracy and flexibility of payment, lending, and insurance services while helping to discover new borrower pools.
Infrastructure-based technology is reshaping the future of the financial services industry through transparent application programming interfaces (APIs). Furthermore, the operational innovations provided by robotic process automation (RPA), chatbots, and distributed ledger technology (DLT) allow for greater agility, performance, and accuracy.
ASIA PACIFIC FINTECH LANDSCAPE ANALYSIS
China leads the Asia Pacific region in FinTech growth with an emphasis on the above-mentioned emerging technologies; in many other Asia Pacific markets, FinTech continues to be characterized by alternative lending, mobile payments, robotic advice, etc.
China and India have the highest investment-based fintech ecosystems and a variety of startups. Given its powerful startup and fintech ecosystems, Singapore is also a pioneer in the Southeast Asian field. Combined with the Internet of Things (IoT) and cognitive technology, these possibilities can only expand to deliver more personalized experiences.
The majority of fintech startups are developed in North America, with Asia pacific holding the second position. International fintech investment reached a new high in North America's first quarter of 2018, due to a large spike in transactions. Asia pacific, when considering fintech deals, could exceed the United States, has also seen an increase in its operation.
TOP COMPANY DOMINATING THE FINTECH MARKET
Ant Financial Services Group, formerly known as Alipay, is an affiliate company of the Chinese Alibaba Group. Ant Financial is the highest valued fintech company in the world, and the world's most valuable unicorn company, with a valuation of US$150 billion.
Adyen is a multinational payment company that allows businesses to support e-commerce, mobile, and point-of-sale payments. Adyen has over 3,500 clients and is listed on the Euronext stock exchange.
Qudian is a small consumer credit company Chinese online. The firm was founded in 2014 and had its headquarters in Xiamen. In 2017 Qudian raised US$ 900 million on the New York Stock Exchange in its initial public offering.
SEGMENTS AND CLASSIFICATION
The overall fintech market is classified into three segments based on the type, application, and region
SEGMENTS IN THE GLOBAL FINTECH MARKET BASED ON TYPE
API

AI

Blockchain

Distributed Computing

Cryptography
SEGMENTS IN THE GLOBAL FINTECH MARKET BASED ON APPLICATION
Financing

Asset Management

Payments
SEGMENTS IN THE GLOBAL FINTECH MARKET BASED ON REGION
United States

Europe

China

Japan

Southeast Asia

India

Central & South America
FINTECH COMPANIES
The study involves an overview of the leading players working in the industry. Some of the primary market dominant players are currently being researched in terms of market share.
Ant Financial

Adyen

Qudian

Xero

Sofi

Lufax

Avant

ZhongAn

Klarna
WHAT THE REPORT HAS TO OFFER
The study analyzes the status of worldwide FinTech, future forecasts, opportunities for development, key markets, and important players. It also offers strategic profiling of main players and analyzes their growth plans and policies comprehensively.